Join our insightful event on 10th December to exchange ideas about the Impact of Climate Change & Future Development on Aquaculture.
About this event
Impact of Climate Change and Future Development on Aquaculture
Every one of us has the responsibility to take care of our one and only Earth. Aquaculture has continued to expand its production; however, researchers are worried about the sustainability of the sector due to the current state of climate change and other hindering factors.
This year IAAS specially invited our special guest, Prof. Lee Chee Wee, the Director of Aquaculture Innovation Center, and our guest speakers, Mr. David Shearer, the Deputy Head of Secretariat at Commission on Sustainable Agriculture Intensification (CoSAI), Dr. Michael Phillips, the Program Director of Sustainable Aquaculture Program of Worldfish, Malaysia, and last but not least, Prof. Chih-Yang Huang, the Associate Professor at Department of Aquaculture, National Taiwan Ocean University, Dr. Rasheed Sulaiman, the Director at Centre for Research on Innovation and Science Policy (CRISP), India, and Ms. Martina Spisiakova, the Knowledge Management Coordinator at APAARI, to express their thoughts and sharp insights on innovative solutions in the future development of Aquaculture.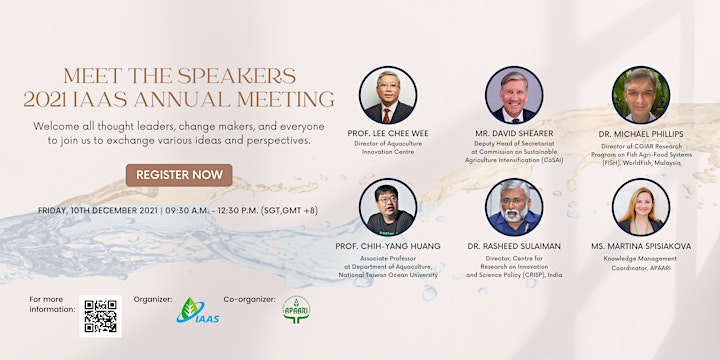 Take a half day with us and discover how fish farming is done in Singapore during the pandemic and climate change. We look forward to exchange of ideas and facilitation of partnerships in IAAS events.
Why Attend?
• 𝐄𝐱𝐜𝐡𝐚𝐧𝐠𝐞 knowledge on climate change and future development on aquaculture.
• 𝐄𝐧𝐡𝐚𝐧𝐜𝐞 your professional development by surrounding yourself with
like-minded people.
• 𝐄𝐱𝐩𝐚𝐧𝐝 your horizons by meeting with aquaculture experts from
diverse backgrounds.
• 𝐄𝐧𝐠𝐚𝐠𝐞 in our virtual networking event with other thought leaders, professionals,
and change makers from all over the world.
Who Should Attend?
• We welcome all thought leaders, change makers, and everyone to join us to exchange various ideas and perspectives.
Organizer of Impact of Climate Change and Future Development on Aquaculture
International Association of Agricultural Sustainability (IAAS) serves as an international platform for academicians, researchers, industry players and policy makers in the fields of agri-technology, sustainability, food technology, innovation, management and economics to communicate and interact for the advancement of research, instruction, trade promotion and policy development. IAAS works on promoting a sustainable future for our planet. The main focuses of IAAS are innovation, sustainability, technology, and investment. We have been campaigning successfully for the past years to work as an international platform for knowledge and techniques transformation in the agricultural industry. Currently we have more than 500 members from 53 countries within the past 3 years.