Discover the building blocks of agile organizations which includes collaborative and self-organised team.
About this event

Organised by NTUC LearningHub in conjunction with JustCo Campus Week, this workshop introduces the concept of agile organizations which is transforming global businesses, and the role of management. With the world becoming more dynamic and complex, an organizational strategy focused on agile methods will offer sustainable competitive advantage, as innovations are created continually.
Although the term comes from software development, the ideology and mindset behind this approach are now being applied across a wide range of organizations and industries. Join this webinar to learn about the building blocks of agile organizations which includes collaborative and self-organised teams, using Scrum and Kanban methods. And also, how agile team facilitation and coaching skills are important and valued skill sets in any agile organizations.
About Speaker
Regina is a practising agile and leadership coach, with over 15 years of experience in portfolio, product management, digital and agile transformation. She has worked with multinational companies and multi-cultural teams in Asia, Europe and US, within the energy, offshore and marine, airline industries and in the innovation space. Regina's first exposure to agile ways of working was when she lived in Denmark, working for a market-leading wind turbine manufacturer. That experience of empowerment, leadership and agility on a team and organisation level inspired her deeply to embark in a career as an agile advocate and practitioner.
Returning to Singapore since 2013, she has since held agile and digital transformation roles, and is a certified ICAgile trainer for team facilitation and coaching. Regina is also a practising personal leadership coach and trainer and works to blend ontological (way of being) coaching with agile to maximise value for individuals, teams and organisations.
About NTUC LearningHub
NTUC LearningHub is the leading Continuing Education and Training provider in Singapore which aims to transform the lifelong employability of working people. Since our corporatisation in 2004, we have been working with employers and individual learners to provide learning solutions in areas such as Cloud, Infocomm Technology, Healthcare, Employability & Literacy, Business Excellence, Workplace Safety & Health, Security, Human Resources and Foreign Worker Training.
To date, NTUC LearningHub has helped over 25,000 organisations and achieved over 2.6 million training places across more than 500 courses with a pool of over 600 certified trainers. As a Total Learning Solutions provider to organisations, we also forge partnerships and offer a wide range of relevant end-to-end training solutions and work constantly to improve our training quality and delivery. In 2020, we have accelerated our foray into online learning with our Virtual Live Classes and, through working with best-in-class partners such as IBM, DuPont Sustainable Solutions and GO1, asynchronous online courses.
About JustCo Campus Week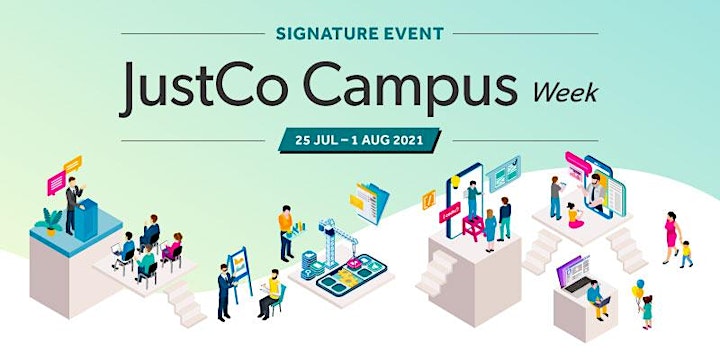 Upskilling and retraining are essential in today's competitive business environment. Join us at JustCo Campus Week and learn from industry-leading specialists in a variety of programs to suit your preference. At JustCo, we are always looking at ways to pave the future of work and shape the future workforce. Create your own curriculum and choose from our three learning pillars to help propel your career ambitions!
Hurry! Seats are filling up quickly. Check here to see full schedule!
Disclaimer
Kindly note that this is an online event. Ticket holders will receive a link to the live stream before the event via email. Do check your inbox for updates.
Please note that photographs and footage will be taken throughout this event. These will be used by JustCo for marketing and publicity in our publications, on our website and in social media or in any third party publication. Please contact the event organiser if you have any concerns or if you wish to be exempted from this activity.
If you have registered for an event and are unable to attend, please inform us at jc-sg-eventspartnerships@justcoglobal.com as we may have a waiting list. Failure to do so may restrict you from attending future events.
Policy Notice
This privacy notice is for all attendees of JustCo's events. As part of the registration process, JustCo may collect your full name, email address, job title, company name, and country of origin. JustCo will indicate if the collection and provision of certain categories of personal data are mandatory. JustCo uses the personal data we collect for the purpose of managing your interest in and attendance of the event registered. Where applicable and with your prior consent, we may also use your personal data to send you information and updates on products and services offered by JustCo and/or share your personal data with our event partners for the same. We may also disclose your personal data to comply with applicable law, regulations, legal process or valid governmental request.
Specifically, JustCo will share your personal data with NTUC LearningHub, who is our collaborator for the event in which you are registering, and with your prior consent, NTUC LearningHub may use your personal data to call or send you information and updates on products and services offered by them.
Your registration to our event constitutes your acknowledgement and understanding of, and agreement with, JustCo Terms and Conditions and this Privacy Notice. For more information, read the full Privacy Policy.
Organizer of Improving Organizational Agility
Founded in 2011 and headquartered in Singapore, JustCo's mission is to enable anyone to have the best work/life experience anywhere anytime. We pave the way for the future of work via platforms that are powered by technology.
In our communities, we connect dynamic entrepreneurs, start-ups and large corporations. People are at the heart of what we do, as we create networking events and strategic partnerships for our members and partners to gain insights, collaborate, and help each other. Our passion for customer satisfaction ensures our members find the same JustCo hospitality – comfort and peace of mind – no matter where they are.
We make work better by revolutionising how people work, empowering our ever-growing community with exceptional flexibility, opportunities and experiences.
Come and experience JustCo with our 1-day free trial!
Singapore: 6 Raffles Quay • 20 Collyer Quay • 5One Central • 120 Robinson Road • Asia Green • Asia Square • AXA Tower • Cross Street Exchange • MacDonald House • Manulife Tower • Marina One • Marina Square • OCBC Centre East • Razer SEA HQ • Samsung Hub • The Centrepoint • The Metropolis • UIC Building • Westgate Tower
Australia | China | Indonesia | Japan | South Korea | Taiwan | Thailand