In Search of Purpose #25 - The Globetrotting Mathematician: An Evening with Dr Yeap Ban Har

Thursday, 10 October 2019 from 19:30 to 21:30 (Singapore Standard Time Singapore Time)
Event Details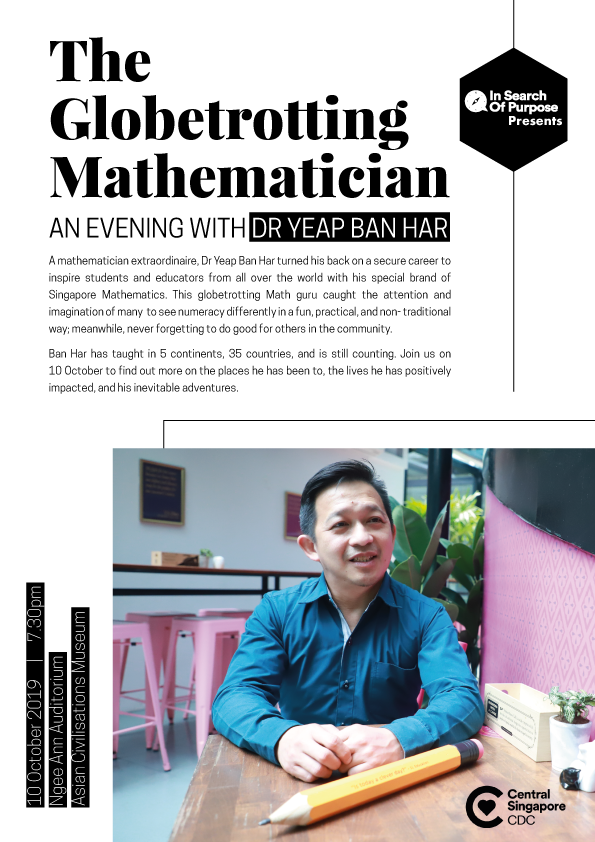 About the Speaker - Dr Yeap Ban Har
Dr Yeap Ban Har is currently the Director of Curriculum and Teacher Development at Pathlight School in Singapore and Academic Director at Anglo Singapore International School in Thailand. 

An accomplished and inspirational speaker, he has presented many keynote lectures at international education conferences and has given seminars at various universities around the world. Ban Har is also one of the world's leading experts in professional development for teachers in Singapore Mathematics. He teaches mathematics education courses around the globe and has done so in 35 countries. 

Ban Har is also a mathematics textbook author and consultant. His textbook series and professional development books for teachers are used around the globe and have been translated into seven languages. He is the consultant of the New Syllabus Mathematics Series adopted by most secondary schools in Singapore. He is also the consultant and author of Maths — No Problem! Series (adapted from the New Syllabus Primary Mathematics Series) adopted by many schools in England.

Ban Har spent 10 years at the National Institute of Education in Singapore where he taught a range of teacher education courses, including graduate courses, and was involved in several funded research programmes in mathematics education. He then went on to be Principal of Marshall Cavendish Institute, a global teacher professional development institute. He sits on the advisory board of several schools in Singapore and Asia and was also a consultant for World Bank projects.

Ban Har continues to teach courses and supervise practicums at tertiary institutions around the world. He has been a teacher for almost three decades, and likely for quite a while more.

Join us on 10 October to find out more on the places he has been to, the lives he has positively impacted, and his inevitable adventures.
About the "In Search of Purpose" Talk Series 
In Jan 2015, Central Singapore Community Development Council (CDC) launched the In Search of Purpose Talk Series (ISOP), a TED-style inspirational talk series that seeks to help adults and youth discover their bigger role in society. Speakers, either local or overseas, are invited to share their personal stories and experiences about various topics that we hope will encourage the audience members to give back and be part of a more caring community in Singapore. The bimonthly talk is hosted by Ms Denise Phua, Mayor of Central Singapore District. 
Speakers featured in previous ISOP talks include:
1. Mr Lim Siong Guan, Group President of GIC
2. Ms Ann Medlock and Mr John Graham, Founders of Giraffe Heroes Project
3. Mr Benny Se Teo, CEO and Founder of Eighteen Chefs
4. Mr Kenny Low, Founder of City College and O School
5. Ms Eunice Olsen, Founder of WomenTalkTV
6. Dr Tan Lai Yong, Lecturer and Director for Outreach and Community Engagement at NUS College of Alice & Peter Tan 
7. Mr Louis Ng, Executive Director and Founder of Animal Concerns Research and Education Society (ACRES)
8. Ms Chia Yong Yong and Ms Leslie Chia, Special Needs advocates
9. Dr Goh Wei Leong, Chairman and Co-Founder of HealthServe
10. Ms Kuik Shiao-Yin, Director and Co-Founder of The Thought Collective
11. Ms Belinda Lee, Goodwill Ambassador for World Vision Singapore
12. Mr Bob Lee, Renowned Photographer
13. Mr Jack Sim, Founder of the World Toilet Organisation
14. Mr Adrian Tan and Ms Tan Shook Wah, Founder of Ad Planet and the Dare to Dream Scholarship respectively
15. Mr Liak Teng Lit, COO of Perennial Real Estate Holdings and Former Chairman of the Public Hygiene Council
16. Mr Ravi Manas, Founder of Children of Mother Earth
17. Mr Philip Yeo, Chairman of SPRING Singapore
18. Mr Ho Kwon Ping, Founder of Banyan Tree Holdings
19. Mr Eugene Heng, Founder and CEO of Waterways Watch Society
20. Professor Tommy Koh, Ambassador-at-Large
21. Mr Quek Ling Kiong, Award-Winning Musician and Orchestra Conductor
22. Mr David Hoe, Junior College Teacher and Director of I Am Talented
23. Dr Noeleen Heyzer, Social Scientist and former Under-Secretary-General of the United Nations
24. Ms Irene Ang, Founder and CEO of Fly Entertainment
Our previous ISOP sessions are available on our Youtube page here. 
#InSearchofPurpose #ISOP #CentralSGCDC 
When & Where

Ngee Ann Auditorium
Asian Civilisations Museum
1 Empress Place
Singapore, Singapore 179555
Singapore

Thursday, 10 October 2019 from 19:30 to 21:30 (Singapore Standard Time Singapore Time)
Add to my calendar
Organiser
Central Singapore Community Development Council (CDC) serves close to 1 million residents living in the Central Singapore area and envisions itself as a do-good district. The CDC reaches out to four key communities (children, youth, adults, and seniors), and four key causes (arts and culture, environment, healthy lifestyle, and special needs). 
Aside from meeting ground needs through localised initiatives, the CDC also value-adds to the community as a whole – developing district-level initiatives and creating sustainable programmes, as well as supporting meaningful community projects. Working with a variety of partners such as schools, voluntary welfare organisations and the grassroots, the CDC brings together various community resources for a more holistic approach to community building.