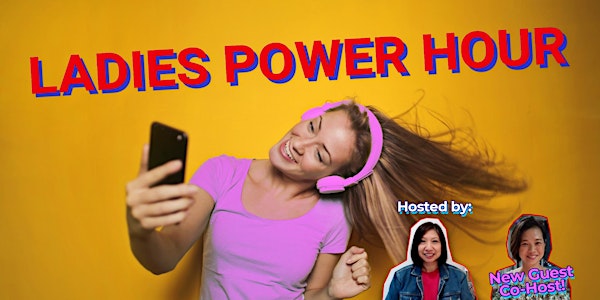 INA Pop-Up Event: LADIES POWER HOUR
INA Ladies Event: Ladies Power Hour – Fancy Dress Have some fun and connect over a short pop-up network session on Zoom for 45min!
Refund Policy
Refunds up to 7 days before event
Eventbrite's fee is nonrefundable.
About this event
Programme outline
Opening and greetings
Power Search: Words that Uplift
Power Movement – Dance, Sing, Clap , Smile or …. Just be there
Small connectivity groups: Topic – Own Your Power!!!
Re-grouping
Closing
Introducing our new guest co-host: Chan Yan!
Why this?
Going for network sessions can be daunting, especially for introverts.
Wouldn't you like to enlarge your network circle in a comfortable environment, meeting interesting people who are authentic and friendly?
INA (Introvert Network Asia), is a community that provides quiet and gentle connections
This themed pop-up event helps us turn acquaintances into friends, through positive social and professional interactions.
Moreover, in a restrictive environment or lockdown, this is a great avenue for stress relief and connect with one another on a personal basis.
What is it all about?
This 45-minute event is a fun time for connection, a twist from the usual network meetings.
It is a platform for uplifting each other and have fun in simple ways.
It allows creativity in expression through kinesthetic movements filled with laughter and big smiles
You get to connect in small groups to have meaningful and delightful conversations
To add to the fun, every session has a special theme.
How do I join?
That is easy. Just clink on the link and sign up for your complimentary ticket.
Date: 14 Oct 2021 (Thursday)
Time: 11am – 11.45am
Venue: Virtual Platform (Zoom)
Theme: Retro! (Dress up in anything that's retro from clothes to scarves to hairbands to trinkets to hairclips to accessories. If you haven't any of these, it doesn't matter, just come and enjoy the fun.)
Sign Up Now
Come join us, as we encourage each other in this programme.
This is a pop-up event, not held frequently and neither is it on a regular basis. Seize this opportunity to connect under a fun network session.
Book your complimentary ticket now as places are limited. Looking forward to meet up.
See you soon ladies, at this close door exclusive event for INA.
The Organizing Team
We are a collaborative team consisting of co-working partners, Della Ng (MetaCircle International) and Sin Kok Wai (ThePufferfish)
It is a joint-effort where we have always wanted to give back to the community and make a difference to people's lives.
Della will be fronting this by being the event host, facilitating the 45min session where you get to express yourselves in dancing, singing, clapping or just being there with a big smile
Kok Wai, on the other hand, plays an active supporting role with event management, administration, technical and marketing activities.
Collaborative partners
Della Ng x Sin Kok Wai
💃🕺💃🕺💃🕺💃🕺💃🕺
FAQ
Why do you want to host this event?
We have benefited from networking groups and from INA. We would like to give back to the community and take the lead to host creative programmes to stay connected, whilst promoting mental health with fun things to do together.
Can my friend who is not from INA join in?
Though our first invite is for introverts from INA, if you can bring a friend and introduce your friend to the likes of INA, you are welcome to do so. For crowd control, all participants need to register through the ticket booking platform.
What if I am too shy to dance and don't know how?
Dancing may be fun but it is not everyone's way of expressing fun and joy. If you prefer to sing, clap, move along or just be there, we leave it to your preference and level of comfort.