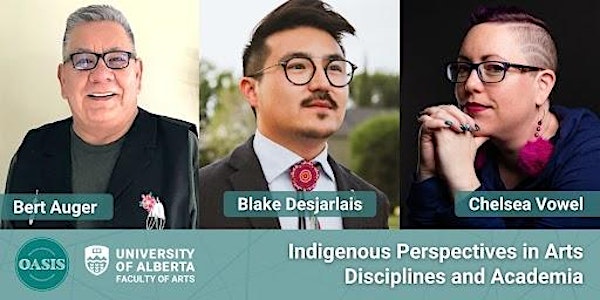 Indigenous perspectives in arts disciplines and academia
Indigenous academia perspectives panel
When and where
Location
University of Alberta - Humanities Centre - HC L1-L1 111 St NW, Edmonton, AB T6G 2S1 Edmonton, AB T6G 2R3 Canada
About this event
The goal of this speaker series is to highlight the value of an Arts degree through the experiences and perspectives of marginalized peoples.
OASIS, along with the Arts Undergraduate Student Services office is so excited for this session which kicks off the new speaker series, The Value of an Arts Degree From Marginalized Perspectives.
Bert Auger (he/him) is an Edmonton-based Cree elder, and a member of the Whitefish Lake First Nation #459. Auger began learning from his elders (his grandfathers) as a young boy and continues to study and work under the guidance of elders today. Bert was a social worker, employed by the Alberta government for 25 years, where he co-led the development of a ground-breaking Aboriginal employee recruitment and retention program.
Blake Desjarlais (he/him) made history in September 2021 when he was the first openly Two-Spirit person elected to the House of Commons. Blake is currently Alberta's only Indigenous Member of Parliament. Blake was born in ᐊᒥᐢᑲᐧᒋᕀᐋᐧᐢᑲᐦᐃᑲᐣ (Edmonton) and raised in the Fishing Lake Métis Settlement.
Chelsea Vowel (she/her/wiya) is Métis from manitow-sâkahikan (Lac Ste. Anne) Alberta, residing in amiskwacîwâskahikan (Edmonton). Parent to six children, she has a BEd, LLB, and MA. She is a Cree language instructor at the Faculty of Native studies at the University of Alberta. Chelsea is a public intellectual, writer, and educator whose work intersects language, gender, Métis self-determination, and resurgence.