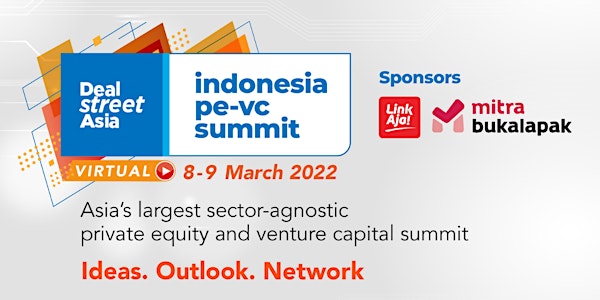 Indonesia PE-VC Summit 2022 (VIRTUAL)
Our Indonesia PE-VC Summit by DealStreetAsia brings together leading names in the PE, VC & Startup worlds focused in SEA, India & China
About this event
Visit the main summit page for the most up-to-date information on speakers and agenda
Recognising the growing role and significance of Indonesia – the largest market in the Southeast Asia region – DealStreetAsia launched a regional variant of its annual, Asia PE-VC Summit in Jakarta. The summit was first held in 2019. In its third year, it will be held on March 8 – 9, 2022.
What's on the agenda?
The Indonesia PE-VC summit addresses the unique opportunities and challenges facing the country's PE, VC and startup ecosystem as it navigates a rapidly modernising economy – one where legacy business models are being questioned and upended on a daily basis.
It includes panel discussions and in depth conversations with some of Indonesia's largest investors, most disruptive startups and unicorns, giving a from the frontlines view of economic transformation.
What makes the Indonesia PE-VC Summit worth attending?
The Indonesia PE-VC Summit is curated by the editorial team at DealStreetAsia, a Singapore-headquartered, subscription-driven media company. Over the last six years, we have covered all deals across Asia including private equity, venture capital M&As, listings and the business of startups, breaking some of the biggest stories in the region.
We bring to the event the rigour that has powered our editorial coverage.
At the PE-VC Summit, delegates can expect true perspective and insight with no blatant company pitches or spin, and the chance to network with an audience of leaders – over 80% of our delegates in previous summits have held senior management roles.
TOPICS
How are global VC investors gauging the opportunities in Indonesia?
DTC brands coming of age in Indonesia
SE Asia's macro trends point to a long runway for growth in tech
The evolving private equity landscape in Indonesia
How tech investments can blend social impact and financial returns
What's next for Indonesia's well-funded and crowded SME digitalisation space?
Indonesia key to generating alpha for VCs in SE Asia
Indonesia in Spotlight: Of unicorns, big-ticket funding, digital boom & exit landscape
Indonesia's tech sector enters golden age with accelerated digital adoption
Multi-stage investment approach and leveraging networks to pick winners
Value creation through value-addition and 'consumers-first' investment strategy
The Xendit Story: From unicorn milestone to upping stakes in financial services game