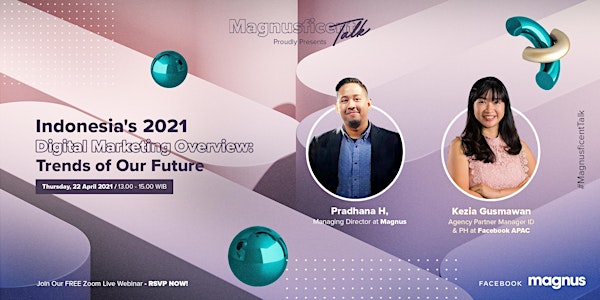 Indonesia's 2021 Digital Marketing Overview : Trends of our future
We cordially invite you to an exclusive dialogue series to explore deeper insights on Indonesia's digital industry
About this event
We are back with our #Magnusficent Talk! Be enthusiastic as we are, because this event is Free and Open for Public!
This webinar will educate the participants on how to develop their digital fluency, as well as the challenges and exciting opportunities that technology could create and result in a company as well as an individual.
Having a strategy that includes the market wants and needs are essential so that you can make your business stands out amongst others. But what's the most significant and effective approach to explore with Digital Marketing and help your brand to reach its goal? #Magnusficent Talks is back again to give you more knowledge about Digital Marketing!
In this Magnusficent Talks, we will discuss thoroughly Indonesia's 2021 Digital Marketing Overview: Trends Of Our Future
- 2021 Indonesia's Digital Marketing trends overview
- The importance of overall digital marketing for your brand
- Significant change and exciting things to explore with digital marketing
- An Effective approach to gain new user via digital marketing (data-driven marketing, personalization)
- How digital marketing helps your brand to reach its goal
Rundown
13.00 - 13.05 Opening
13.05 - 13.35 Presentation 1: Kezia Gusmawan, Agency Partner Manager ID & PH, Facebook APAC
13.35 -14.10 Presentation 2: Pradhana H, Managing Director of Magnus
14.10 - 14.50 Panel discussion & Q&A session
14.50 - 15.00 Closing
*Event will be conducted in Bahasa Indonesia
**If any, please do sign up using your corporate email