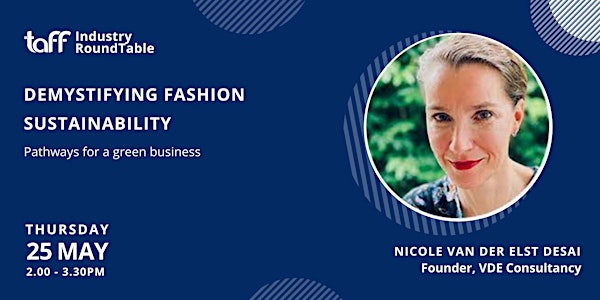 Industry Roundtable: Demystifying Fashion Sustainability (NET-IR)
Industry Roundtables are learning and dialogue sessions allowing you to have your voice heard and impact policies that shape the industry
About this event
TaFF Industry Roundtable
Join Nicole van der Elst (Councillor and Chair of Sustainability Steering Committee), as she unpacks the impact of manufacturing and consumers, and shares about emerging technologies and evolving sustainable business models.
Find out about collaborations and partnerships that could benefit your business!
Industry Roundtables are a series of dialogue forums that give TaFF members a chance to have their voices heard. Led by a member of the TaFF council and geared around a specific theme or focus, each session is part-learning, part-dialogue - giving members the space to impact the way in which the association determines its policies and shapes our industry.
About The Speaker
Nicole van der Elst Desai, TaFF Council Member and Founder VDE Consultancy
Nicole van der Elst Desai is Founder of VDE Consultancy, and a valued expert in the field of textile innovation, technology and sustainability. She brings more than 20 years of experience working in the textile and apparel industry covering brands & retailers, as well as their manufacturing partners.
VDE Consultancy has worked with clients as DyStar, STS, Yeh Group. Additionally, Nicole is the technical partner with Forum for the Future's 'Circular Leap Asia' program and the technical lead on Forum's program 'Tackling microfibres at source'. She is, also, a member of the advisory board of Living wear, council member at Textile and Fashion Federation (TaFF), and a specialist mentor with The Bridge Fashion Incubator (TBFI) and a mentor with Fashion For Good South Asia innovation programme.
Nicole is passionate about creating better products & processes that leave behind a better planet for future generations.