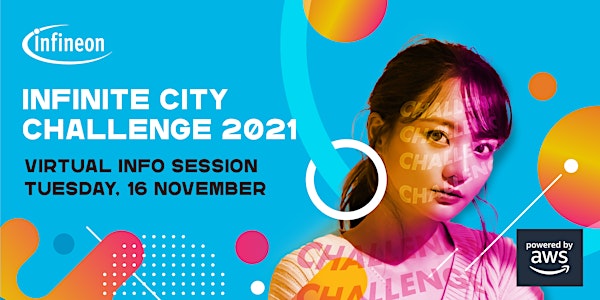 Infineon AWS Infinite City Challenge: Info Session
This webinar will introduce the Infinite City Challenge for startups, organised by Infineon Technologies and Amazon Web Services (AWS).
About this event
The Infinite City Challenge, invites teams to create ground-breaking IoT solutions for the smart city of the future, where technology makes life safer, easier, and greener for all. Both companies - Infineon Technologies and Amazon Web Services (AWS) are opening up their cutting-edge IoT development resources to help you supercharge your smart city solution!
This Info Session will introduce all prospective participants to the Challenge process, opportunities, and our themes and opportunity statements.
Why You Should Join
All shortlisted teams will receive an exclusive starter kit of Infineon's state-of-the-art development tools, and USD1,000 worth of AWS Credits. Selected participants will be taken through a three-month development phase to test and refine their solutions.
Winning teams will receive prizes from a pool of USD28,000!
Home
1. Ageing in Place
How might smart assistive technology boost the wellbeing of our seniors and prevent accidents at home, so that we can support their healthy and active ageing?
2. Smart Home Appliances
How might a Smart Home with smart, connected devices serve and even anticipate the everyday needs of users?
Workplace
3. Building Management System (BMS)
How might Building Management Systems (BMS) respond more quickly and accurately to changing requirements and conditions, so that building operators can optimise building security, climate control (temperature), lighting, ventilation, and the distribution of occupants in the building?
4. Predictive Maintenance (PdM)
How might we optimise predictive maintenance for Smart Manufacturing, so that the systems are interoperable, agile and scalable?
Infrastructure
5. Public Infrastructure
How might we improve the capabilities of our public infrastructure (for example, street lighting, CCTV, dustbins, billboards, etc.), so that we can monitor and mitigate traffic congestion, weather incidents, air pollution, energy consumption, etc.?
6. Renewable Energy Infrastructure
How might we improve our renewable energy infrastructure (for example, electric vehicle charging stations, solar pumps, wind turbines, etc.), so that it can be more efficient and convenient for both consumers and service workers?
More information here: https://bit.ly/infinitecitychallenge.