Info-Session: Social Innovator (Tech & Design)

Monday, 30 July 2018 at 10:00

-

Friday, 24 August 2018 at 13:00 (CDT)
Event Details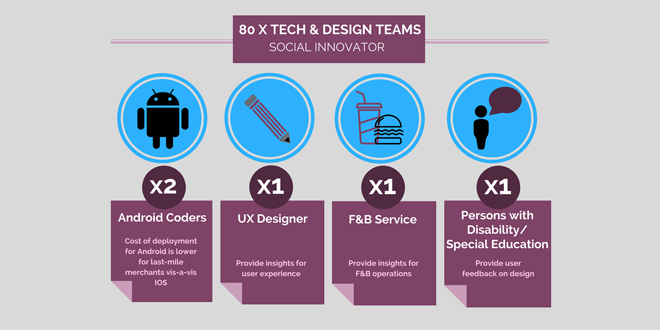 Make A Difference Ground-Up! Up to 4 x 20 Social Innovator teams will make a difference to enable the lives of persons with disabilities by designing and developing a universal inclusive merchant app that can be used in both Special Education (SPED) Schools, Disability sector, and F&B sector. In doing so, these social innovators become founding members of a national movement to co-create a giving and inclusive economy ground up.
There will be 4 categories of solutioning for participants to choose from:
Category 1: Merchant App Only (20 Teams)
Category 2: Merchant App + Bluetooth Printer (20 Teams)
Category 3: Merchant App + Android Wear (20 Teams)
Category 4: Merchant App + Any IoT Device (20 Teams) 
Mobile ordering (Takeaway, Dine-in, DeliveryForGood, MealsForGood) public APIs and data will be provided by co-organisers so that participating teams can focus on designing and developing the client layer of a user-friendly merchant app. Bluetooth printers and Android Wear devices will be provided by co-organisers.
The coding effort is assessed to be no more than 1.5 weeks, however, participants are given a period of 2 months to build up their knowledge via various activities listed below, consult SPED schools and their assigned SPED team members to ensure that their merchant app is user friendly and inclusive.
Team sizes of 4 to 5 are recommended with the above background illustrated in infographic. Individuals without complete teams will be paired with other Social Innovators to form a complete team.
Post event, insights gleaned from various universal and inclusive designs shall be collated as a universal inclusive merchant app to be used in both SPED and F&B sectors, with opportunities for participants to follow-up with freelancing, portfolio building, or start-up opportunities.
The following Service-Learning activities date, time and venue will be confirmed after registration. Ad-hoc sessions may be arranged upon request.

When & Where

All Institutes of Higher Learning (IHL)


Singapore

Monday, 30 July 2018 at 10:00

-

Friday, 24 August 2018 at 13:00 (CDT)
Add to my calendar