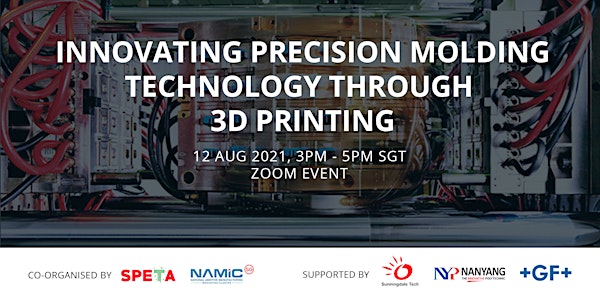 Innovating Precision Molding Technology through 3D Printing
Explore the use of Additive Manufacturing technologies to enhance Precision Engineering processes and increase manufacturing productivity.
About this event
Precision Engineering (PE) is the backbone of many industries, particularly in the semiconductor, marine & offshore, aerospace and medical technology industries in Singapore. PE technology allows for the design and customization of parts made to precise specifications and in striving for higher value activities, the PE industry will have to innovate with new capabilities and digital solutions.
In a webinar co-organised by Singapore Precision Engineering & Technology Association (SPETA) and National Additive Manufacturing Innovation Cluster (NAMIC), we explore the use of Additive Manufacturing (AM) technologies to enhance PE processes and increase manufacturing productivity. With speakers from, SPETA, NAMIC, Nanyang Polytechnic, Sunningdale Tech and Georg Fischer, audience can expect to learn about:
1. Overview about the local 3D printing ecosystem and how it has grown in the past few years
2. The potential of 3D printing and how players in the precision molding business are using 3D printing today
3. How 3D printing can be integrated and optimized for mold & die applications, and how it can complement the current precision engineering technologies
4. AM training program and grant available for companies which are new to AM to help them jumpstart their AM journey
The content of this webinar is suitable for plastic injection molders, precision machining and other PE companies who wish to understand more about AM technology.
Agenda
15:00 – 15:10 SGT - Opening Remarks by Mr Steven Koh, Executive Director, SPETA
15:10 – 15:25 SGT - Overview of AM Ecosystem in Singapore by Dr Ho Chaw Sing, Managing Director, NAMIC
15:25 – 15:45 SGT - Conformal Cooling Application in Tooling Industry by Mr Simon Tan, Chief Technology Officer & Senior Vice President, Sunningdale Tech Ltd
15:45 – 16:05 SGT - Streamline and Optimize your Metal Additive Workflow by Mr Adrien Rodrigues, Business Development Manager Additive Manufacturing, Georg Fischer
16:05 – 16:20 SGT - Driving Capabilities Development Through Collaboration & Training by Mr Zaw Hlwan Moe, Manager, Additive Manufacturing Innovation Centre (AMIC), Nanyang Polytechnic
16:20 – 16:30 SGT - Enterprise Singapore-NAMIC Open Grant Call by Ms Tan Hui Qi, Head of Programs, NAMIC
16:30 – 17:00 SGT - Q&A
---
Notice: This is to acknowledge that by clicking "Register", you have consent and agree to disclose your personal data and details with the Event Organisers: NAMIC Singapore and SPETA respectively; for the Event Organisers to follow up on post event marketing-related activities and subscribed to their latest and upcoming news, events, offers and activities.
Please contact lynn.limxj@ntuitive.sg if you need to seek further clarifications.