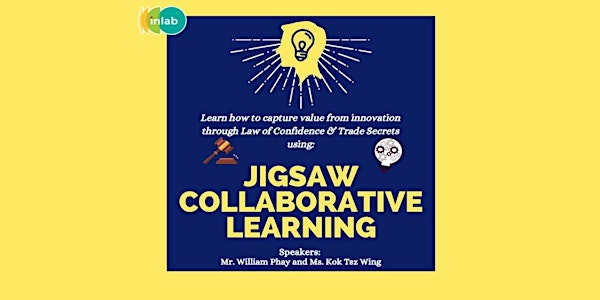 INNOVBITE : COLLABORATIVE LEARNING
innovBite: COLLABORATIVE LEARNING - Learn how to capture value from innovation through Law of Confidence & Trade Secrets.
About this event
This innovBite June session aims to provide participants with a jigsaw collaborative learning approach to illustrate that the beauty a participant teaches others in turn enables himself or herself to acquire understanding and mastery. Using a Court Case Study, we will share & learn to implement effective and experiential "privacy" & "confidentiality" considerations, understand the elements to succeed in an action for breach of confidence, appreciate an appellant's predicament as an example of an increasing common issue faced by owners of copyrighted and confidential information, particularly in the content of disputes arising out of erstwhile employer-employee relationships. IP considerations are applicable for Authorial (Literary, Dramatic, Musical, Artistic) and Works/Derived works (Sound recording, Film, etc.).
Pre-Reading material: Random set of pre-reading material shall be provided one week ahead of the zoom session. Please email William at williamphay001@suss.edu.sg to receive the reading material.
Early Registrants (before 1 Jun): Early valid registrant shall be entitled to a free access CODE to a future paying event on Using Collaborative Learning: Non-Disclosure Agreement Types, Purposes and Limitations, subject to minimum registration.
-----------------------------------------------------------------------------
About the Speakers:
William Phay
William is a Chartered Engineer (IES), certified PROSCI© Change Management, a Senior Practicing Management Consultant and has > 7 IPRs (patents, registered design, trademarks). He exploits his IP knowhows in various stage of this IP Value Life Cycle. William is also currently pursing IP Law. He has > 24 publications, won Innovation Prizes and Grants, commercialized his inventions, and has transformed companies into P&L.
Kok Tsz Wing
Tsz Wing is a Learning Innovator at SUSS-IAL. She is trained in psychology and has tacit experiences in research design, strategies and methodologies. Tsz Wing adopts a client-centered and holistic approach to resolving issues relating to Intellectual Property, Non-Disclosures, and authorial works (copyrights related) in her work on innovDev and innovBite programmes catered for the TAE sector.

------------------------------------------------------------------------------
Visit our inlab's innovBite Eventbrite Collections to see what events we have been running: