INSEAD Wine Club - Riedel Wine Glass Masterclass: size and shape do matter!
Description
Time:
6:00 - 7:00pm: registration and light buffet
7:00 – 9:00pm: Riedel Wine Glass Masterclass

Size and shape do matter for Wine tasting and appreciation!
Join us for a unique wine and glass tasting experience where we explore how the different shapes and sizes of a glass can affect your perception of wines! Victor Ulrich, Vice President of Riedel Crystal Asia, will personally guide you through this exclusive masterclass using Riedel Performance, the latest Riedel collection of glassware.
The price includes:
4 Riedel glasses for you to keep - worth 200SG$ (*)
4 wines to taste (Cabernet, Pinot noir, Oaked Chardonnay, Sauvignon blanc)
a demonstration of decanting
Lindt chocolate pairing
finger food / light buffet
Please contact Mimi at +65 96571610 if you have any questions.
INSEAD NAA members and INSEAD MBA students and a guest each pay: $120
INSEAD Non-NAA members and a guest each pay: $150
DUAL members and a guest each pay: $150
(*) RIEDEL PERFORMANCE tasting set 5884/47 Recommended Selling Price is: $204.00
A 25% discount on retail price glasses catalogue will be available to attendees.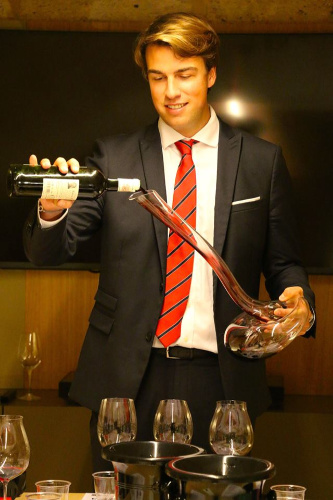 Victor Ulrich bio
Before joining Riedel, Victor ULRICH has distinguished in the French wine industry. Born and raised in Alsace and educated in Bordeaux, Mr Ulrich developed his passion and knowledge for wine while working at Union des Grands Crus de Bordeaux (UGCB) as a project Manager. He graduated from INSEEC Business School Bordeaux and Victoria University Melbourne. His career with Riedel started in 2013 as sales manager for Riedel in France. Victor rose through the ranks to become Riedel Country Manager France. Through the sustained successful growth of the business throughout the region, Victor was appointed the Vice President of Sales and Marketing for Riedel Glass Works Asia Pacific. His responsibility is to oversee and secure the growth and market position of all brands under the ownership of Riedel Glass Austria and the Riedel family.
Riedel Performance glasses description
Claus Riedel was the first person in the long history of the glass to design its shape according to the character of the wine. PERFORMANCE is the first Riedel wine glass series to feature bowls with a light optic effect. Detailed research by the Riedel family, aimed at improving the organoleptic wine experience, revealed that increasing the inner surface area of the glass had a positive impact on the perception of the bouquet and flavor of the wine. Lightweight, durable and dishwasher safe, Performance glasses are executed in sparkling fine crystal, and feature long fine stems and large stable bases. The grape varietal specific shapes in Performance, when combined with the optic impact, deliver ultimate wine enjoyment.
Join the INS-AL Wine Club(s) Telegram group.

---
Become an NAA SG member now and contact us for the promo code so you can enjoy all the benefits, including special prices on this event. Note: NAA SG event tickets are non-refundable. However tickets are transferable and may be resold/given away to fellow INSEAD alumni. Contact us for more details. This event is limited to INSEAD alumni and a guest each. If you signed up erroneously, we will reimburse you, but deduct the admin processing fee. We hope you understand. Check out the NAA SG Blog here.