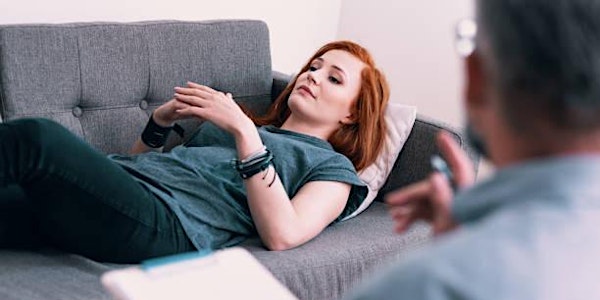 Integrated Clinical Hypnotherapy Certification Level 1
Integrated Clinical Hypnotherapy Certification Level 1
Date and time
Thu, 21 Sep 2023 09:00 - Fri, 22 Sep 2023 18:00 +08
Location
ReDefine Wellness 333B Beach Road Singapore, 199563 Singapore
Refund Policy
Contact the organiser to request a refund.
Eventbrite's fee is nonrefundable.
About this event
1 day 9 hours

Mobile eTicket
https://redefinewellness.asia/integrated-clinical-hypnotherapy/
With this Certification, it allows you to be eligible to apply to be a Member of International Medical and Dental Hypnotherapy Association in USA.
This internally recognized training is accredited in UAE by Knowledge and Human Development Authority. EKAA courses are also now being taught at UC San Diego, Department of Medicine. EKAA is the FIRST ISO 9001 : 2015 Certified Integrated Clinical Hypnotherapy Training Institute. This training allows you to be your own therapist to rediscover, understand yourself at a deeper level and heal from within.
OR
If you are or going into a healing or counselling profession, this work allows you to move a client to explore deeper parts of the psyche, their inner myths and the emotional and attitudinal patterns that unconsciously influence their physical, mental and emotional behaviour.
The Certification course is a 5 level curriculum and help individuals get maximum practice during the one year programme. The modules are designed and delivered progressively where skill-set enhancement is guaranteed. The Clinical Hypnotherapy course by EKAA can work with management of medical conditions or psychological and habitual issues such as depression, asthma, psoriasis, eczema, allergies, migraine, de-addiction, relationship issues, fears, phobias, pain management, weight management, eating disorders, dandruff, pimples, acne, back pain, joint pain, arthritis, nail biting, laziness, hair fall, PCOD, breathing problem, insomnia, accident and surgical trauma, etc…
In this 2 days basic course in Integrated Clinical Hypnotherapy (Level 1) you..
Will be able to replace negative and limiting thought patterns in life, with positive SELF TALK by learning to formulate positive statements for Self Improvement.
Learn to communicate with individuals based upon their specific understanding to interpret spoken suggestions based upon their suggestibility.
Will be able to develop a confident & amp; dynamic personality and will be able to communicate effectively based upon the efforts put using specific techniques shared during the course!
Will learn Self- Hypnosis and will be able to bring about changes in your personality without dependency on any one. Will also learn to formulate positive suggestions for the self.
Individuals who want to make a career in counselling and therapy field, will be able to take the first step towards a successful career option as a Hypnotherapist.
Understanding the difference between the eastern hypnosis and western hypnosis and learn to deal with the myths about hypnosis.
Will learn to hypnotize a willing individual for the purpose of Suggestive Hypnotherapy!
What will we cover?
- Introduction and Brief History of Hypnosis (Deals with clarification of myths and applications of a well-researched science call HYPNOSIS)
- History of The Development of the Human Mind (Deals with patterns of how primitive human lived based upon instinctual behaviour and with changing times how modern human has become analytical and logical in terms of his thinking and how it results in challenging situations in LIFE!)
- The Theory of Mind (A great concept to understand how our mind operates in our day to day life, based upon the experiences that it has gathered right from the time of our birth and beyond)
- How to Induce the Hypnotic State (Learning various methods of induction for deep relaxation and hyper suggestibility) Finger Spreading, Arm Raising, Reverse Count, Auto-Dual Induction
- Dream Interpretation (How in our sleep state our sub-conscious mind communicates or gives indication by showing different visuals)
- The Theory of Suggestibility (Learning how to communicate with individuals with different outlooks and behavioural traits towards self and towards the environment you dwell in to)
- The Laws of Suggestibility (Dealing with individuals and wording your conversation for desired response in the area of career, relationship and life performance)
- The FLIP (Adapted tool of Rational Emotive Behavior Therapy – REBT of psychology used clevery to change the initial mind-set of the client from negative to positive intension so that the client takes the onus of healing on ones own self rather than getting in to blame or anger on others…)
- How to Conduct a Hypnotic Session (Learn how to help others around you to experience and make a difference in their day to day life)- Deepening Techniques (experience deep relaxed state to sow the seeds of positive thoughts and experience the power of the sub-conscious)
- Wording of Effective Suggestions (Formulating speech and suggestions based upon personality specifics. Learn to convert the constant negative self talk in to simple positive suggestions which you can formulate for SELF and others to create the desired reality around you)
- Post-Hypnotic Suggestion for Re-Hypnosis
- Awakening Techniques
- Self Hypnosis : 21 days exercise of Self Hypnosis for SELF Development in the area of Goal accomplishment, Self Confidence, Self Esteem Boosting, Improving the quality of sleep and Stress elimination (Learning the technique to improve the self as well as training your client to bring about behavioral changes and successfully develop basic practice to a CAREER in INTEGRATED CLINICAL HYPNOSIS)
Course Schedule (Singapore Time) :
Integrated Clinical Hypnotherapy Certification Level 1
Timing : 21st & 22nd September 2023 @9am to 6pm
Fees : S$550
Venue : ReDefine Wellness @ 333B Beach Road, Level 3, Singapore 199563
For any additional questions or information, please contact Shirley at +65-91992684 shirley.tay@redefinewellness.asia or Pooja at +65-97276181 pooja.arora@redefinewellness.asia
For more details and information on workshops and classes schedule, please visit our website : https://redefinewellness.asia/view-schedule/
By registering for this event you agree with our Terms of Service (https://redefinewellness.asia/terms-or-service/) and Privacy Policy (https://redefinewellness.asia/privacy-policy-3/). You also give us permission to reach out to you for this or similar events. You can always change these permissions by letting us know at info@redefinewellness.asia.
About the organiser
Pooja Arora, co-founder of ReDefine Wellness, and is also a Reiki master teacher, Yoga Instructor, Silva Method Instructor (dynamic meditation), Ayurvedic Diet and Lifestyle Counsellor, Hypnotherapist, Inner Child Integration Therapits, Past Life Regression Therapist, Wellness Coach and a Meditation Guide.
She stumbled upon the path of alternate therapies like Meditation, Yoga, Silva Method and Reiki, after a debilitating illness in her early 20s and it had an life-changing impact on her. She passionately believes they can be of benefit to countless individuals in need of physical, emotional and spiritual healing. Her journey has led to the creation of ReDefine Wellness and she is continuing this journey to learn about alternate therapies, absorb and share with others.
She is also an engineer & an MBA and Marketing specialist with 12+ years of international marketing experience, working with companies like P&G and Unilever.