Description
Here's a short video to share on what you can expect at our workshops :)
https://youtu.be/2YUiWloTfhc
Course Title:
Integrated Facebook Marketing for Business & E-commerce Owners
Time: 10am to 6pm | Max. 6 Pax | 80% hands-on training
Course is SkillsFuture Credit Eligible for Singaporeans 25 years old and above.

By the end of the workshop, participants will be able to:

1. Brainstorm better Facebook Contest and Campaigns (Learning from Case Study)
2. Create Facebook Ads that SELL (with Microsoft PowerPoint)
3. Use Facebook effectively as a marketing tool to GROW your business
4. Learn about Advanced Facebook Advertising in Facebook Ad Manager
5. Learn about re-targeting and other advanced features in Facebook Ad Manager
6. You can choose to launch 1~2 actual Facebook Campaigns during the course, with the help of consultation with the Trainer


What to expect during the workshop?
Hands-on workshop where participants design and develop a Facebook marketing campaign to suit their marketing needs. Participants will learn to design effective Ads, learn the different/advanced advertising tools available in Facebook Ad Manager.


Target Audience:
Facebook Marketing and Advertisers who would like to learn the holistic concepts of Facebook Marketing and Advertising. Most importantly, this course is suitable for Business and E-commerce Owners.

There are many tools available for E-commerce Owners.
In the 2-day course, we will explore basic and advanced Facebook Ads.


Day 1 of the workshop:
1. Introduction to Facebook Marketing
2. GROW your Business with FACEBOOK MARKETING
3. (a) Explore Facebook's Marketing and Advertising Tools
3. (b) Explore Facebook Business Page INSIGHTS
4. Winning Strategies on social engagement with your CUSTOMERS on Facebook Marketing and Advertising
5. Learn about planning your Social Media Calendar on Facebook
6. Graphic Resource & Cropping Images
7. Launch your Facebook Posts and Ads
8. Final Consultation and Q&A

Day 2 of the workshop:
9. Hands-on: Brainstorm, Develop and Plan your very own E-commerce Facebook Campaign and/or Contest (for the next 4~8 weeks)
10. Learn about E-Commerce Facebook Marketing and Advertising.
11. Settings in Facebook available for E-commerce Owners
12. Hands-on activity: Design your Facebook Campaigns (FREE Image and Icons resources will be shared, all you need is Keynote or PowerPoint to design your Ads and Posts. Bring along your product graphics and logos if you have them.)
13. Advanced Tools in Facebook Ad Manager
14. Learn how to EXPORT your MailChimp email list and IMPORT into Facebook for re-targeting
15. Learn how can you re-target your email list on Facebook
16. Learn how to re-target your web visitors and Facebook engagement users on Facebook
17. Facebook Pixels: Generate the code
18. Learn about Integrated Facebook Marketing and Advertising for Business and E-commerce Owners
19. Final Consultation, Q&A with Trainer

- - - - - - - - - - - - - - - - - - - - - - - - - - - - - - - - - - - - - - - - - -
What you'll need to bring to class:
• Laptop & Charger
• Mouse and Mouse Pad
• Pen & Paper will be provided

This is a Certificate Workshop. Receive a Certificate of Completion upon completion of the workshop from Sky Digital Agency.

As seats are limited due to small class size, we recommend for participants to register early.
Most preferably 3~4 weeks prior to course start date.
To pay for the course with your SkillsFuture Credits, email us at: skillsfuture@skycrm.asia
This workshop is SkillsFuture Credit Eligible.
As of Jan 2016, every Singaporean (25 years old and above) has $500 SkillsFuture Credits. As the course fee is $720, the only cash component will be $720 - $500 = $220
Course Code on SkillsFuture Directory: CRS-N-0044697

Email us at skillsfuture@skycrm.asia for payment instructions to pay us directly with your SkillsFuture Credits.

Details we will need for SkillsFuture Credit participants:
1. Name as in NRIC:
2. NRIC:
3. Mobile:
4. Email:
5. Home Address:

P.S. For company sponsored employees, companies get to claim $2/hour from SkillsConnect's Absentee Pay Roll.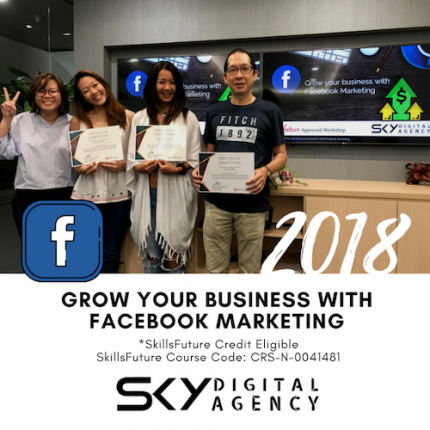 About the Trainer
Charmaine is the Creative Director of Sky Digital Agency and The Good Designers.
She has been conducting training since 2015, equipping her clients in Facebook Marketing, Search Engine Optimization (SEO) & Email Marketing, and other key digital marketing topics. Till date, she has conducted more than 1,000 hours training.

Charmaine makes learning interactive, practical and fun. She enjoys breaking down complex topics to help participants gain better understanding on Facebook Marketing, SEO & SEM, Infographics Design and more!
She strongly believes that the training industry needs more courses and training with smaller group of participants that allows them a more conducive environment to learn, ask questions, and have more 1-to-1 time with the trainer.

Other SkillsFuture Credit Eligible Courses under Sky Digital Agency
✓ Email Marketing with MailChimp (for Beginners)
✓ Grow your business with Facebook Marketing
✓ Advanced Facebook Ad Manager Tool Course
✓ Instagram Marketing for Beginners + Social Media Ads with PowerPoint (Bonus Content)
✓ Content Marketing for Social Media and Websites
✓ Integrated Facebook Marketing for Business and E-commerce Owners
✓ Integrated MailChimp Email Marketing for Business and E-commerce Owners
✓ SEO Internet Marketing for Beginners
✓ Google Analytics Course for Business and WordPress Website Owners

Enquire with us at workshops@skycrm.asia

Connect with us on:
Facebook | Instagram | YouTube | Website

- - - - - - - - - - - - - - - - - - - - - - - - - - - - - - - - - - - - - - - - - - - - - - - - - - - - - -
Here are some generous workshop reviews our participants have left us on our Facebook Page on how our workshops have helped them be a better marketer for their work, business, and startup:
You can also read even more testimonials on our workshops on our Facebook Page Reviews



FAQs
1. Who can i contact should i have questions?
You may e-mail us at workshops@skycrm.asia


2. Is there a minimum class size to proceed?
Yes. We require a minimum class size of 3 people to proceed with the class.
In the event that there are insufficient participants, we reserve the right to reschedule the class. Under such circumstances, we will inform you no later than 3 days before the event.
3. Where is the venue of the workshop?
6 Raffles Quay, #15-00, Singapore 048580
Nearest MRT: Raffles Place, take exit "i". The building 6 Raffles Quay is just beside Ascott at Raffles Place.
Our office is beside Hong Leong Building, 3 mins walk from Download Line, exit A.

4. I'm driving, where can I park?
There is parking space at the building 6 Raffles Quay itself at $2.50 per 30 min block.
Alternatively, you can park at Telok Ayer's Public Car Park.

For weekend classes, we recommend our participants to park at SGX Centre, at $3 per entry.
For Corporate Training Enquiries, please email us at trainings@skycrm.asia on your requirements, and we will be in touch with you within 2 working days.