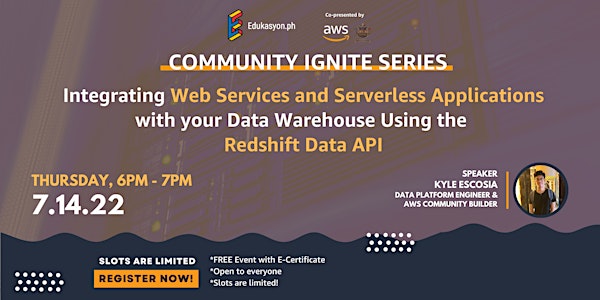 Integrating Web Services with Redshift Data API
We are back with more AWS-filled knowledge this Thursday!
About this event
Topic: Integrating Web Services and Serverless Applications with your Data Warehouse Using the Redshift Data API
Amazon Redshift is a fully managed, petabyte-scale data warehouse service in the cloud. Get to learn more about it live with our returning speaker, Kyle Escosia 🧑‍💻
Kyle is a Data Platform Engineer at Aboitiz Data Innovation and an AWS Community Builder. He is been in the industry for 3 years, focusing mainly on the data domain, and has experience in building and architecting data lakes and data warehouses in AWS.
Kyle is passionately curious about anything about data, everything about it gets him excited as it allows him to continuously learn and innovate.
Learn how you can access your Amazon Redshift data with web services-based applications for FREE🥳
Tickets are limited. Don't forget to reserve your slot today!
Invite your friends too and let's learn every week only at AWS Siklab Pilipinas
Join our community to stay updated:
https://linktr.ee/awssiklabph