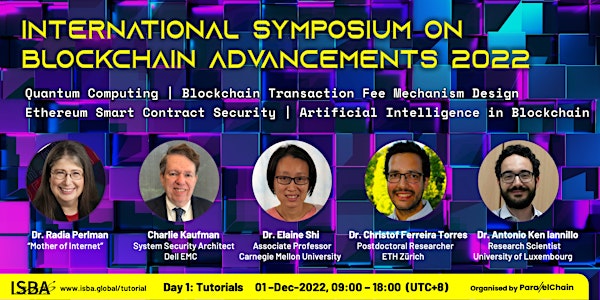 International Symposium on Blockchain Advancements '22 Tutorials Livestream
Blockchain tutorials presented by world-class technologists. Sessions details: https://isba.global/tutorial
About this event
Organised by ParallelChain Lab, the International Symposium on Blockchain Advancements (ISBA) aims to guide the first step in migrating to the digital economy by provoking meaningful questions and discussions that will enable all of us, builders and consumers alike, to cut through the blockchain hype and grasp a realistic view of the emerging trends and needs, and to provide a technical blueprint for innovative solutions.
To celebrate the inauguration of ISBA, several world-renowned computer scientists will be flying to Singapore and deliver interactive tutorials on some fascinating topics in blockchain: transaction fee mechanism design, quantum computing, Ethereum smart contract security, Application of Artificial Intelligence in Blockchain...
LIVESTREAM IS AVAILABLE for global audiences!
========================================
01 December 2022, from 09:00 to 18:00 (UTC+8).
- 9:30 Foundations of Transaction Fee Mechanism Design (Dr. Elaine Shi)
- 11:00 Demystifying Quantum (Dr. Radia Perlman and Charlie Kaufman)
- 16:15 Automated Security Assessment of Ethereum Smart Contracts (Dr. Christof Ferreira Torres and Dr. Antonio Ken Iannillo)
Details: https://isba.global/tutorial