Singapore's only robotics program of its kind. Build your own bio-inspired walking robot from scratch! Hardware delivered to your doorstep.
About this event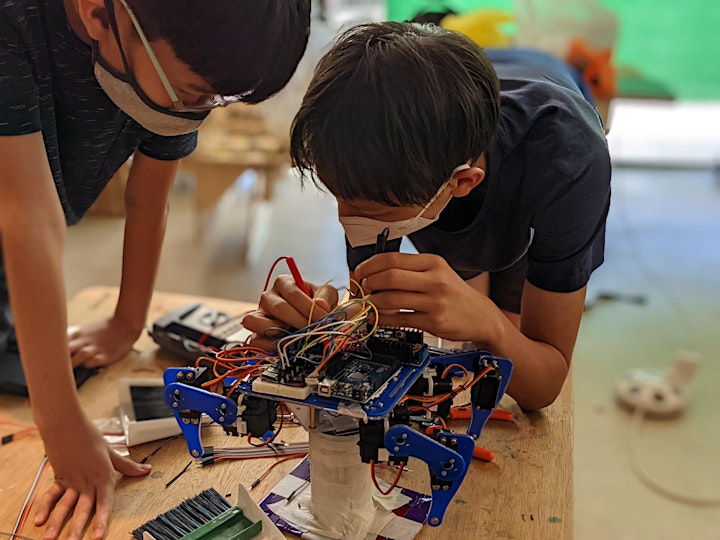 Learn first-hand from two robotics researchers and entrepreneurs
Brought to you by Whyte Labs, in partnership with JustCo Singapore, in this 3-day bootcamp, held in-person, participants will learn to apply basic science, math and coding to bring their very own animal-like, walking robot to life, from scratch!
Taught by two leading robotics researchers and entrepreneurs, experience a 100% hands-on, exploration-based approach, to take you through the entire journey of what it takes to build a complex robot from scratch. Give your kids an overview of both the hardware and software, DIY-style, while equipping them with the skills to bring their craziest ideas to life.
Receive a custom walking robot kit, delivered to your doorstep for the duration of the program, and join us online, as we welcome you to the World of robotics, and help you build, wire and program your robot.
Only basic prior experience with Arduino needed. Suitable for ages 11 & above. Adults welcome to join too!
Upcoming Dates & Timings
Slot 1: Nov 24th (Wed) to Nov 26th (Fri), 1-6PM each day
Slot 2: Dec 20th (Mon) to Dec 22nd (Wed), 1-6PM each day
Learning Objectives
Process over Outcome
At Whyte Labs, we believe that the journey is where the most crucial learning happens, and through our exploration-based pedagogy, we are here to help guide you through the real and raw experience of building your own complex machine, all by yourself.
Understand the fundamentals of building a walking robot from scratch.
Understand the electronics and system architecture underneath a complex robotic system.
Hardware is rarely perfect. Get a first hand experience at putting a complex electronic system together. Learn to troubleshoot and debug wiring, mechanical assemblies and code, under the guidance of two experienced roboticists.
Learn and apply the basics of text-based coding.
Understand the physics of walking and how the robot balances itself.
Programme the robot to balance and walk!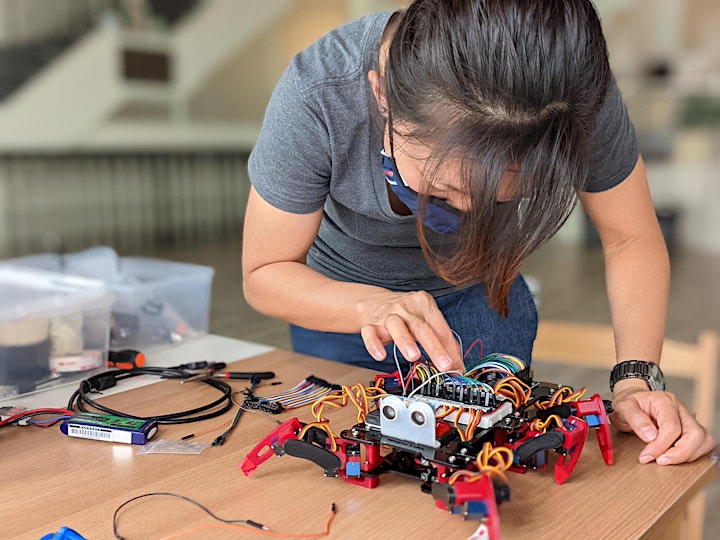 Programme details
Day 1 & 2 - Build & Wire
Intro to Biorobotics by Aditya and Jeremy.
Understand the basics of animal anatomy and robot design.
Build and wire up your own walking robot, from scratch.
Test and troubleshoot your electronics, to ensure everything is working in sync.
Day 3 - Learning to walk
Cats, horses, spiders, dogs. So many pairs of legs! Understand the kinematics of walking, running and how different animals balance.
Develop the walking algorithms and program your robot to walk, using Arduino/C++.
Day 4 - Final testing and experimenting
Test, debug, put everything together, to truly bring your robot to life.
Keen to experiment more? Try more complex maneuvers!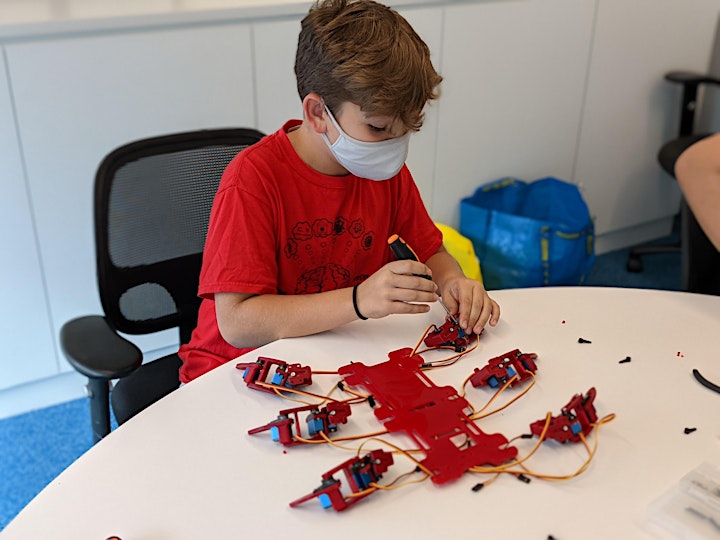 Get a custom certificate
All participants who successfully complete the bootcamp will receive a custom certificate from Whyte Labs, endorsed by Aditya and Jeremy.
Take home your own Walking Robot
All participants will receive a walking robot kit, designed by Whyte Labs, loaned to you for the duration of the bootcamp.
Keen to keep the six-legged walking robot you build during the bootcamp and experiment further? Let us know by the final day of the bootcamp, and keep your robot at an additional fee of just S$500 (U.P. S$800)!
What you need
A spare smartphone (for secondary camera view)
Pre-requisites
This bootcamp requires you to be familiar with Arduino. No prior experience with Arduino or coding? Get up to speed with our 4hr Intro to Arduino & Biorobotics programme!
COVID-19 policy
Please note, that in the event that COVID-19 restrictions do not allow for the bootcamp to be conducted in-person, we will switch to a 100% online format, with the hardware kits delivered to your doorstep. We have been conducting bootcamps online for a long while now, are confident of providing just as valuable a learning experience nonetheless. We seek your understanding that no refunds would be provided.
What they're saying about us
" I think it was a very real, raw and positive experience for the kids to go through all the various issues together with Jeremy and Aditya, and see how they were also gritty, committed, practised thinking on your feet, iterated and troubleshot along the way. The way I see it, this course isn't just about learning robotics. Lots of valuable lessons to draw from these few days, including witnessing how adults encounter and overcome challenges. Our kids need to grow up being comfortable with making mistakes, failing, picking themselves up and not giving up. 💪
It was great that you guys didn't just spoonfeed the solutions. Process over outcome. That is the true and lasting value and impact of learning.
Despite my son having PSLE to prepare for and mid-yr exams to return to when school reopens, this multi-day course was our BEST decision, and the best ever use of his time we could never have dreamt of. All credit goes to you both, Aditya and Jeremy!!
Thank you very much for sticking it out with the kids, far over and beyond the original hours committed. Really appreciate it!!!"
- Carol, whose 12-yr old son attended the Intro to Walking Robots Bootcamp, in the online format, in early-June 2021.
"This virtual class👨🏻‍💻 has indeed had more challenges compared to physical classes👨🏻‍🏫.
Especially assembling the robot and connecting the wiring, which could be very hard during virtual, because kids will usually connect wrongly even through face to face classes.
But Jeremy and Aditya have done a good job 👏🏻 that the kids didn't get bored. The coding part particularly is to be appreciated, that you have guided them in right way."
- Prabha, whose 13-yr old daughter attended the Intro to Walking Robots Bootcamp, in the online format, in early-June 2021.
"I thought the camp was very engaging as making robots move is something you don't do in school and this camp gave me the opportunity to be able to build an actual walking robot. For humans, walking might be easy but for robots, coding it to walk was very difficult. When I was programming, it was quite hard to program it to walk but it was challenging and fun and with the help of my instructors, I was able to get the robot walking!
Going forward I am keen to explore more on various types of things I can do with the robot, even beyond walking!"
- Taku, age 12, who attended the Intro to Walking Robots Bootcamp, in December 2020.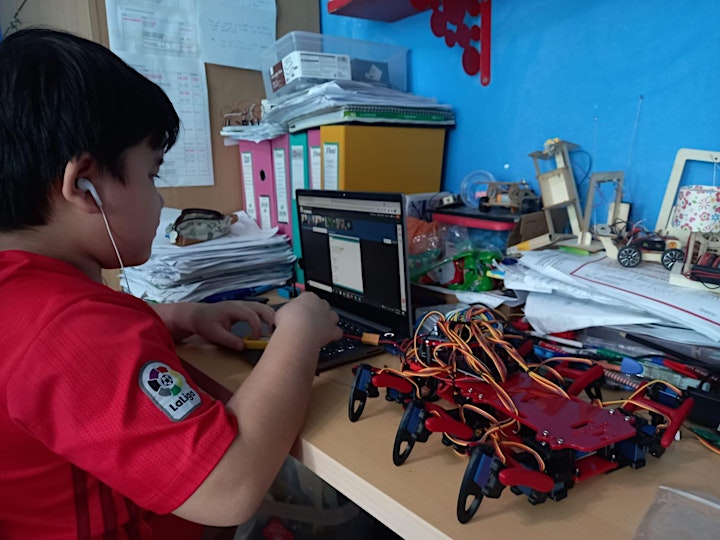 Brought to you by a young startup
Our instructors Aditya Kapoor and Jeremy Koh are the founders of Whyte Labs, a startup developing cutting-edge, interdisciplinary robotics technology.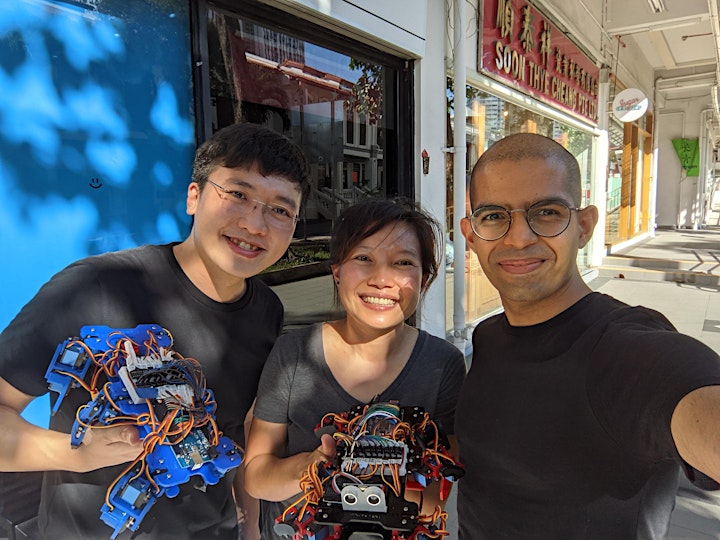 Deeply passionate about demystifying robotics and science, they are now out to share their years of experience, to help young tinkerers unleash their own creativity. They themselves began experimenting with bio-inspired robots back in their University days. While they faced a steep learning curve, having to teach themselves about biology, electronics, robotics and so on, it was this foundational experience that put them on the path to exploring their dreams. They went on to build one of the World's most advanced bio-inspired soft robots, to aid in disaster-response missions. They have been based in both Singapore and Switzerland, and won multiple international awards for their work.
Questions?
Feel free to WhatsApp or call us at 91633471, or write in to info@whytelabs.com, and we will get back to you at the earliest.
Location
Singapore University of Technology and Design (SUTD)
8 Somapah Road
Building 3, Level 2, Room 4
Singapore, Singapore 487372
Singapore
Refund policy