Description
WORLD'S NO 1 LIFE MASTERY CERTIFICATION AT YOUR FEET!

Why everybody in the world is getting into NLP? NLP is practised worldwide and it is one of the most universal application for everyone no matter where they are and what they do.
"Oprah Winfrey says of NLP 'NLP helps me to manage audiences and motivate them, It is amazing."
"Pharrell Williams talks about his use of and love of NLP in this Psychology Today article. 'I am a huge NLP person. I love NLP."
Cheryl Fernandez-Versini (Cole): "Anthony (Tony) Robbins says of NLP 'I built my sales career from zero to become to worlds best motivator using NLP".
It is well known that many top politicians including Bill Clinton, Tony Blair, Barack Obama are trained in NLP. Celebrities that are known to use these skills are Oprah Winfrey, Sophie Dahl, Lily Allen, Gerri Halliwell and Jimmy Carr. Heston Blumenthal 'is a devotee'. It is said that Robbie Williams use a very simple NLP technique before going stage. All of these people use the skills of NLP to help them succeed in their profession.
We ALL need NLP in our lives. It is the best form of strength you can build in you to help and love yourself and others around you!


NLP is about Mastery of Human Behaviours and we all yearn to discover patterns to understand, change and empower humans around us. It is a compelling course that has been taken by people all over the world! Will you like to be part of this exciting journey?

Do enrol with Ministry Of Empowerment Pte Ltd's NLP Practitioner Certification and get certified as a NLP Practitioner under the American Board of NLP in Singapore. and start your coaching professionally whether it is with children, your organization, client. The skills are so universal that this course is for everyone and anyone.
---
For our upcoming class, select the dates between:
4th December, 7-9 pm (Tuesday)
8th December, 2-4 pm (Saturday)
Location:
POMO Shopping Mall, 1 Selegie Road, #03-05/06

*Seats are limited. Sign up early to avoid any disappointments.
---
Ministry Of Empowerment are conducting a FREE introductory 'NLP PATTERNS' NLP Mini Workshop to give out THREE NLP Secrets to bring SUCCESS to your life:
NLP Secret ONE: Will provide you with a key to get your clients or loved ones buy into your decisions.

NLP Secret TWO: Will enable you to discover what is the missing tool to help yourselves and others achieve their 2019 Goals.

NLP Secret THREE: Will help you discover a special communication device to change your every conversation to be successful and empowering and make a massive difference to impact your sales, business, career or personal life.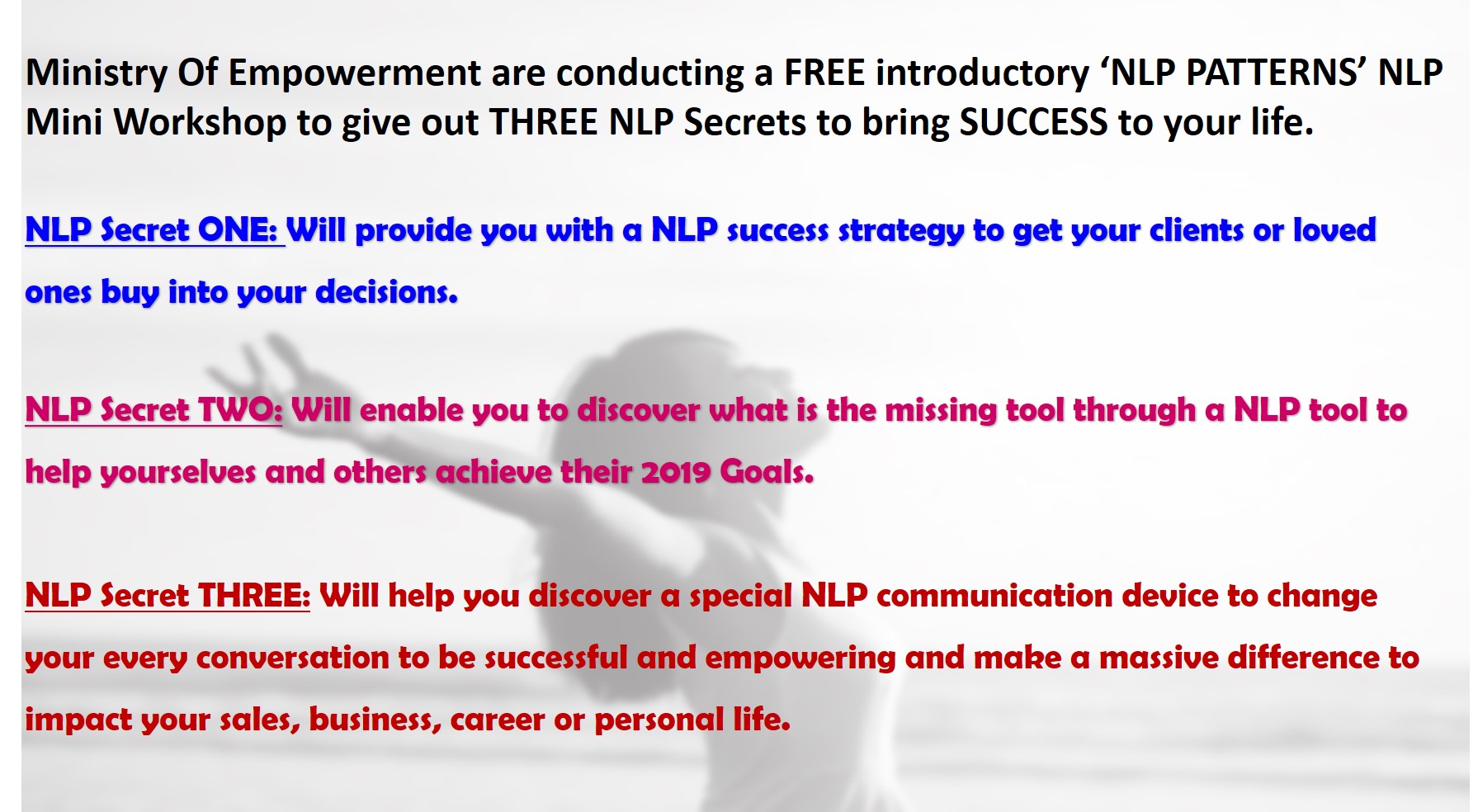 ---


WHO SHOULD ATTEND?
People in Leadership role, Managers, HR, Counsellors, Coaches, Parents, Sales and Business Representatives and people who want to accelerate your growth and development and learn the art of influencing people.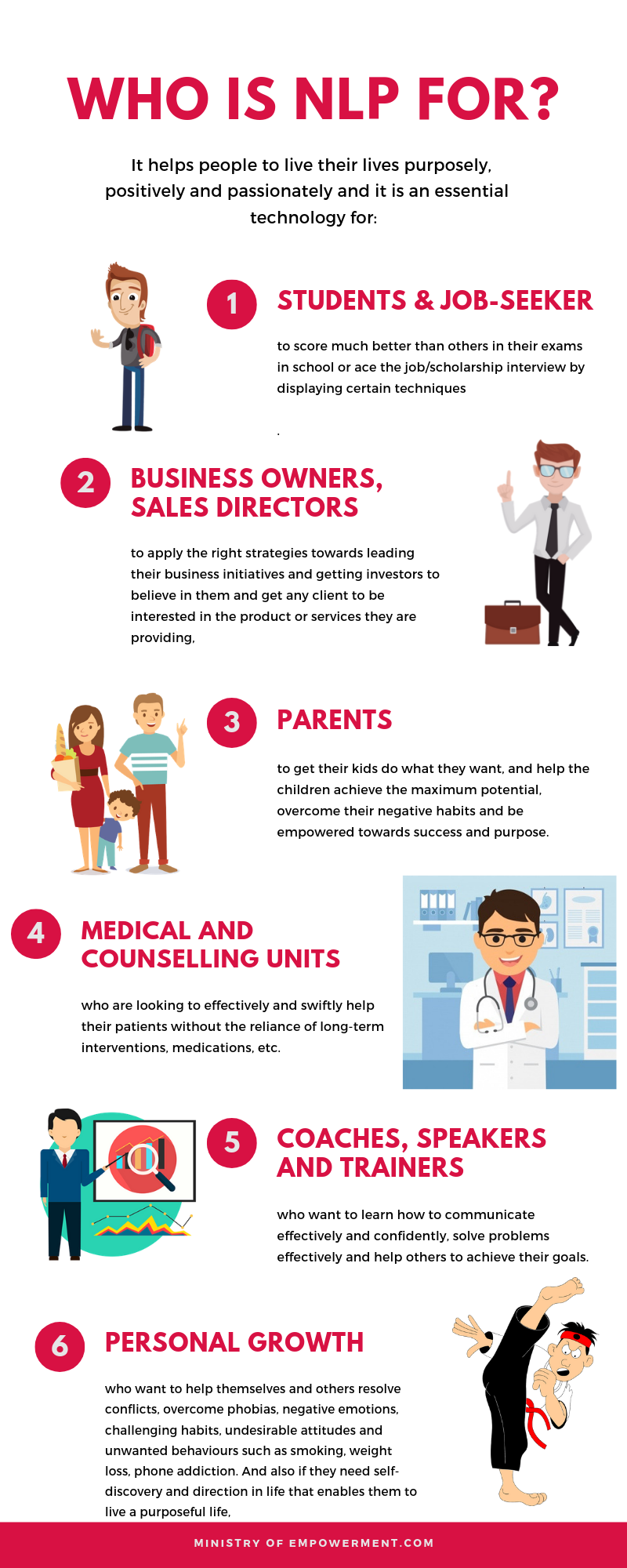 WHY ATTEND THIS EVENT?
This event is for you if you have been hearing about NLP, the Best Life Mastery Course in the World for the longest time and are keen to know some of the techniques.
---
HEAR FROM SOME OF OUR PARTICIPANTS WHO HAVE ATTAINED THEIR FULL NLP PRACTITIONER CERTIFICATE.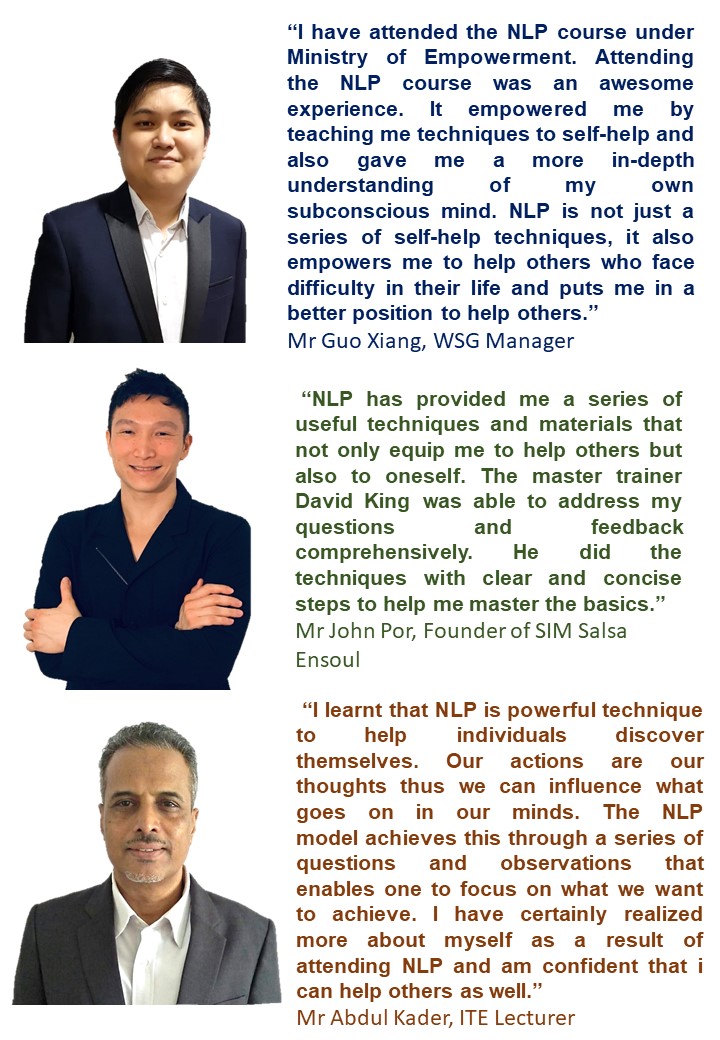 ---
We encourage you to see these three videos of NLP for your reference from our YouTube Page, Ministry Of Empowerment Pte Ltd.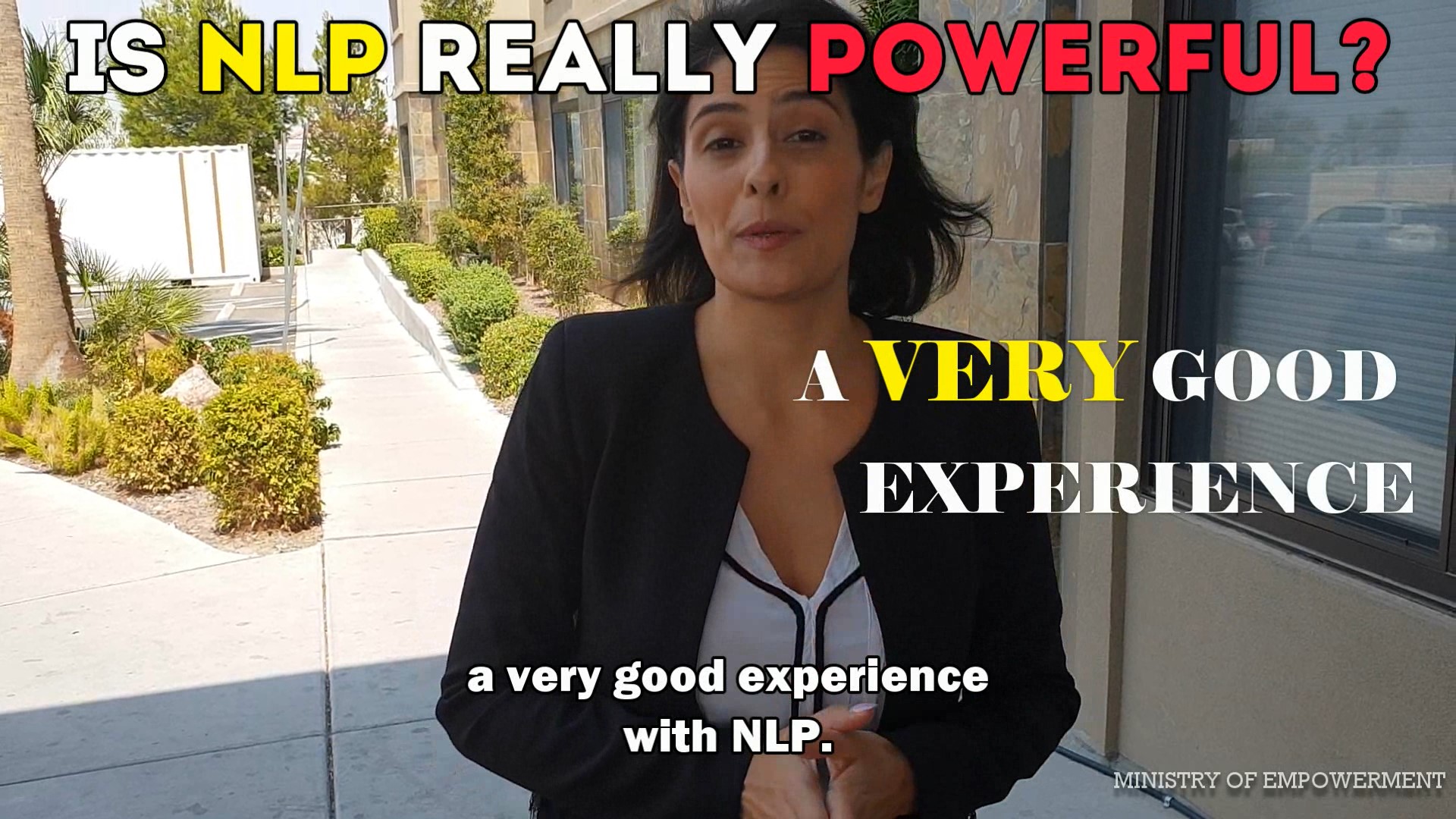 Is NLP really powerful?
https://www.youtube.com/watch?v=zpX-5oNiEGA
Benefits Of NLP
https://www.youtube.com/watch?v=rvocELF_7M4
Why learn NLP from David King?
https://www.youtube.com/watch?v=OxjOIU7LGTo
BOOK YOUR SEATS NOW by emailing

admin@ministryofempowerment.com

or call / whatsapp 91711994 now!
---




About the Trainer
David King Thorairajan, CEO of MINISTRY OF EMPOWERMENT PTE LTD was honored with two international awards in 2013 for his life excellence, mastery and service to the community through his company known as Ten Outstanding Young Person Award (US) & Duke of Edinburg (UK). He also bagged national award, Stars Of Shine (Singapore) in 2010 for his notable achievements in society despite facing adversities in life and NYAA Bronze & Silver in 2006-2007 on top of several other awards.
David King is a renowned Motivational Speaker, Author, Entrepreneur, NLP Master Practitioner and Trainer (American Board of NLP), Life Coach, Certified Trainer (ACTA), Profiling Specialist (DISC, MBTI, Strong Interest Inventory, Career Keys and Learning Keys). His willpower, wisdom and strategies to overcome the adversities in life has inspired the world. And his story of excellence has been featured in the mainstream media continuously for 8 years! (2008-2015). He was commended by Singapore Prime Minister Lee Hsien Loong on July 2012, in Istana, for his societal achievements.

David King has worked with more than countless individuals, parents, teachers, church and corporate organizations as a trainer, coach, mentor and speaker, specializing mainly in Motivational, Life-Skills, Study-Skills, Service-Learning, Profiling, Time-Out (Youths-At-Risk), etc for the past nine years. He has been invited to speak in TEDx SMU in Singapore. He also does personal coaching with students and parents who want the help in a deeper level. Having established a powerful company Ministry Of Empowerment, they have enabled over 50 staff who have worked with him in his company. His vision is to coach the whole Asia into success.
One of his big rewards in life is his first book which become a Best Seller - "From Adversity To University" He worked hard to graduate from Singapore Management University, majoring in Psychology and Organizational Behavior & Human Resources and has been awarded with a Masters in Business Administration (MBA) in 2017 from University of Chester (UK). Some of his company's clients include Ministry Of Education (Primary & Secondary Schools), Ministry Of Finance (Vital), Singapore Police Force & Ministry of Social and Family Development. He is also proud to be on the PYD board with SINDA as their advisor for their youths for years.




BOOK YOUR SEATS NOW by emailing

admin@ministryofempowerment.com

or call / whatsapp 91711994 now!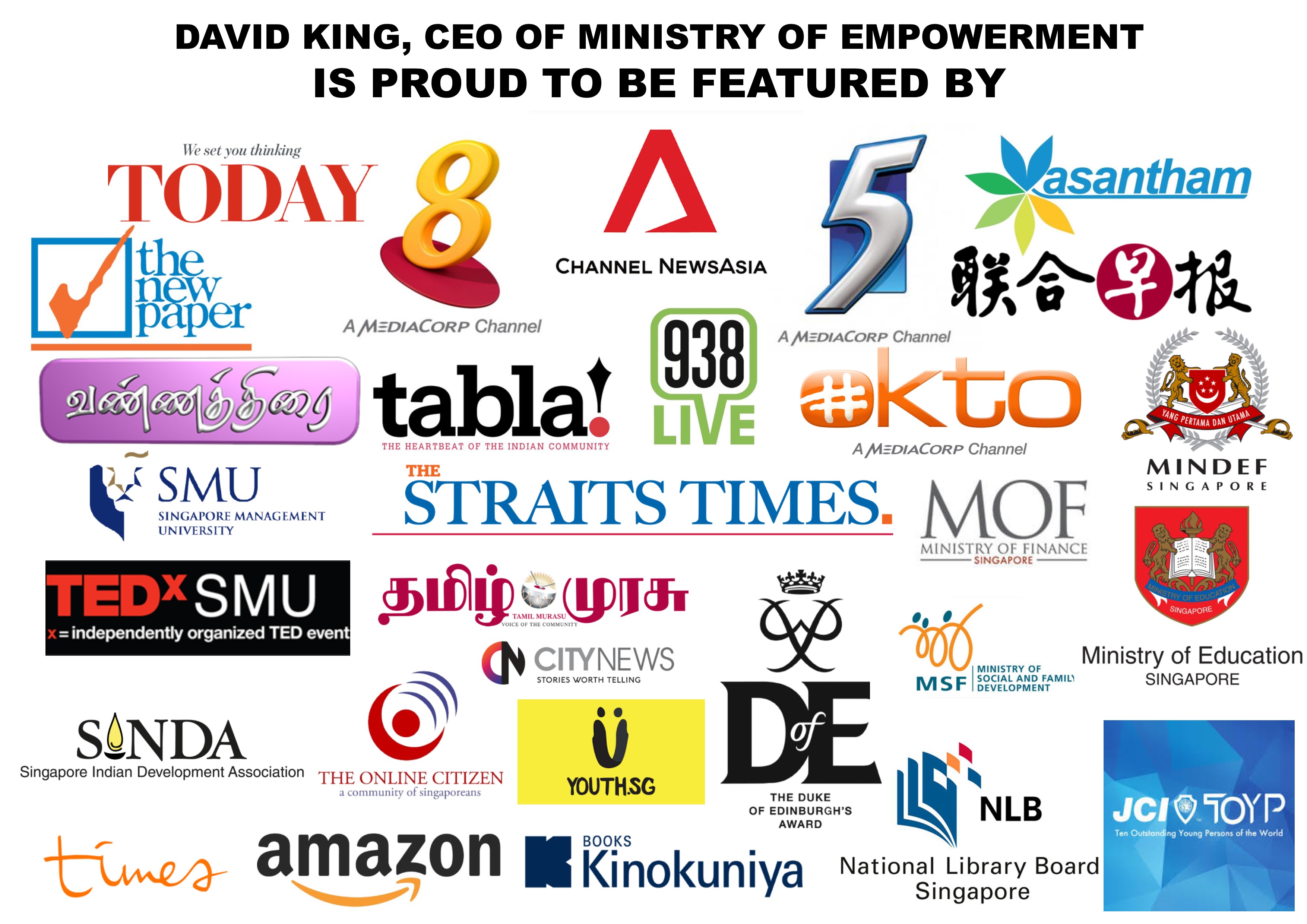 *Signups in EVENTBRITE must be registered with original mobile number to be validated in the course.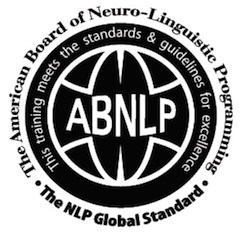 This program is supported by American Board of NLP