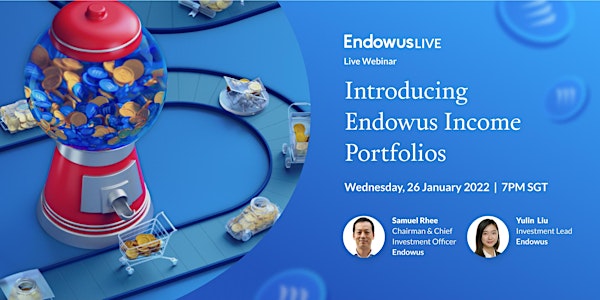 Introducing Endowus Income Portfolios
Find out how Singapore based investors can build another passive income stream with monthly payouts using Endowus Income Portfolios.
About this event
Endowus is launching the new life stage based Income portfolios — three options to meet real needs of clients for passive income.
When it comes to investing for passive income, there seems to be an overwhelming range of options available. Anything from the plethora of income funds in the market as well as direct investment into bonds, dividend stocks and REITs. There are also many financial products from insurance companies and financial advisors like annuities, endowments, and insurance linked products — there are just too many choices for retail investors to consider.
While some financial products are marketed to give high, stable returns, they come with their own restrictions, hidden fees and other drawbacks. Meanwhile the industry doesn't make it easy to optimise for individual needs like more stability, higher payouts or greater growth.
Find out how Endowus Income Portfolios will revolutionise the way you can better invest for passive income, effortlessly and inexpensively. We will cover:
Common income solutions and their pros and cons
Our new range of three Endowus Income Portfolios for each life stage
How the Endowus Income portfolios are differentiated among many options available
How to decide which approach to income investing works best for you
Our approach to portfolio construction for income investing
How we partner with the biggest global fund managers to bring new income options
How we optimise and manage our portfolios on an ongoing basis
Catch the webinar by clicking on the link here!
About the Speakers
Samuel Rhee
As the Chief Investment Officer & Chairman of Endowus, Sam is responsible for the company's asset allocation and investment selection. He heads the Investment Committee and ensures holistic portfolios for every investor.Sam has over 27 years of investment experience, managing investment portfolios in excess of US$20 billion dollars while working with the largest financial institutions in the world. He is the former Chief Executive Officer and Chief Investment Officer at Morgan Stanley Investment Management in Asia.
Yulin Liu
As the Investment Lead at Endowus, Yulin focuses on investment due diligence and portfolio construction, and coordinates with other departments on investment-related matters. She is a member of the Investment Committee and is passionate about making investing more accessible and easier for individuals. Her most recent role was with AQR Capital Management, where she served major institutional investors across Asia in their investment and portfolio monitoring needs. Yulin holds a Masters in Financial Analysis (Distinction) from London Business School, and a MEng in Engineering, Economics and Management (First Class Honours) from the University of Oxford.
Disclaimer:
Investment involves risk. Past performance is not a guarantee to future returns, and the value of investments and the income from them can go down as well as up. Please refer to our full disclaimer at https://endowus.com/legal/terms-and-conditions#schedule-three-risk-disclosure. This post has not been reviewed by the Monetary Authority of Singapore.
Terms & Conditions
Do note that CRM emails may be used for marketing purposes.