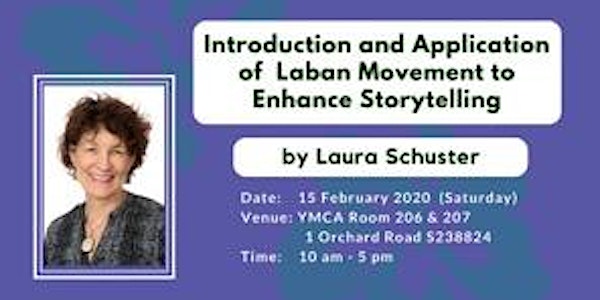 Introduction And Application Of Laban Movement To Enhance Storytelling
What is the Laban method of movement, and how can it help you become a better storyteller?
When and where
Location
1 Orchard Road YMCA of Singapore Level 2, Room 207 Singapore, 238824 Singapore
Refund Policy
Contact the organiser to request a refund.
About this event
We all know how important movement, gesture and voice are in storytelling.
What we sometimes are not aware of is our own signature movement/ vocal patterns or how to enhance them in a systematic and skillful way.
Rudolph Laban was a mid 20th century artist and observer of movement. He devised a system of movement that has been so integrated in actor training and physical education and even physical rehabilitation that we have lost the foundations of his contributions.
As a trained and certified Laban Integrated Movement Analyst, Laura Schuster has had 30 years of applying his work in theatre and education.
This introductory workshop requires no prior experience and ensures you with a toolkit to build your Storytelling skills and expressivity for years to come. We will move through the 4 basic Effort factors and apply them in small groups, games, and small tell and share stories which we will 'play back' for each other as comfort levels support.
The system, like any rich system can be simple to learn and take a lifetime to master.
We will explore Laban's Effort Factors, his basic Spatial Harmony principles which will help you approach your storytelling environment and audience in unique and rewarding ways.
The proposed schedule is:
1) Introduction, modeling the system and some ice breaking games with Laban principles guiding the activities.
2) Seated or Standing introduction of the 4 Effort Factors- with props and music and scenes
i. Flow
ii. Weight
iii. Time
iv. Space
3) Introduce Laban's observational system as Space Harmony. How Laban observed universal effort AFFINITIES in space.
4) Identify and create 2 effortful characters in a scene.
5) Identify your own Effort Preferences and 'Movement Pattern Coordination'.
6) EXPERIENCE Laban's DIAGONAL SCALE' in Movement
7) Explore Effort and VOICE
8) "This is a Story" Building Characters with Effort Factors.
9) Reflect how a Laban effort approach may be similar to other training or skill building you have experienced.
10) Identify the Effort Signature when Narrating and distinguish from Characterization.
11) The Use of Space as a storyteller and Shaping the Story
12) Explore the 'Narrative Wave' in good storytelling while applying Laban's Efforts.