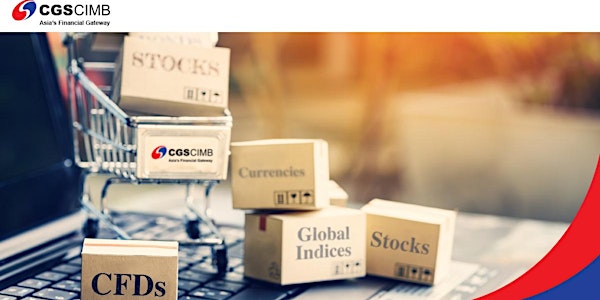 Introduction to CFDs and the Viewpoint Platform Training
Introduction to CFDs and the Viewpoint Platform Training
About this event
"To many, Contracts for Difference (CFD) and Stock Trading may seem similar. The key difference between these two products lies in leverage. Leverage allows one to make the most out of his winning trades. As such, CFD trading is a cost-effective way to trade in the market by using one's capital resourcefully".
Introduction:
We are pleased to invite you for an interactive zoom session. We will start off with a brief introduction on how our CFD can help you in making your investment more efficient and versatile.
Following right after will be getting familiar with our state-of-the-art CFD Viewpoint Platform to enhance and kick start your trading journey.
CGS-CIMB Viewpoint is an intuitive, easy-to-use market data and trading platform built on HTML5 technology that is supported on all major web browsers, independent of 3rd party plug-ins (Compatible for Windows or MAC).
Our new Viewpoint platform offers a highly customisable user interface packed with a comprehensive library of widgets.
In this session, you will learn on the trading features available on this platform:
· Configure and personalise multiple workspace using widgets.
· How to place various types of orders.
· How to monitor your trade effectively
· Access to Advanced Charting Package with Technical Tools.
Zoom Access Details:
Topic: CGS-CIMB Securities - Introduction to CFDs and the Viewpoint Platform Training
Time: 7.00PM till 8:00 PM Singapore
(6.30PM-7.00PM Check-in period, Session will start at 7.00PM)
Link to Join Webinar: https://cgs-cimb.zoom.us/j/91488139111?pwd=VWZqZzdVM0hVT1RCNHFwejNEUHlSQT09
Meeting ID: 914 8813 9111
Password: 123456
p/s:
How to set up your zoom account
1. Sign up for a free zoom account here: https://zoom.us/signup
2. Installation
• Laptop/desktop (Windows or MacOS), download ZOOM client here: https://zoom.us/download#client_4meeting
• Android Phone: Download from Google Play Store
• Apple iPhone & iPad: Download from App Store Login your zoom account and join the webinar.
or
You could join without signing in to zoom account as this will be conducted in webinar mode. You will be required to key in your name and e-mail address upon joining the session