Refund policy
Contact the organiser to request a refund.
Eventbrite's fee is nonrefundable.
A 2-hour practical crash course to get yourself started in the world of NFTs!
About this event
Millions of dollars for a JPEG just of an ape? Profile pictures of 8-bit avatars? Why are McDonalds, Nike, and the NBA jumping on the blockchain bandwagon? What are "gas fees" and why are they sky-high? How do you ensure you do not get scammed?
Are NFTs a passing fad or the future?
Whether you're familiar in the crypto space, or completely clueless about NFTS, we'll explain it all to you at our upcoming workshop.
Workshop Outline:
NFT 101:
What are NFTs?
What is the relationship with ETH and Web3 interface?
What is a Metamask wallet and why is it important?
What are the types of NFTs? (Collectables, Fine Art, Gaming, Community-Owned, Membership, Metaverse)
How do you gauge its value in terms of rarity, scarcity, team founders and how committed their community is (on discord and twitter)?
Is it just a temporary window - where are NFTs headed towards in the long-run?
Practical applications:
What are the open platforms to source and find NFTs?
A step-by-step guide to buying your first NFT
What are gas fees and how do I avoid them?
How do I ensure I do not get scammed?
BONUS: All attendees will get a FREE Limited Edition NFT airdrop from us!
Plus exclusive access to our community Discord channel - with opportunities for early access, alpha leaks, and many more!
Hosts:
Hosan / Haotoshi | NFT Trendspotter
Hosan , co-founder of DeFi Singapore, is an advisor for various crypto and NFT projects that have raised up to USD$4 million with 50k strong community in Discord and 90k community on Twitter.
He is an avid DeFi superuser, investor and trainer - strongly advocating disruptive tech & innovation. He manages a team of traders and yield farmers.
Leslie Chan | Metaverse Trendspotter
Leslie, founder of DeFi Singapore, is a pioneer in the field of blockchain technology and crypto education since 2015.
As an Independent Advisor for businesses, he providing strategies on integrating traditional businesses into tokenized economies and is a frequent speaker, panelist and moderator for crypto and blockchain related events.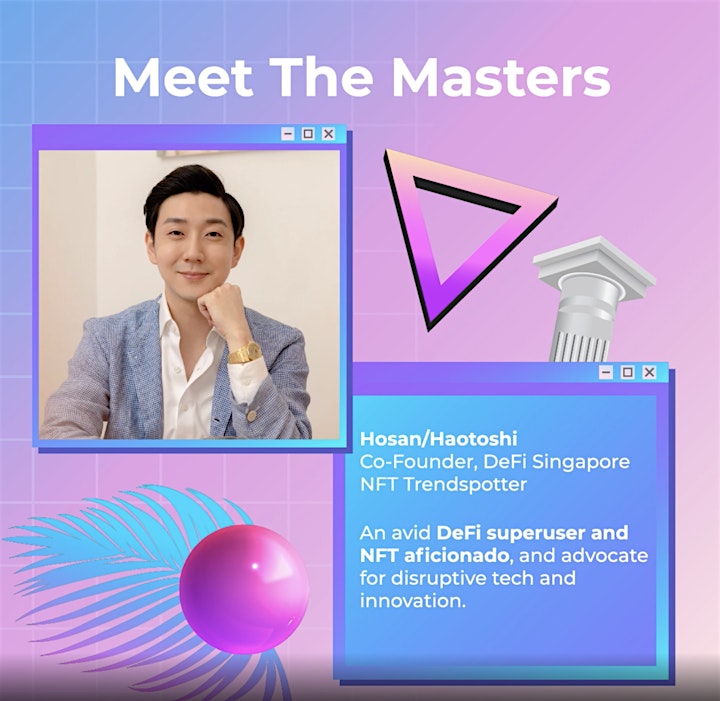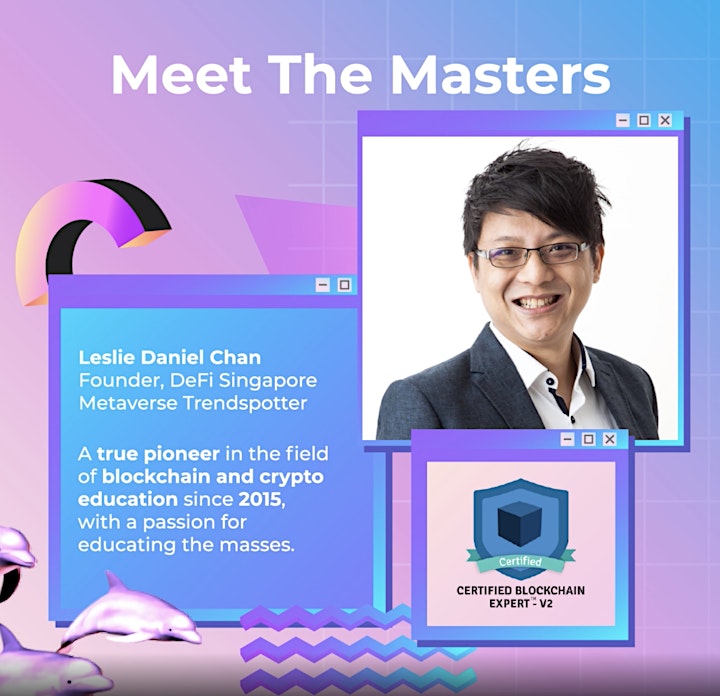 Hear what others have to say:
"Hosan openly shares with us his bold exploits into the crypto space to gather back the treasures hidden in this massive tech world for us, his students to benefit from."
"A lot of my burning technical questions were answered. Believed that there is more than just buying into this asset class blindly without understanding and Leslie's knowledge fills the gap of achieving understanding."
"The highlight included us getting our hands dirty in setting up our own wallets and crypto-exchange accounts, pushing us to get our feet wet and taking the first step. Overall, a great and fun experience entering the crypto-space!"
"As a noobie in the Crypto Space going through Leslie's training had not only equip me with the knowledge but got me started in my Crypto Journey knowing that there is a community of likeminded people out there ready to learn and grow together!"
We're an Asia-based Crypto & Defi community. From skeptics to noobs to pros - everyone's invited to the conversation. Learn more about DeFi Singapore here: linktr.ee/defisg