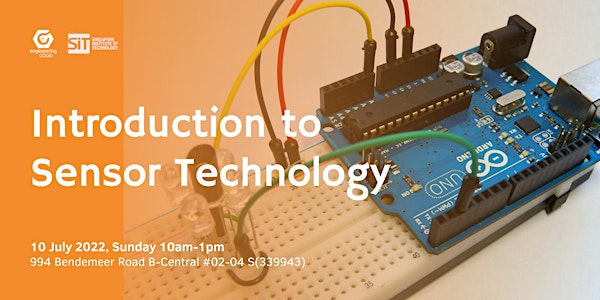 Introduction to Sensor Technology
Learn making skills while doing some good! This workshop is brought to you by Engineering Good and Singapore Institute of Technology.
When and where
Location
Engineering Good 994 Bendemeer Road #02-04 B Singapore, 339943 Singapore
About this event
The workshop will help participants to understand what a typical embedded system consists of and how it can be assembled to provide meaningful function. They will learn how to interface the Ultrasonic Sensor with Arduino to perform distance of object measurement, and feedback the results via audio visual means.
Participants will be able to download the codes from GitHub for programming, modifications and customization, to achieve a functional detector for various purposes.
This event is open to youths aged 15 - 25 years old
About the trainers
Raymond Keh has worked in both A*STAR Institute and a few listed companies as an engineer, project manager and director. He is currently heading an applied research centre in SIT University, SPICE working with SME companies and Polytechnic COIs. He is experienced in hardware development with various skills from schematics design, VHDL coding, FPGA to high speed GHz PCB design. He has also implemented and deployed many IoT systems hardware. He has also recently picked up Data Science and Python programming skills.
Aw Kok Seng is currently working as a full-time Professional Officer in Singapore Institute of Technology (SIT). Professional Officers form the talent pool which brings industry perspective to student learning. They also facilitate applied learning and applied research at SIT. Prior to joining SIT, Kok Seng worked at Singapore Technologies Engineering, managing teams in providing solutions that involves the design and development of unmanned sensors and robotics. In his early days as a research officer at a A*STAR Research Institute, his research focuses on media processing and delivery algorithms. With the diverse nature of projects involvement, he has acquired a wealth of practical experience in embedded system development, application development (iphone, Android, Windows) and is also skilled in programming languages: C/C++/C#, Java, Javascript, Python.