NFTs are gaining popularity as fast as cryptocurrencies in the digital world today. Find out more about the landscape through this workshop.
About this event
SEE EVENT DETAILS BELOW FOR YOUR 50% DISCOUNT CODE ;)
About the Workshop:
NFT101: NFT and Its Basics (Suitable for complete beginners)
NFT101 is part of a series of NFT workshops is co-organised by SEED Ventures and SEEDverse. The course will enable the general public to learn about the metaverse and how NFTs are starting to create an impact on our lives.
It is a joint initiative to enable the general public, startups, artists, and designers within the creative industry to protect, authenticate and raise funds to scale their businesses.
About the Experts: Team with Impressive Track Records (10K SGD portfolio to a massive 600K SGD portfolio)
Learn from the experts and their team. Impressive trading figures include starting with a 10K SGD portfolio to a massive 600K SGD portfolio
Greenlanes and whitelist to multiple special projects within the NFT space
Q&A session with the experts to answer your burning queries
About SEED Ventures:
SEED Ventures is a MAS-licensed Venture Capital Company that invests in startups at the seed stage. We provide funding, distribution, sales, mentorship, and strategic connections to fuel growth and scale businesses. We seek to empower founders and their dreams. It is co-general partner to VDF1, a fund that offers interest-free loans to startups in exchange for equity.
Social Media Link: https://linktr.ee/SEEDVentures
NFT101: NFT and Its Basics (Suitable for complete beginners)
Modules:
In-depth details and understanding of concepts underlying NFTs
Difference Between Fungible and Non-Fungible Tokens
Understanding of the basics and functions of NFTs
Review of NFT projects ecosystem across different categories
Explanation of the different categories of NFTs such as digital art, collectibles, and others
The future of NFTs and their impact on society, artists, creatives, and businesses
Knowledge of challenges for mass adoption of NFTs and their future
Why you should attend our series of workshops?
(See the picture below for a more holistic view)
A suite of holistic NFT services
Representation and management of artwork/portfolio
Minting services
Branded Motion Graphics
Customised Smart Contracts
Interest-bearing NFTs (3% p.a)
Venture Capital Investment
A Guaranteed opportunity to pitch to SEED Ventures and their venture partners for investment
LIVE Monthly Pitching Events (Shark Tank Style) and over ZOOM
Interest-free Loans in exchange for Equity
Startup Resources for Startups
A suite of services that Corporate Services, Accounting, Marketing, Data Protection and IT. Rates are at least 20% below market rates that cater to startups
Every startup is ENTITLED to a Starter Kit sponsorship worth 4,800 SGD to spend within our suite of services
Networking opportunities during breakout sessions with partners/investors of SEED Ventures
Who Should Attend:
Individuals that are interested to understand the scope and objectives associated with NFTs.
Individuals that are keen to learn about the approaches for creating, buying, and selling NFTs.
Entrepreneurs, Busines Owners, Artists, and individuals within the creative industry who are seeking to protect and monetize their intellectual property.
Event Details:
Location: 71 Oxley Rise
Time: 12pm - 4pm
Max no. of Pax: 20
50% Discount Code: SVNFT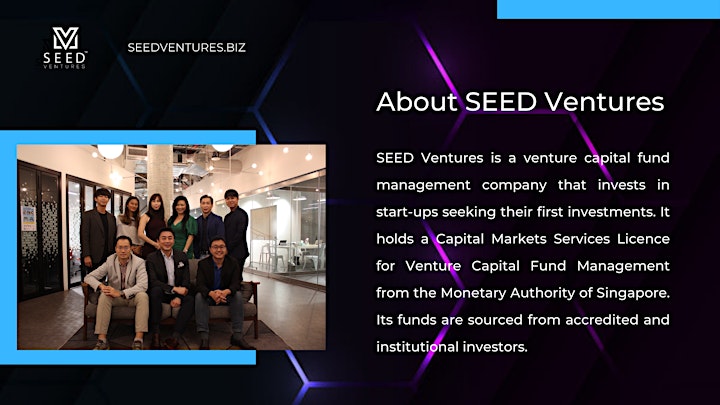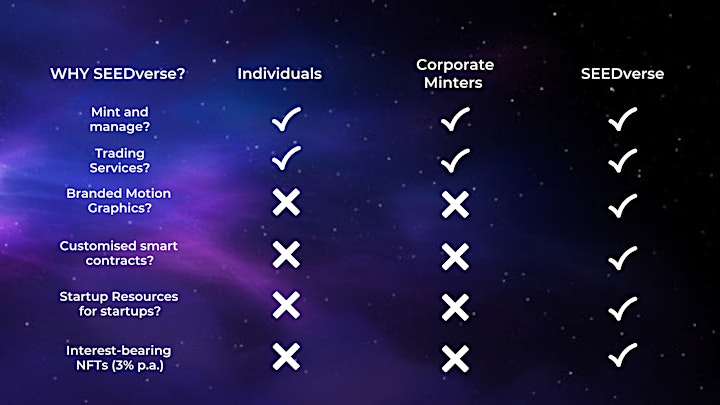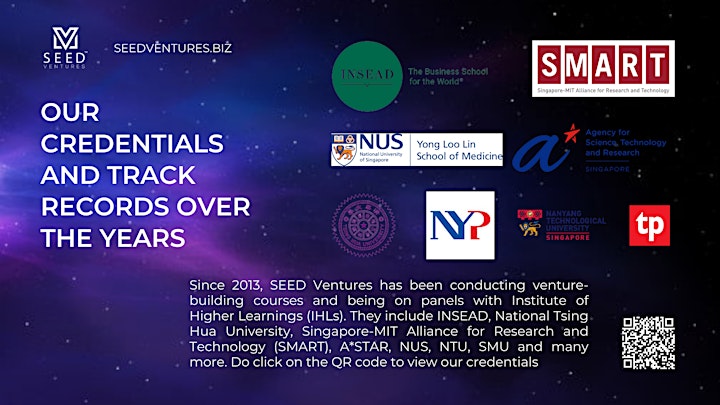 Organiser of Introduction to the Metaverse and the NFT world - conducted by experts!