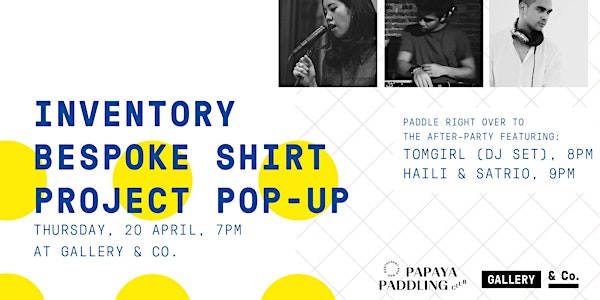 INVENTORY BESPOKE SHIRT OPENING PARTY
When and where
Location
Gallery & Co. 1 Saint Andrew's Road Singapore, 178957 Singapore
Description
Mark your calendar and be down at Gallery & Co, dancing your way through the BESPOKE SHIRT PROJECT showcase by Inventory Co. Prance into the kaleidoscopic minds of the creatives, as we navigate and dissect their brains to reinterpret the language of classic shirts. Punch bowls of freshly squeezed brain juices will be available. Rest assured, It will be spiked with rum. As we embrace all minds, bodies and souls, you may also get your measurements taken and purchase your own BESPOKE SHIRT collaboratively designed by the following brains.

Menu of brains listed below:

– Cherie Ko & Ted Takeshi Doré Of TOMGIRL
– Charmaine Seah of Elementary Co.
– Darren Loke of Omitir
– Lydia Yang of Oak & Bindi, Tell Your Children and Die Hard Lover
– Clifford Loh of VULTURE-Magazine
– Chia Wei Choong, Fashion Editor of AUGUST MAN Magazine
– Yah-Leng Yu of Foreign Policy Design Group, Gallery & Co, The Design Society, Brand Guide
– Djohan Johari & Marilyn Goh of Knuckles & Notch

Join us at the after party if you are able to find our island bar. There will be sparklers and perhaps drunk limbo. TOMGIRL will be kickstarting the party, followed by our guest DJs - Haili Bin and Jonathon Satrio Wood.

// INFORMATION YOU SHOULD READ UP ON //

THE BESPOKE SHIRT PROJECT is an ongoing initiative where creatives from different disciplines are invited to reinterpret the classic shirt, and to create a bespoke piece that meets their everyday needs.

About Inventory Co.

AN INVENTORY OF FUNCTIONAL, WELL MADE EVERYDAY STAPLES. Each INVENTORY product is designed for everyday wear, with a focus on construction, fabric, details and fit. Our aim is to create a collection of items that are built to last, that get better with age and that remain timeless – clothing that can be worn for a lifetime, and passed down generations.

About Gallery & Co.

Gallery & Co. is the official museum store at the National Gallery Singapore with a bookstore, restaurant, bar and design store in a continuous space. Engaging a global perspective to inspirations taken from Southeast Asian art and culture, it fuses art and design into a curated retail experience spanning books, design collectibles and prints, homeware, fashion, and children's products, accompanied by the Gallery's exclusive line of merchandise to complete the museum experience.