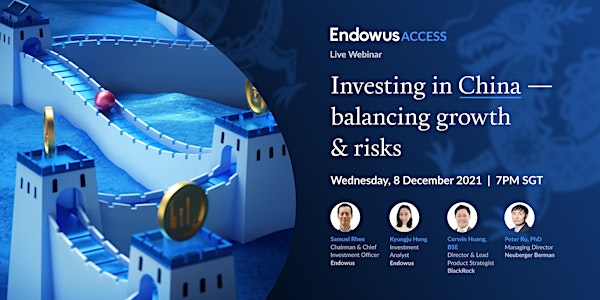 Investing in China — balancing growth & risks
How do regulatory risks affect China's growth opportunities? Learn about how investment experts are poised to tackle China's volatility.
About this event
China benchmark indices have been underperforming other markets in the past year, with concerns around regulation and China's real estate market debt looming in the minds of investors. What are investment professionals' assessments of this volatility? Does the long-term growth story of China justify the regulatory risks involved when investing in the Chinese market?
In this session, our expert speakers discuss the following questions:
What are their views of the Chinese property market?
China is facing the challenges of an ageing population and high property prices — are these growth concerns?
How do policies around common prosperity affect the macroeconomic landscape?
What are the growth opportunities that green financing can bring to infrastructure ?
How will the leadership transition in 2022 affect the markets?
What are their firms' investment strategy for the China Fixed Income space in the near future?
Click here to watch the EndowusAccess Webinar tonight at 7pm
About the speakers
Peter Ru, Managing Director, Neuberger Berman
Peter is a Senior Portfolio Manager on the Emerging Markets Debt team and China Fixed Income Strategy Leader, based in Shanghai. He is responsible for overseeing the firm's China onshore fixed income efforts and managing RMB strategies for domestic and international clients. Peter has extensive experience in China's capital markets, having previously worked as CIO for Galaxy Fund Management, Shanghai HFT Fortune A.M., Invesco Great Wall F.M. and Morgan Stanley Hua Xin FM. Prior to his time in China, Peter worked in the U.S. in various senior capacities managing strategies in asset classes such as U.S. Treasuries, core, core plus and U.S. Mortgages, most notably with Morgan Stanley Investment Management, servicing Central Banks amongst others. Peter received a BS in Physics from Fudan University, an MS in Business from Carnegie Mellon's Tepper School of Business and a PhD in Physics at Drexel University.
Corwin Huang, Director, BlackRock
Corwin is the lead product strategist for BlackRock Asian Credit across the credit and liquidity spectrum, including investment grade credit, high yield credit and private credit. Corwin began his career as a data scientist at BlackRock Solutions, specialising in fixed income analytics and portfolio optimisation. Corwin graduated from the University of Michigan – Ann Arbor, Summa Cum Laude, with a Bachelors of Science in Engineering, concentrating in Operations Research and Financial Engineering.
Samuel Rhee, Chief Investment Officer, Endowus
As the Chief Investment Officer & Chairman of Endowus, Sam is responsible for the company's asset allocation and investment selection. He heads the Investment Committee and ensures holistic portfolios for every investor. Sam has over 27 years of investment experience, managing investment portfolios in excess of US$20 billion dollars while working with the largest financial institutions in the world. He is the former Chief Executive Officer and Chief Investment Officer at Morgan Stanley Investment Management in Asia.
Kyungju Hong, Investment Analyst, Endowus
Kyungju is an Analyst with the Investment Office at Endowus, working to curate best-in-class investment products and offer them to clients in the easiest, cheapest way possible. Kyungju graduated from SMU LKC Business School majoring in Finance, and comes with internship experiences in corporate finance, mezzanine finance, and VC. In her spare time, the Brunei-raised Korean enjoys practising ballet.
Terms & Conditions
Do note that CRM emails may be used for marketing purposes.