Description
The workshop that helps you become a trader!
Technical analysis (TA) is what pro traders use. If you've always wanted to find out how technical analysis works, then this workshop will increase your knowledge, interest in TA and make you a trader.
What you will learn from this course:
What exactly is Technical Analysis?

Reading Candlesticks chart

Key indicators of TA

Moving Average
MACD
RSI
Support/Resistance etc.

How to start using Technical Analysis as a beginner

Live demo with InvestingNote charts
Stock picking using key TA criteria

Ask questions and engage with Joey in open discussion during the Q&A session about your biggest doubts as a new trader.
If you're looking to become a good trader, then this workshop will help you be one step closer.
Who should attend this workshop?
This is a strictly a Beginner Level Workshop - the only requirement is the desire to learn about TA.
Why should you attend?
To get a better understanding of TA as a trader by learning from an industry expert

Networking
Mark your calendars for 24th February, Friday. Registration starts at 6.30pm. Mingle and network with Joey, along with other fellow users after the seminar. Advisable to bring along your own pen and notebook.
No refreshments provided. Strictly limited to 30 seats only.
---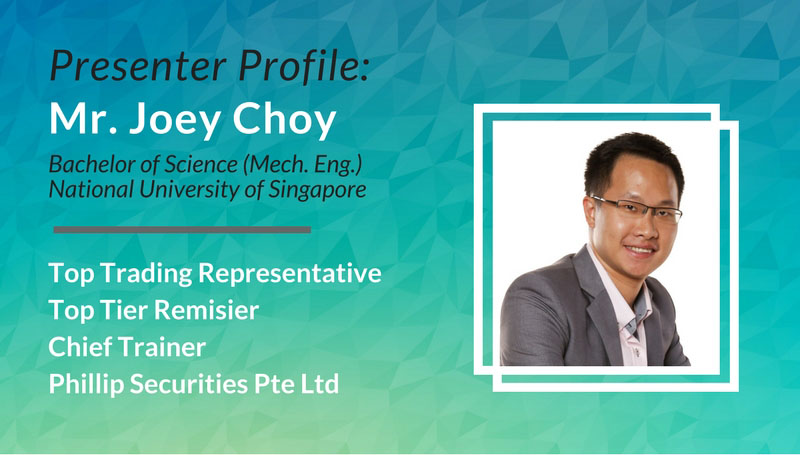 Joey is one of the Award-Winning Top Tier Remisiers (Stock Brokers) and Traders in Singapore. He was awarded Top CFD specialist in 2013, Top Account Growth Achiever and Top CFD Remisier in 2014 followed by Top Trading Representative and Top CFD Achiever in 2015 by Phillip Securities. His Signature program, Precision Trading Intensive has taken the market by storm with rave reviews.
Joey has been a regular guest speaker at 938 Live where he shares his view on the general market and selected stocks. He has been invited by SGX, NTU and SIM to speak and impart his knowledge to the public. Joey is also an author and featured as one of the leading Market Watchers at Shares Investment and a Trainer at Share Investor Academy – both established Stocks Investment portals in Singapore.
Joey is the most widely followed Stock broker and also Trainer on Investing Note (Singapore's first Social Trading platform), where he occasionally shares his views on the market and on specific counters. His blog singaporetradinginsights.blogspot.sg, which has a fair share of eyeballs daily has been awarded the World's Top 100 Stock Blog in 2017.
He was introduced to the world of stocks trading and investment in 2007 when he was given the opportunity to work in Goldman Sachs Singapore (Institutional Equity Sales) as an Intern. This was indeed an eye opener where he learnt from the Crème of the crop in the industry. He experienced in real time how elite proprietary traders traded and the very strategies that they employ which ensure that they stay on top of the game every single day.
Joey has conducted numerous full house seminars to educate his clients and the public on how they can trade stocks profitably with his "6-Step" Ultimate Stock Trading Blueprint and his 2 core 1GT and 1ET trading strategies.
---
Unit number is #04-35.
Detailed directions to event venue:
http://www.accountingwhiz.com/VMB.pdf