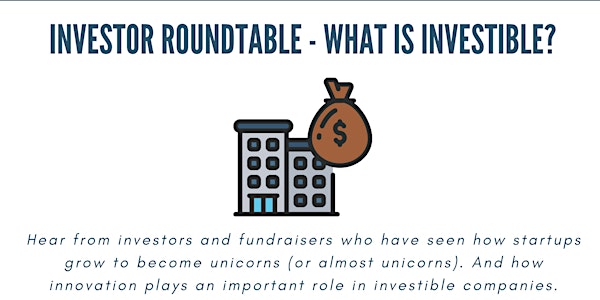 Investor Roundtable - What is Investible?
Hear from Daniel Tu (Pitango & ex CIO Ping An) , Clarence Ling (Investor Lalamove & Co-Founder Ztore) & Jon Li (Founder Vizzio.AI)
About this event
Hear from investors and fundraisers who have seen how startups grow to become unicorns (or almost unicorns). And how innovation plays an important role in investible companies.
Panelist:
Daniel Tu (Venture Partner & ex CIO Ping An) - Pitango
Clarence Ling (Early Investor Lalamove and Founder Ztore) - Ztore
Dr Jon Li (Founder) - Vizzio.AI
Moderator:
Miranda Tang (Founder & ex CLSA PE) - Dreammatcher
SGN:
About SGN
Singapore Global Network (SGN) (https://singaporeglobalnetwork.gov.sg ) is a division in the country's Economic Development Board. SGN was founded with a mission to broaden and deepen Singapore's overseas networks, by building relationships with family, friends, and fans of Singapore living all around the world. To receive more insights from SGN, and make connections with people from around the globe, sign up here. https://singaporeglobalnetwork.gov.sg/join-us/
SCCHK:
Initiated by a group of Singaporean businessmen in Hong Kong, the Singapore Chamber of Commerce (Hong Kong) was incorporated in Hong Kong in September 1995 with the support of the Singapore Consulate-General, the then Singapore Trade Development Board, the Singapore Economic Development Board and the Singapore Tourism Board.
Hong Kong's First Decentralised Open-Source Startup Community
Initially started from a single LinkedIn post by a startup founder looking for help, it brought other startup founders together to pool resources together into helping each other grow through contacts and help.
From sharing investor profiles to sharing latest schemes from the government to even barter trading for various services, the HKSSG group is allowing startups to do what they do best; find unconventional bootstrapping methods to improve their businesses. All the while sharing the core values of HKSSG: helping members gain exposure, sharing knowledge and collaboration between members. Join our Whatsapp Group here: https://chat.whatsapp.com/DdfNTBk89mYBX9P8QTCZpD
About the Speakers and Moderator:
Daniel Tu Bio
Daniel Tu is a Venture Partner at Pitango. Prior to that, he served as the Group Chief Innovation Officer at Ping An, 2013-2017. In his role, Daniel was one of the chief architects in formulating the group's digital transformation strategy, and, responsible for driving growth through innovation and technology. In addition, he oversaw strategic partnerships, sponsorship and collaboration with top global academic and research institutions, and the creation of Ping An Ventures. He was also the co-lead for Ping An's AI and blockchain initiatives. Today, Ping An is the largest non-SOE in China, ranked 7th on the Forbes Global 2000, and the world's largest insurance company by market capitalization, revenue and customers.
Before joining Ping An, Daniel was the group CIO of CTBC, the leading commercial bank in Taiwan. He also led one of the region's largest cards and payments entities, and, during that tenure, served as an advisor to Visa. Furthermore, he was on the founding advisory team of Sina.com, the first internet company from China to list in the U.S. and on Nasdaq.
Daniel has enjoyed a distinguished career spanning four decades in leading and advising companies in financial services, technology, sports and media. Today, he serves on boards and in advisory roles with leading global funds, Fortune 500 companies and tech startups in Asia, U.S., Europe and Israel.
Clarence Ling Bio
Clarence Ling, Co-Founder and Chief Development Officer of Hong Kong's First Online Grocery Specialist, 士多 Ztore.com, has a solid background in both investing and managing businesses. Apart from managing his family business, Kwai Hung Group, one of the largest private property development companies in Hong Kong, he had helped advise different overseas businesses on their Asian expansion strategies on a personal capacity. One of the most significant transactions was to advise on Wanda Group's £320m acquisition of Sunseeker Yacht International in 2013.
Being an investor in more than 30 companies globally, including Hong Kong's LaLaMove, UK's DoctorCareAnywhere, Hong Kong's Aurabeat Technology, and Switzerland's Piech Automotive, he felt that there was a need to work on Hong Kong's startup community and ecosystem. He co-founded 士多 Ztore.com in 2015 hoping to help contribute to the startup environment in Hong Kong. Since the official launch in November 2015, 士多 Ztore.com is currently one of the largest ecommerce companies in Hong Kong.
Recently, Clarence has started focusing his efforts on investing and helping companies expand to The Greater Bay Area.
Dr Jon Li Bio
A seasoned serial entrepreneur with over two decades of experience in computer graphics and artificial intelligence. With a PhD in Computer Science at University of Cambridge. He is the Founder/CEO of LightMagic China and the Founder/CEO of VIZZIO Singapore.
Dr Jon is the Creator/Author of 500+ Patents filed with USPTO & China Patent Office and led LightMagic to win the most prestigious China Innovation and Entrepreneurship Competition 2019 in Guangzhou City, Guangdong Province, and National Finals. In 2018, LightMagic also won the Top 10 Software Award organised by the Ministry of IT in China and was the only startup winner amongst Baidu, Huawei, Alibaba, Tencent, ZTE.
A returning Singaporean, he started VIZZIO in 2019. VIZZIO is a venture-backed technology company developing novel reality capture tools for 3D mapping, reality modelling (Object, Space, City), object tracking and classification. He has built an inexpensive hardware/software platform that allows users to easily scan and accurately digitise object, physical spaces in 3D, with the same resolution as industrial laser scanners, but at a fraction of the cost.
Track record of his fundraise in the 3 start-ups:
Founder/CEO LightMagic China; raised 100 million RMB at 500 million RMB valuation
Founder/CEO VIZZIO Singapore; raised S$ 5 million angel round and on track in closing 'A' series fundraise
For UK start-up; raised U$6 million for Round A from SoftBank and Round D US$ 48m from Doll Capital 2005
Miranda Tang Bio
Miranda Tang is the Managing Director of Dream Matcher Limited, an advisory firm in assisting start-ups and SMEs' growth strategies. Prior to Dream Matcher, Miranda was the Managing Director of CLSA Capital Partners and Fund Head of ARIA, a series of pan-Asia growth and expansion capital funds. She joined CLSA in 1995 and had over 20 years of private equity, financing and operational expertise in China, India, Vietnam, Indonesia, South Korea, Taiwan and Singapore. CLSA Capital Partners is the asset management arm of CLSA Securities with AUM of over US$3 billion. Investment focus was primarily on consumer sectors and demographic trends.
Miranda started her career with E&Y as a tax accountant in the US. She later joined Century City Group, a publicly Hong Kong listed company and worked on project and corporate finance in real estate, hotel development and management projects in the US, HK and China.
Miranda is a CPA and is a member of AICPA and HKICPA and a Fellow Member of HKSI. She currently sits on the Membership Committee of HKSI and a Committee Member of Hong Kong Start-up Support Group.
Miranda obtained her MBA degree (graduated with Top Scholastic Award) and BSBA degree (Magna Cum Laude) from the University of Denver, Colorado.
Miranda has been a guest lecturer / speaker for many events, seminars and workshops at HKUST, HKU, CU, Yonsei University, Shantou University, Institute of Compliance Officers, Asia Pacific Institute for Strategy, HKVCA and AVCJ conferences on topics related to private equity, business development, growth strategies, digitalization, crisis management, business ethics, portfolio management and women in PE and the financial industry. She also engages in various mentorships and elderly care charity programs.
For leisure, Miranda enjoys travelling, food, yoga, pilates and reading. Her interest is in consumerism, Asia aging and youth development.