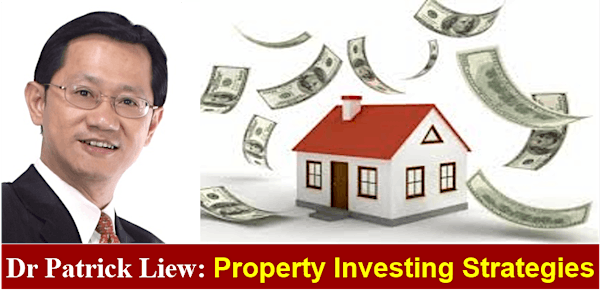 Invited Course (Property Investing Strategies) by Dr Patrick Liew
Learning on investing strategies to position in local & overseas properties (What to Buy, When to Buy / Sell)
When and where
Location
GEX Academy 238A Thomson Road Novena Square, Office Tower A, #13-08 Singapore, 307684 Singapore
About this event
Dear Reader / Dr Tee Network,
As you know, there is no limit in the learning of investing knowledge. We should be open to different schools of thoughts, eventually reshaping our own personalized investing strategy.
I have known a few investing educators who are sincere in sharing their knowledge with the students. After careful review and consideration, I have decided to invite Dr Patrick Liew (a multi-millionaire property investor) to conduct an invited meet-up course (free) on Property Investing Strategies. This invitation is extended to all newsletter readers.  You may invite 2 friends to learn together.  
When the free ticket for this invited course is sold out (first come first served), it will be updated on the registration form, please register ASAP but ensure you could 100% attend the talk. Here are the details:
Date: 17 Aug 2022 (Wed)
Time: 7:30pm – 10pm (Registration from 7pm)
Venue: 238A Thomson Road, Novena Square, Office Tower A, #13-08 Singapore 307684 (near Novena MRT exit B)
Click Link Below to Register for Exclusive Invited Course:
https://forms.gle/nBwwoFZx5rkn3ckSA
Patrick will share his decades of property investing experience that he used to create consistent streams of income from property investment market.  You will learn:
• The 7 wealth-creation questions you MUST ask before investing any property. These questions are based on Patrick's 20+ years of real estate experience!
• Why you should NOT buy just based on location alone! Patrick explains why TIMING the economic development of an area is more important
• The biggest secret to finding cheap, undervalued real estate... that most investors don't know about
• How to quickly raise the value of your property... using Patrick's 4-step "consumer behavioral pattern" process
• Which are the top 5 categories of overseas properties that are making investors consistent, guaranteed returns
• The exact roadmap to be a sophisticated investor... even when you're a rookie or veteran investor
For attendee of this invited course, Patrick has kindly prepared 1 bonus eBook on investing. It will be shared by Dr Tee after the talk over email, please register your name with correct email address, sign-in when attending.
This is not a sales talk, we will learn solid investing knowledge from Patrick.  Personally I will also be there in this talk to facilitate the knowledge learning by audience.  You will enhance your skill in property investment (using Patrick's Strategies), combining with what you have learned from Dr Tee on Optimism Strategies to look for opportunities in Property Market (the understanding will also help in your property related stocks), this will be the best integration of strategies.  In addition, you will learn many other new techniques from Patrick, a veteran in property investing. 
Make sure you join earlier for registration. The free seats are very limited, strictly first come first served. I may not be able to host another exclusive course easily as Patrick schedule is very tight. Grab on this rare opportunity to learn from him!
Regards,
Dr Tee
P/S: If you could not make it for this invited course by Dr Patrick Liew, you may learn from other free investment courses by Dr Tee, Join Dr Tee investment forum + Download free eBooks by Dr Tee (Register Here: www.ein55.com)
Organizer: Dr Tee

The path to financial freedom can be difficult, especially if you're supporting a family or are planning on starting one. It's important to stay motivated and positive as you work to become financially independent and debt-free, and one of best ways to do that is to find inspiration from others who have shared your struggles and can provide financial expertise.
Invited Speaker Profile
Dr. Patrick Liew Will Reveal How Ordinary Singaporeans Are Investing In Properties With Little Or Even No Money Down...once you learned his "Street-Smart" profit-making property investment strategies Since 1991, Dr. Patrick Liew has educated over 10,000 people worldwide to be savvy money-generating property investors using his street-smart property investing strategies. And he's willing to reveal this to you - face to face - completely FREE!
Dr. Patrick Liew is one of the most successful entrepreneurs and investors. He has helped to take companies public in Singapore, Australia, and the USA. Since young, Patrick was already a serial property investor. Born into a humble family, and with only a few thousand dollars to his name, Patrick was 'forced' to be smart on how he invested his money…
Patrick quickly devised a set of "Street-Smart" property investment strategies that required little or no money down. His strategies work so well, that Patrick quickly made a name for himself in the industry - as he quickly flipped that few thousand dollars… to hundreds of thousands… and even millions of dollars.
Today, Dr. Patrick Liew is a multi-millionaire real estate veteran. More importantly, he recently went back to complete his doctorate studies on Financial Intelligence for one single reason --- he wants to share proven wealth creation strategies to help even ordinary persons create, invest and grow their wealth.
So Join Dr Patrick Liew in this Invited Talk!
Bonus #1 for Reader:  Dr Tee Investment Forum with over 11,000 members (Private Group)
(Please click "JOIN" with link above and wait for Admin approval of membership)
* Market Outlook (stocks, properties, bonds, forex, commodities, macroeconomy, etc)
* Optimism/ Fundamental / Technical / Personal Analyses
* Investment risks & opportunities
* Dr Tee graduates events and activities updates
Click Link Below to Join Dr Tee Forum: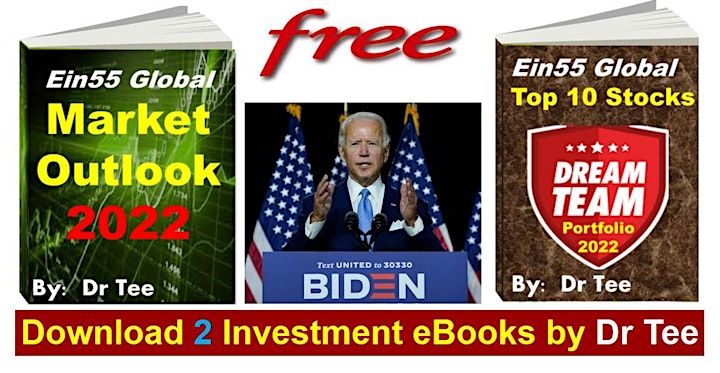 Bonus #2 for Reader:  2 Investment eBooks by Dr Tee
eBook #1 (Global Market Outlook)
1. Mass Market Sentiment Survey
2. Review of Global Stock Markets
3. US Market Outlook (Stock / Property...)
4. China / HK / Europe Market Outlook
5. Singapore Stock & Property Outlook
6. Conclusions and Recommendations
eBook #2 (Top 10 Stocks: Dream Team Portfolio)
1. Personalized Stock Investment Portfolio
2. Ein55 Global Top 10 Stocks
3. Summary of Actions
Click Link Below to Download 2 Bonus eBooks by Dr Tee: