Sales Have Ended
Registrations are closed
Your registration is confirmed. If there is any change (eg. bring along friends), you may email workshop@ein55.com
Sales Have Ended
Registrations are closed
Your registration is confirmed. If there is any change (eg. bring along friends), you may email workshop@ein55.com
Master Professional Stock Trading (Trend-following Strategies, S.E.T. Trading Plan, Position Trading, Swing Trading, etc.)
About this event
Dear Reader / Dr Tee Network,
As you know, there is no limit in the learning of trading/investing knowledge. We should be open to different schools of thoughts, eventually reshaping our own personalized investing strategy.
I have known a few trading/investing educators who are sincere in sharing their knowledge with the students. After careful review and consideration, I have decided to invite CK Ee (a Professional Trader) to conduct an invited webinar (free) on Professional Stock Trading Strategies. This invitation is extended to all newsletter readers.  You may invite 2 friends to learn together. 
When the free ticket for this invited course is sold out (first come first served), it will be updated on the registration form, please register ASAP but ensure you could 100% attend the talk. Here are the details:
Date: 21 Nov 2020 (Sat)
Time: 1pm – 4pm (Bonus Stock Diagnosis from 1pm)
Webinar by Zoom at Home
(Weblink with password will be sent to registration with valid email address)
Click Link Below to Register for Exclusive Invited Webinar:
http://goo.gl/forms/CDpVIS3iWY3z4umH2
CK is not only a professional trader, he is the trainer of many professional traders, a veteran with 25 years of stock trading experience, a master in technical analysis! CK will share his advanced trading system that he used to create consistent streams of income from both bullish & bearish stock markets: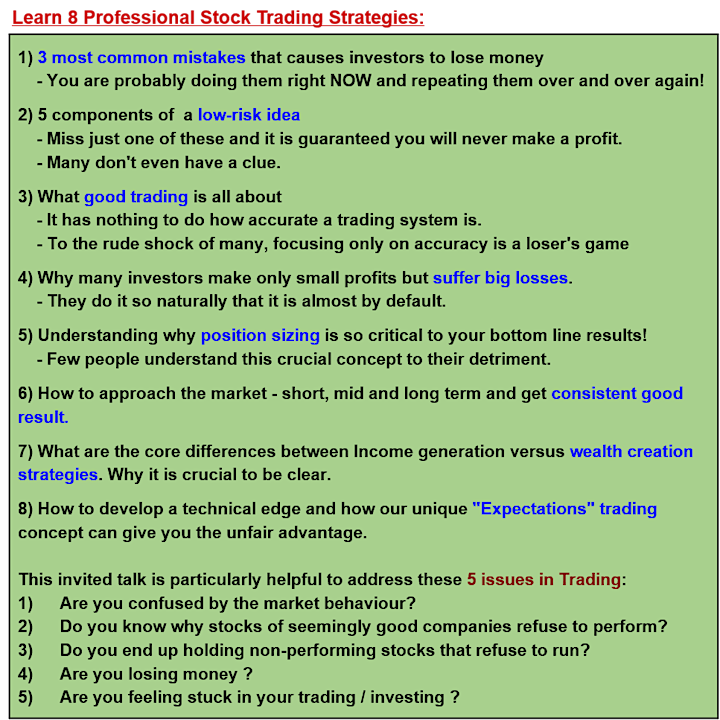 This is not a sales talk, we will learn solid trading knowledge from CK. Personally I will also be there in this talk to facilitate the knowledge learning by audience. You will enhance your skill in short to mid-term trading, timing of entry/exit (using CK's Strategies), combining with what you have learned from Dr Tee on Optimism Strategies to look for fallen Giants, this will be the best integration of trading and investing strategies. For traders, you could learn the strategies to profit from both bullish and bearish markets. For investors, you could apply these professional trading strategies to help in buying stocks at long-term low optimism, taking profit at high optimism. In addition, you will learn many other new techniques from CK, including bonus stock diagnosis (start on time for early birds).
The free tickets for Webinar are very limited, strictly first come first served. I may not be able to host another exclusive course easily as CK schedule is very tight. Grab on this rare opportunity to learn from him!
Regards,
Dr Tee
P/S: If you could not make it for this invited Webinar by CK Ee, you may learn from other free investment Webinar by Dr Tee, Join Dr Tee investment forum + Download free eBooks by Dr Tee (Register Here: www.ein55.com)
Organizer: Dr Tee

The path to financial freedom can be difficult, especially if you're supporting a family or are planning on starting one. It's important to stay motivated and positive as you work to become financially independent and debt-free, and one of best ways to do that is to find inspiration from others who have shared your struggles and can provide financial expertise.
Invited Speaker Profile
CK is a co-founder of Asia Charts Pte Ltd. Chief Operating Officer and Chief Trainer of Asia Charts. A Full-time active trader in the equities and derivatives markets. CK is a practitioner of technical analysis and has been actively trading since 1993 in Singapore, Malaysia and US markets.
He focuses in trading growth stocks that have potential for big gains and using derivative instruments like CFD, options and warrants for better returns. CK is also an active trader of the forex and futures markets. In his 20 years of trading experience, CK has developed dozens of trading systems and methods for medium and short term (both swing and intra-day) trading. CK is widely recognized analyst and trainer in technical analysis and regularly featured.
CK holds a bachelor degree of Science from University of London and Master of Science from National University of Singapore. He is also a certified behaviour consultant has keen interest in area of trading psychology.
So Join CK in this Invited Talk!
Bonus #1 for Reader:  Dr Tee Investment Forum with over 10,000 members (Private Group)
(Please click "JOIN" with link above and wait for Admin approval of membership)
* Market Outlook (stocks, properties, bonds, forex, commodities, macroeconomy, etc)
* Optimism/ Fundamental / Technical / Personal Analyses
* Investment risks & opportunities
* Dr Tee graduates events and activities updates
Click Link Below to Join Dr Tee Forum: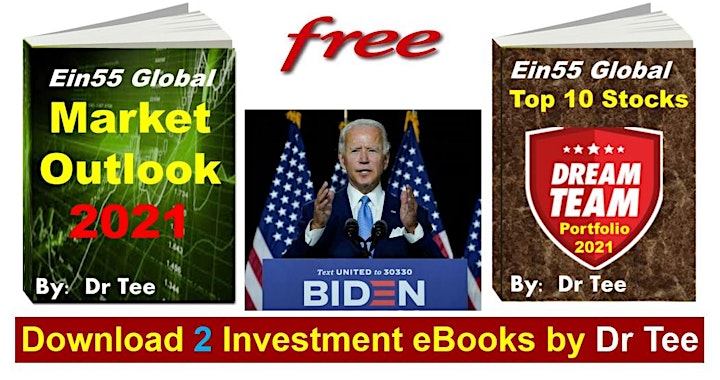 Bonus #2 for Reader:  2 Investment eBooks by Dr Tee
eBook #1 (Global Market Outlook)
1. Mass Market Sentiment Survey
2. Review of Global Stock Markets
3. US Market Outlook (Stock / Property...)
4. China / HK / Europe Market Outlook
5. Singapore Stock & Property Outlook
6. Conclusions and Recommendations
eBook #2 (Top 10 Stocks: Dream Team Portfolio)
1. Personalized Stock Investment Portfolio
2. Ein55 Global Top 10 Stocks
3. Summary of Actions
Click Link Below to Download 2 Bonus eBooks by Dr Tee: