Welcome back to our first "IoT For You" event for 2022. IoT For You is a series of virtual events organized by Malaysia IoT Association.
About this event
Past recordings of "IoT For You" can be found here
For more information on MyIoTA, please visit our website at www.my-iot.org
Internet of Things: Improving Lives & Livelihood with Technology
IoT for Durian Farm – From Hobby to Reality, Dr. Ahmad Taufik, Lecturer, UiTM
Why IoT Adoption is a Journey - Vicks Kanagasingam , CEO, Censof Digital
MyIoTA IoT Deployment Kit , Transforming IoT deployment process for Agtech
Panel Discussion
Moderated by Dr. Mazlan Abbas, CEO & Co-Founder of Favoriot Sdn Bhd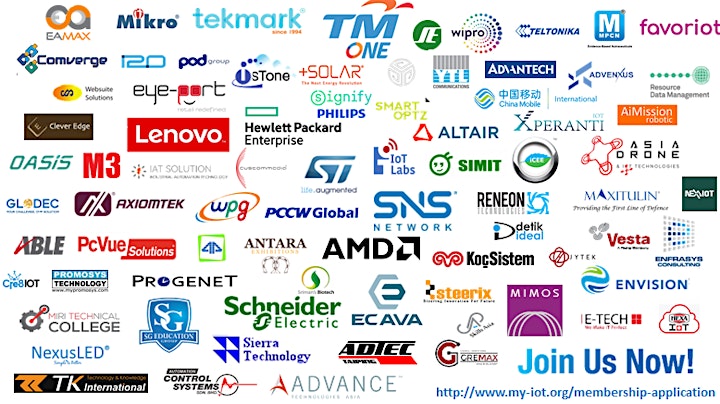 Moderator's & Speaker's Profiles
Dr. Mazlan Abbas is the co-founder and CEO of FAVORIOT Sdn Bhd. He is ranked among Top 50 Global Thought Leaders on the Internet of Things (February 2019) and Digital Disruption (October 2019) by Thinkers360, Top 50 Most Impactful Smart Cities Leaders by World CSR Congress 2017, ranked Top 10 in IoT Top 100 Influencers by Postscapes 2017 & 2018, ranked No. 20th Thought Leader in IOT by 2014 Onalytics Report – "The Internet of Things – Top 100 Thought Leaders"
Dr. Ahmad Taufik is a medical doctor and public health specialist by profession. Has a master's degree in IT from UPM (2001). Currently working as a medical lecturer in the Department of Public Health Medicine at UiTM. Started working as a farmer about a year ago. Has an interest in agriculture because he was born into a farming family. Interest in IT and aspire to develop modern agriculture and precision agriculture in durian cultivation in Malaysia with IoT technology.
Vicks Kanagasingam is the CEO of Censof Digital, is spearheading the future direction of the company, given his vast experience in artificial intelligence, IoT and Industrial Revolution 4.0. With over 28 years of experience in leadership roles in Sales, Ecosystem Development, Marketing and Operations in the Telecommunications & IT industry – Business & Team Builder and Problem-Solver. Developed businesses for tech start-ups from the UK, France and Australia, securing multi-million-dollar contracts from telecommunication operators in ASIA Pacific. Qualified as a professional engineer in 1993 from University of Leicester in UK, with a BEng (Hons) in Electrical & Electronics and won the National Westminster Bank Award as an Outstanding Graduate Engineer, for demonstrating special interest & skills in entrepreneurship and leadership. In 2013, accredited as a Certified Professional Coach (CPC) by International Coach Federation.