Join us for the 7th installment of our "IoT For You" series where we will explore current IoT & AI trends & hear from our experts.
About this event
As the global pandemic affects our everyday lives, IoT is becoming more & more important to remotely monitor & provide connected intelligence to almost all industries. This month's series will cover the convergence of IoT & AI for Digital Transformation.
Our distinguished speakers from MyIoTA will cover the following topics:-
Cre8IoT - Need of Converged IOT Platform
Wipro - Accelerating Digital Transformation in Challenging Times with IOT
Axiomtek - Zero to Hero with Axiomtek AIS In Smart Manufacturing
SGx - AIOT ( Artificial Intelligence internet of things )
Q & A Panel Discussion
About
CRE8IOT is an IOT Ecosystem Development and Delivery company. We build IOT ecosystem of connected things that includes communication, application, data and analytics. We understand that the actual value of IOT is not just in connecting things to the Internet and make them smart. The value creation in IOT arises out of the data that is sent to the cloud and the transformation of the data into information that can be analyzed to perform actions that add value in a business context.
Wipro Limited (NYSE: WIT, BSE: 507685, NSE: WIPRO) is a leading global information technology, consulting and business process services company. We harness the power of cognitive computing, hyper-automation, robotics, cloud, analytics and emerging technologies to help our clients adapt to the digital world and make them successful. A company recognized globally for its comprehensive portfolio of services, strong commitment to sustainability and good corporate citizenship, we have over 190,000 dedicated employees serving clients across six continents. Together, we discover ideas and connect the dots to build a better and a bold new future.
Founded in 1990, Axiomtek is a leading design and manufacturing company in the industrial computer and embedded field. Since our inception, Axiomtek has successfully gained worldwide recognition for our innovative designs and outstanding customer satisfaction. Our customers come to us when they want a single, reliable, and valuable source for their industrial computers and embedded platforms. As a leading industrial manufacturer, Axiomtek is devoted to producing state-of-the-art solutions that support users in achieving their goals.
SGx is supported by SG Education Group which, founded in 1999, spearheaded skills development through its TVET colleges. The mission of SGx is to advance the knowledge and skill base of local talent particularly in the areas of science and technology. SGx helps you to transform and move forward by supporting the development of specialized talent who can thrive in this digital economy. Our focus is on four core areas that we believe are game-changers in today's business and economic landscape - Data Science , Artificial Intelligence of Things (AIOT) and Customer Experience ( CX )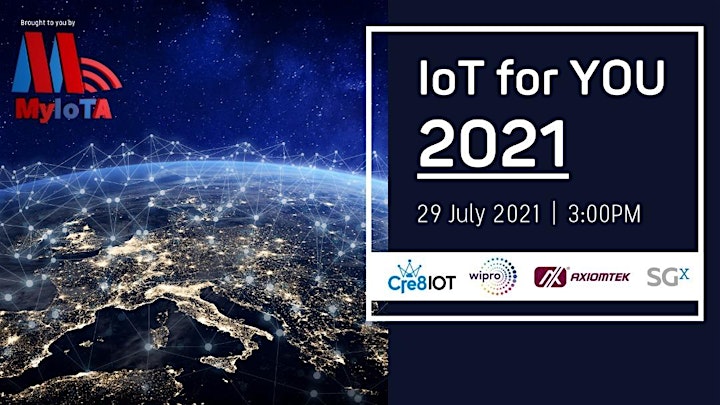 Past recordings of "IoT For You" can be found here
For more information on MyIoTA, please visit our website at www.my-iot.org
MyIoTA or Malaysia Internet-of-Things Association is founded in 2016 by a group of companies in the private sector, passionate & involved in IoT value chain in Malaysia & beyond. With the global trend of 50B* devices(things) connected by 2020, IoT will be an important catalyst in transforming the digital economy landscape. MyIoTA works together with governments, industry players to develop a thriving IoT eco-system for companies adopting & providing IoT solutions & services
OUR VISION
To Champion & realize the full potential of IoT as part of Malaysia's digital economy , empowering towards the Fourth Industrial Revolution.
To promote investments, use cases & applications of IoT
To be the forum for IoT entrepreneurs, researchers, CIOs & policy makers for sharing ideas & expertise in latest IoT technologies
To harmonize & promote partnerships in software, hardware & platform services
To promote local IoT companies at the global level & increase their competitiveness
To help industries in their digital transformation journey using IoT