Join us for the 9th installment of our "IoT For You" series with interesting topics on 5G use cases, IoT Lighting solutions & Drones!
About this event
5G wireless technology enables higher multi-Gbps peak data speeds, ultra low latency, more reliability, massive network capacity, increased availability, and a more uniform user experience to more users. Higher performance and improved efficiency empower new user experiences and connects new industries. Learn about 5G implementations & use cases from our members, especially on how IoT can leverage the features of 5G, lighting technologies & drones . Learn & discuss with our distinguished speakers from MyIoTA
Mr. Justin Tan , Solution Director , China Mobile International (Malaysia)
Ts. Lim Soo Siang, Product Marketing Manager, Signify Malaysia Sdn Bhd.
Mr. Muhammad Syafiq Salleh, Chief Executive Officer, Asia Drone IoT Technologies
Moderated by Dr. Yoong, Senior Manager, MIMOS Berhad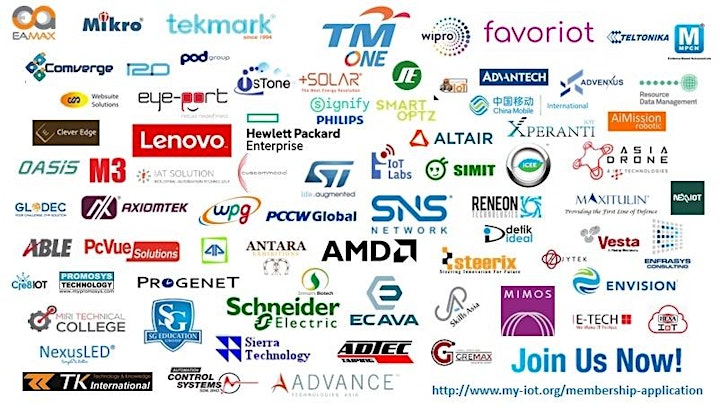 Speaker's profiles
Mr. Justin Tan , Solution Director , China Mobile International (Malaysia) Justin is the Solution Director for China Mobile International Malaysia. Justin designs, build, manage and operate infrastructure for cloud systems, networks (BGP, OSPF, SD-WAN) and data centres. Justin has a combined experience in Internet industry doing IT Managed Services, Data Centre Services & Telecommunication industry. He has worked in operation to service delivery to customer management leading high performing technical team. With Justin's experience in strategy planning, he is able to prove solutions and solve customers' pain point for them to focus on their core business.
Ts. Lim Soo Siang, Product Marketing Manager (Public Lighting Systems & Services), Signify Malaysia Sdn Bhd. With more than 10 years' experience in lighting industry, Lim has extensive experience for product management, technical, operations and to introduce connected IoT lighting to the market. In 2017, Lim joined Philips Lighting which is now Signify Malaysia Sdn. Bhd. In this role, He is mostly work in product management for outdoor and involve for marketing strategy and market activation plan for the assigned products and new products in liaison with sales team, certification manager to ensure local approbation test done, and Division Digital Solution Product Manager & Customer Segment Manager for activation support. Beside that, through his product portfolio Lim lead the introduction of IoT connected lighting in Malaysia market
Mr. Syafiq, Chief Executive Officer, Asia Drone IoT Technologies, Syafiq is the Chief Executive Officer of Asia Drone IoT Technologies and currently leading Asia Drone to spearhead talent development in drone technology in Malaysia. Together with his team, Asia Drone has completed over 35 training programmes with government agencies, corporates and the general public, catering to a diverse group of people from different backgrounds. He is one of the executive committee members of the Malaysia Internet-of-Things Association (MyIoTA) and is involved in multiple initiatives such as Malaysia Drone Taskforce, 5G National Taskforce, Bengkel Rancangan Malaysia ke-12 and Primary Syndication Workshop for National Tech Talent Development Policy.
Past recordings of "IoT For You" can be found here
For more information on MyIoTA, please visit our website at www.my-iot.org
MyIoTA or Malaysia Internet-of-Things Association is founded in 2016 by a group of companies in the private sector, passionate & involved in IoT value chain in Malaysia & beyond. With the global trend of 50B* devices(things) connected by 2020, IoT will be an important catalyst in transforming the digital economy landscape. MyIoTA works together with governments, industry players to develop a thriving IoT eco-system for companies adopting & providing IoT solutions & services
OUR VISION
To Champion & realize the full potential of IoT as part of Malaysia's digital economy , empowering towards the Fourth Industrial Revolution.
To promote investments, use cases & applications of IoT
To be the forum for IoT entrepreneurs, researchers, CIOs & policy makers for sharing ideas & expertise in latest IoT technologies
To harmonize & promote partnerships in software, hardware & platform services
To promote local IoT companies at the global level & increase their competitiveness
To help industries in their digital transformation journey using IoT