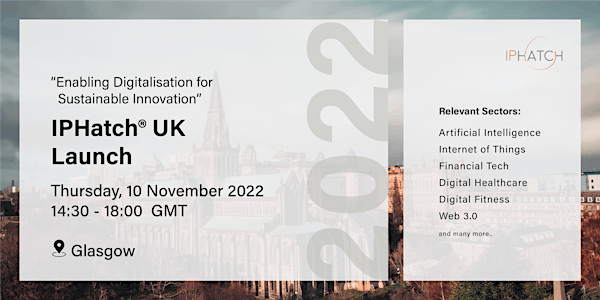 IPHatch® UK Launch
IPHatch® is an Open Innovation competition which connects entrepreneurs and emerging start-ups with access to impactful sustainable Tech!
When and where
Location
City of Glasgow College - City Campus 190 Cathedral Street Glasgow G4 0RF United Kingdom
About this event
Since its establishment in 2016 in Asia, IPHatch® has gained huge popularity among the Asian startup ecosystem for its one-of-a-kind nature: an open innovation challenge that aims to reward winning DeepTech startups with valuable intangible assets from household names the likes of Nokia, Panasonic and Ricoh, etc.
With the programme's proven success in the East, the team has decided to make its way to the West, marking Glasgow as its first stop for the inaugural IPHatch® UK Launch.
Be prepared to learn from and network with senior executives from tech-rich MNCS, government agencies and VCs in this engaging event, all of whom are dedicated to promoting sustainable innovation and circular economy.
You should join this event if you are:
• an ambitious startup founder who is keen to explore different ways of increasing your business valuation
• management of a startup that sits between seed round to Pre-Series A round
• interested in sustainable innovation
• an investor (VC or FoF) on the lookout for promising DeepTech startups
Who could you meet at the event?
• Senior executives from Nokia and Panasonic (and they are actually flying in from Finland and Japan!)
• Policy makers at government agencies and institutes from across the Scottish Innovation Ecosystem (including City of Glasgow College, The Scottish Institute of Innovation & Knowledge Exchange, Glasgow City Innovation District, Glasgow City of Science and Innovation (GCOSI) and Scottish Enterprise)
• Like-minded startup founders
• Previous winner of IPHatch®
Click here to take a sneak peek at our event agenda.
We look forward to welcoming you at the launch and until then!
IPHatch® UK Team