Description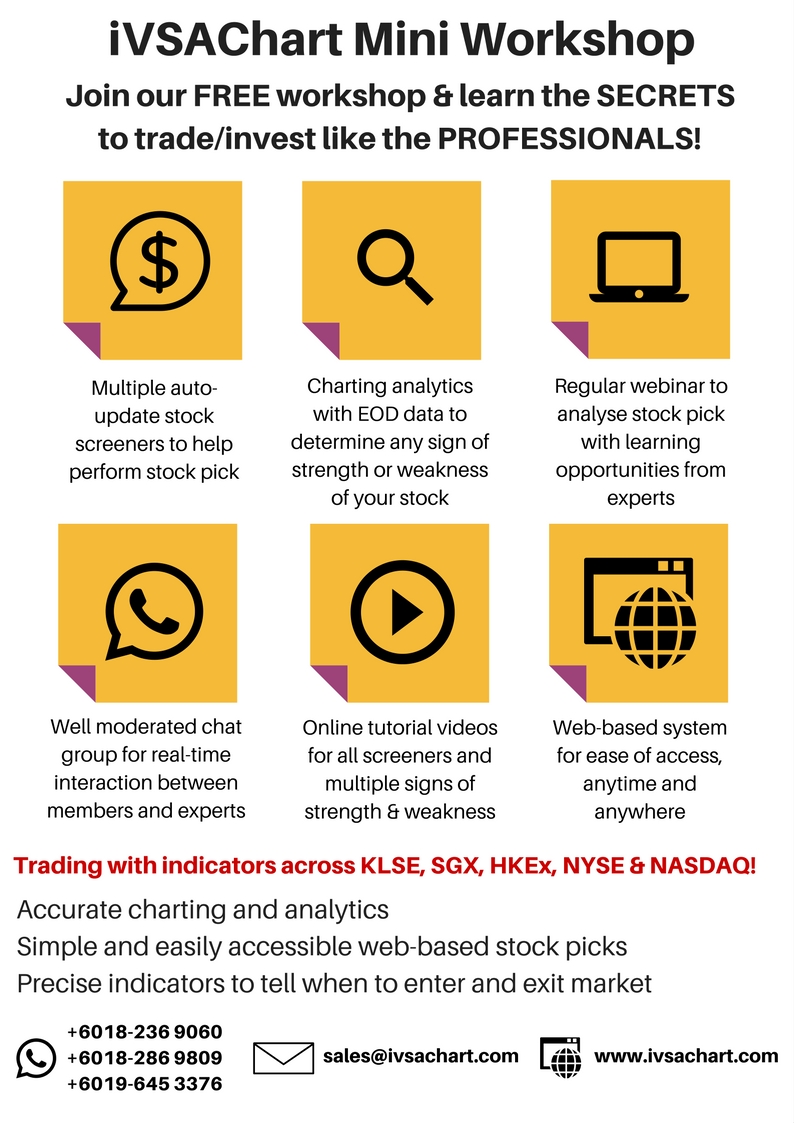 With the Bear Market behind us and the Bull Market ready to take the next stage, are you equipped with the right knowledge and tools to profit from this Bull?
Will our own next GE14 spur up the ailing Bursa Malaysia and are there opportunities across the regional markets?
Interested to learn more? Please join the iVSAChart Mini Workshop to discover the secrets of how professionals worldwide can trade/invest in stock markets with above average profits consistently!
What to expect
Learn how to find profitable stocks picks with high odds of winning ahead of the crowds

in KLSE, SGX, HKEx, NYSE & NASDAQ

Learn how smart money operates and rides along the wave

to make money

Learn how easy you can achieve well-timed Buy & Sell signals for Entry and Exit points

for your stocks trading/investing

Learn best practices of combining Volume Spread Analysis with Fundamental Analysis to time your entry for Value Investing
Learn how to protect your capital

by applying

proper risk management

like a

professional fund manager
Acquire a lifetime skill sets

to be a

successful trader & investor

for generating

consistent above average profits

, in bearish and bullish markets
Speaker Profile
Mr. Martin Wong has a MBA (Dist.) from University of Bath and BSc (Hons) from Monash University, Australia. He's also Best Selling Author, ex-fund manager, TV host, active investor and trader. He has written several Best-Selling books, Get Rich with Dividend (2014), Dividends Don't Lie (2012), SuperCharge Your Investing Approach for Big Profits (2010) and Becoming Rich Fast (2007).
He has over 15 years of experience in the financial industry and previously managed other people's fund, beating market averages. Martin's track record on stock picks has gathered lot of followers and interest.
Martin also co-hosts a popular evening TV Malaysia business and finance segment weekly show "Capital Today -Stock Market Review" on IPTV HyppTV (TM Unifi) Channel 420 Capital TV. Previously, he held three SC regulated license representatives (Dealer, Fund Manager and Future Broker).