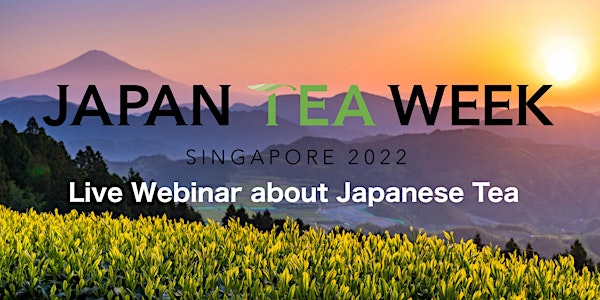 JAPAN TEA WEEK SINGAPORE 2022
Japan Tea Export Promotion Council is having a variety of Japanese tea webinars. All webinars will be live streaming from Japan
About this event
Introduce Japanese Tea Culture
Japan Tea Export Promotion Council is an organization to encourage the export of Japanese tea and provides educational opportunities about Japanese tea culture. The amount of exported Japanese tea to Singapore is growing in recent years.
We would like people in Singapore to know more things about the culture and industry of Japanese tea. Therefore we are hosting Japan Tea Week Singapore this year for the first time.
We will introduce many impressive speakers who are the leading experts in their field.This webinar will be a rare chance to know and feel the authentic Japanese tea culture. You can discover new things about Japanese tea through the webinar.
All webinars will be live-streamed from Zoom 
Registration fee is FREE.
We will send Zoom Link to your email after you register.
Date
Day 1 19 November 2022 (Saturday) 3:00 pm to 4:30 pm
Day 2  26 November 2022 (Saturday) 3:00 pm to 4:30 pm
Day 3  3 December 2022 (Saturday) 3:00 pm to 4:30 pm
Speakers
Day 1
Akihito Shimazu, Ph.D. Professor of Faculty of Policy Management, Keio University
Topic: Work Engagement How to Promote Mental Health and Performance?
Kakuno Kenichi  ITO EN, LTD. Advertising Department
Topic: Four Benefits of OCHA (Japanese Green Tea)
Akie Matsushima Certified Japanese Tea Instructor
Topic: How to Brew Tasty Japanese Tea
Day 2
Keiko Unno, Ph.D. Visiting Associate Professor of Tea Science Center, University of Shizuoka
Topic: Health Benefit of Japanese Green Tea
Ayaka Nagashima CEO / Co-Founder of Medicha Co., Ltd.
Topic: Tea Meditation by Medicha
Mika Hasegawa Certified Japanese Tea Instructor / City of Kyoto Visitors Host
Topic: Experience Japanese Tea on Tea Farm and Feel Japanese Life and Culture
Day 3
Rie Takeda President of Chazen & Co. / Professor of Chado - Urasenke
Topic: Tea Ceremony for Business Person
Sousen Shinshian Professor of Senchado Oubakubaisaryu
Topic: What is the Beauty of Senchado?
Ocha mura Japanese Tea Culture Producer
Topic: How Cool is a New Point of View of the Old Chanoyu
About Japan Tea Export Promotion Council
Japan Tea Export Promotion Council was founded with the main objective of encouraging the export of Japanese tea and supporting the tea industry. In order to do so, there is a need to promote suitable exporting regions and to grasp the conditions and requirements of the destination countries as well as any countermeasures that might be needed. It is also necessary to arrange seminars and use PR to create a good base for the spread of Japanese tea.
In order to create a favorable environment for exports, as an organization we aim to further develop the structure behind the production of tea for export and to continue the work that has been made by various organizations and authorized officials in the field so far.