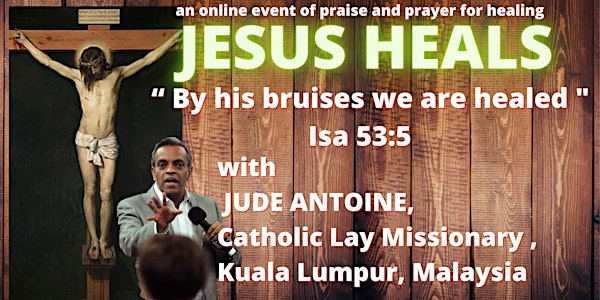 Jesus Heals
An evening of praise & prayer for healing. The love of Jesus touches & restores you physically; more so internally where the need may be.
About this event
Jesus Heals
4Yet it was our pain that he bore, our sufferings he endured. We thought of him as stricken, struck down by God and afflicted. 5 But he was pierced for our sins, crushed for our iniquity. He bore the punishment that makes us whole, by his wounds we were healed (Isaiah 53:4–5).
The above prophecy from the prophet Isaiah speaks of both the historical and the divine realities of Jesus Christ's crucifixion and resurrection. And from that day till now Jesus continues to fulfill this role by physical and/or inner healings when one welcomes and asks for it.
In this night of prayer and healing, it is this work of Jesus Christ that we pray for and apply to those who come and ask for it. As Jesus says, "truly I say to you, heaven and earth will pass away but my words will not pass away", (Mark 13:13) and by His words that say "truly I say to you, if you ask anything of the Father in my name, He will give it to you," (John 16:23). Encourage by these infallible words of our Lord, we welcome you. Come and see the goodness of our Lord.