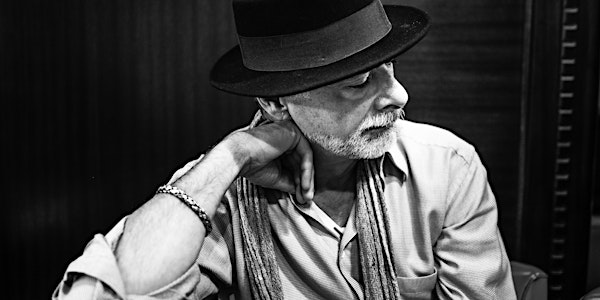 Joe Rosenberg Ensemble @ The Jazz Loft
Soprano saxophonist Joe Rosenberg gives a rare appearance in Singapore in collaboration with some of Singapore's finest resident improvisers
When and where
Location
The Jazz Loft @ Blu Jaz 11 Bali Lane Level 3 Singapore, Singapore 189848 Singapore
Refund Policy
Contact the organiser to request a refund.
Eventbrite's fee is nonrefundable.
About this event
Saxophonist and composer Joe Rosenberg visits Singapore from his base in Bali to put together an avant-garde jazz quintet with Singapore's most creative jazz musicians. This international collaboration features Rosenberg's original compositions that expand jazz's peripheries and explore the fault lines between minimalism, experimentalism and modern jazz. The Joe Rosenberg Ensemble features Rosenburg on soprano saxophone, collaborating with Wei Xiang Tan on piano (SG), Christy Smith on bass (USA) and Australian musicians Tim O'Dwyer (saxophone) and Darren Moore (drums). 
The band:
Joe Rosenberg - soprano saxophone
Tim O'Dwyer - alto saxophone
Wei Xiang Tan - piano
Christy Smith - bass
Darren Moore - drums
Doors open at 7.15pm. 2 sets at 7.45 and 9.15.
$22 for both sets.
JOE ROSENBERG ENSEMBLE BIOGRAPHIES
"Deep, original and hypnotic, a marvel that we cannot overly recommend."  Olivier Acosta - Citizen Jazz
"Perhaps the finest of what avant-garde jazz currently has to offer."
Benno Bartsch - Jazz Podium
"He takes us into another temporality, a musical meditation on the edge of stillness." Pascal Rozat - Jazz Magazine
"Rosenberg places the moment-to-moment development of the music first, a mark of the mature artist."  Bill Shoemaker - Down Beat 
"What seems random, ends up as the indispensible element which no one suspected the range of."  Joel Pagier - Improjazz
Soprano saxophonist and composer Joe Rosenberg studied with the legendary Joe Viola, Buddy Collette and clarinetist John Carter and is a 1995 recipient of the Jazz Performance Fellowship from the National Endowment for the Arts.  Joe has performed with international artists such as Dewey Redman, Gary Foster, Buddy Collette, Mark Helias, Tom Rainey, and Taylor Ho Bynum.
Tim O'Dwyer is an Australian saxophonist, improviser and composer, and has been a lecturer and Head of Music at LASALLE College of the Arts, Singapore, since 2004. Over the past 25 years, Tim has been a prolific performer and collaborator traversing jazz, improvised and experimental music, contemporary classical music and cross disciplinary projects, and regularly performs throughout Australia, Asia and Europe. Tim is currently a member of the two most prestigious and established contemporary music ensembles in Australia: ELISION Ensemble (since 1994) and The Australian Art Orchestra. His ongoing projects include: METASAX; the international collaborative project: The Fold, with ensembles currently based in Cologne (DE) and Singapore; and his soundpainting ensemble: Erik Satay & The Kampong Arkestra based in Singapore. Tim holds a PhD in composition and philosophy from the Queensland University of Technology with his research drawing links between the philosophy of Gilles Deleuze, composition and improvisation. 
Wei Xiang Tan is without a doubt one of the lions of the Singapore jazz scene. A latecomer into jazz, Wei Xiang started piano studies at 15 and jazz at 21 when he was in law school, but has come a long way since then. A protege of Thelonius Monk's bassist Victor Gaskin, Wei Xiang quickly established himself as one of Singapore's most talented jazz pianists and composers, with an intercontinental performance credit of playing alongside some the biggest names in the world of jazz—from mainstream jazz artistes like James Morrison, Stanley Jordan and Dave Samuels; to world-renowned music giants like kanjira exponent V. Selvaganesh and American Shakuhachi player John Kaizan—his performance even lauded by piano virtuoso Jean-Michel Pilc as 'ruthlessly inventive'. Now investing his talents in grooming the next generation of homegrown musicians, Wei Xiang is the Associate Music Director for Jazz Association of Singapore, lectures at LASALLE College of the Arts, and helms a special live music weeknight in Maduro dedicated to showcasing talented young musicians who are deserving and capable of performing on the world stage.
Christy Smith is an American professional international bassist who has been based in Singapore since 1993 and has become an important role model for aspiring jazz musicians in the city. Christy spent several years touring with symphonic orchestras, big band, and intimate jazz ensembles, appearing with artists like Stevie Wonder, Sarah Vaughn, Erik Hargrove, Jeremy Monteiro, Sam Fletcher, Sheila Majid, and Alphonse Mouzon to name a few. He's known for playing hard-nosed funk grooves as well as improvising over complex jazz progressions. Next to performing, he currently teaches Double Bass and Bass Guitar at United World South East Asia and Lasalle College of the Arts in Singapore.
Darren Moore is a drummer, electronic musician and educator working in the fields of jazz, experimental music and multimedia. He is active in Asia collaborating in projects with musicians from South East Asia, Japan, Australia and Europe. He is based in Singapore where he co-runs experimental music label LaoBan Records and works at Lasalle College of the Arts as a Senior Lecturer in Popular Music.