Learn how to create beautiful journal spreads with simple washi tape and sticker layering techniques.
About this event
Create simple yet pretty journal layouts with only washi tape and stickers from the latest Journal Kit. This is Part 1 of the "Journal with Us" series of monthly "Do it Together" workshops Cityluxe is conducting online! During this 1 hour workshop, Sharon will be sharing ways you can take your journaling pages to the next level with tips on washi tape and sticker layering and more. Fans of the Korean wave can also look forward to a journal spread dedicated to all things yummy about Korea.
Make sure you grab a Journal Kit (October) and join us!
The October Journal Kit includes:
1 x Appree Lavender sticker
1 x MU Craft Philosophy print-on sticker
1 x Suatelier Food sticker
1 x MT Overlapping watercolour washi tape
3 x Suatelier plain stickers (individual sheets, 3 designs)
You may purchase the Journal Kit here.
You may also purchase alternate materials here: https://cityluxe.sg/
We will be using the Traveler's Notebook Blank Refill (Regular 003), but you may also use your own journal and follow us as we create the spread!
Fee: $0
Workshop: 1 hour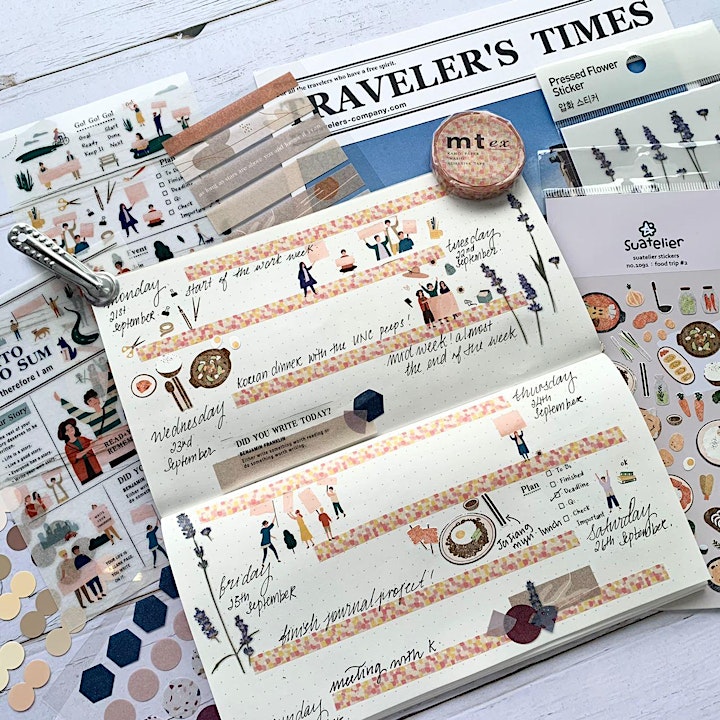 About the instructor (Sharon Chan):
As a scrapbooker for the last 13 years, Sharon enjoys the creative process of making "stuff" with papers, washi tapes, inks and stamps. Her crafting passion has brought her all around the world, learning and sharing with the best in the crafting industry. Sharon has been working in manufacturing teams, as well as local and overseas store design teams. Her creative work includes projects for several publications and store displays. She loves sharing techniques, ideas and inspirations with people of similar passions everywhere.