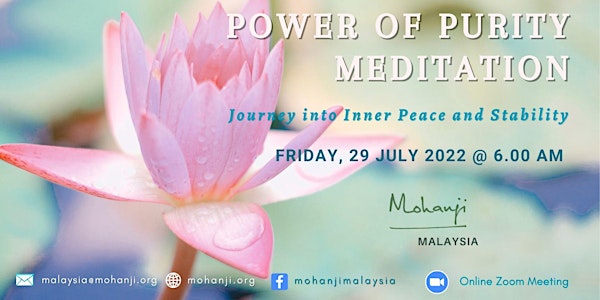 Journey into Inner Peace and Stability
When we achieve inner peace and stability, our inner space opens up help us connect with the natural self and inner wisdom
About this event
Feeling stressed, agitated, worried and fearful about the current world situation ?
Please join us Mohanji Malaysia, for the Power of Purity Meditation this Friday, 29 July 2022 at 6.00 am Malaysia time
Whilst we can take a bath to clear all that is accumulated on our physical body, how do we clear all these unwanted emotions from deep within. The Power of Purity Meditation helps us deeply cleanse all these from within.
It makes us feel light and centered and focus. It also helps us to be of higher frequency and stay calm to connect to our highest potential to combat all these unwanted negativity which depletes us of our strength.
Let us meditate not only to find our strength for ourselves but also share this strength with all who are around us.
To join our Zoom session , please register at this link :-
https://forms.gle/sa51QvFHDxnJV7iY6
#CompassionDuringCorona #Meditation #Spirituality #PowerofPurity #InnerCleansing #UnconditonalLove #Gratitude#Forgiveness#Stability