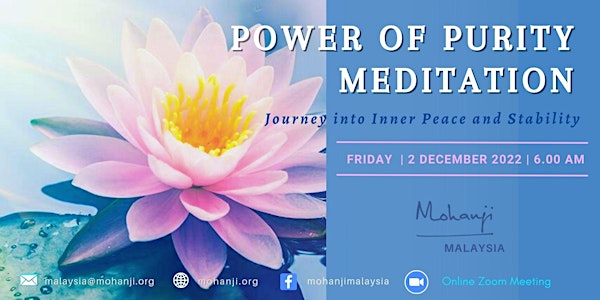 Journey into Inner Peace and Stability
When we achieve inner peace and stability, our inner space opens up help us connect with the natural self and inner wisdom
About this event
Feeling stressed, agitated, worried and fearful about the current world situation ?
Please join us Mohanji Malaysia, for the Power of Purity Meditation this Friday, 2 December 2022 at 6.00 am Malaysia time
The Power of Purity is not merely a relaxation meditation; it is a cleansing operation for our inner space where we unhook from the past through forgiveness and gratitude.
With every Power of Purity meditation, deep inner healing and cleansing is happening. It is basically a communion with yourself that enables you to access your real self. You forgive, unhook, release and liberate yourself. It is like a daily bath – an internal purification.
When you practice this powerful, blissful meditation daily, most of your stored emotions will come up. Accumulation will be less. You operate more and more from your spine. Pressure will be less. Anxiety and stress will reduce and intellect will be in control. Blockages at different levels – mental, spiritual, emotional – can get removed, guiding one to forgiveness, positivity and bliss. Huge changes can happen within your consciousness. You will be fine even if external circumstances are not fine. Dependencies on external situations, objects, and people will reduce.
To join our Zoom session , please register at this link :-
https://forms.gle/sa51QvFHDxnJV7iY6
#CompassionDuringCorona #Meditation #Spirituality #PowerofPurity #InnerCleansing #UnconditonalLove #Gratitude#Forgiveness#Stability