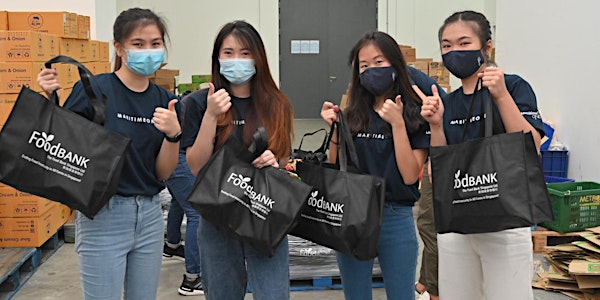 Joy in Every Bundle (In-Person Activity) (29 April 2023)
Joy in Every Bundle (In-Person Activity) (29 April 2023)
By The Food Bank Singapore
Date and time
Saturday, April 29 · 10am - 1pm +08
Location
THK Seniors Activity Centre @ Ang Mo Kio 645 645 Ang Mo Kio Avenue 6 #01-4937 Singapore, Singapore 560645 Singapore
About this event
Want to donate to those in need but do not know how to go about it? Support The Food Bank Singapore's Bundle Campaign where we bring Joy In Every Bundle! Hassle-free and easy, we stretch every dollar donated to cover the cost of the food items, packaging and logistics costs! As the food items are purchased by The Food Bank Singapore, we work with various food suppliers to ensure that every bundle offered, is value for money.You will pack the food bundles and do a door to door distribution to our beneficiaries at one of our beneficiary centre's location.
Date: 29 April 2023, Saturday
Time: 10.00 am - 1.00 pm
Location: Blk 645 Ang Mo Kio Ave 6, #01-4937, Singapore 560645
Registration Fee: $55*
*All monetary contributions will go towards procuring the items for our bundles activity and supporting our beneficiaries through The Food Bank Singapore's initiatives. For your information, all monetary contributions are entitled to 250% tax deductions.
Programme
10am: Arrival of volunteers at beneficiary centre, help to unload food bundle items from The Food Bank Singapore's van
10.30am to 10.45am: Briefing by FBSG Bundle Leader and demonstration of how to pack a bundle
10.45am to 11.15am: Packing of food bundles at the centre
11.15am to 11.30am: Briefing and breakout into groups for distribution
11.30am to 1pm: Door to door distribution of food bundles
Each individual requires a ticket. Any child above the ages of 7 years MUST be accompanied by ONE Parent / Legal Guardian. Both the child and the parent have to purchase individual tickets for their own admission.
All individual participants are strongly encouraged to be fully vaccinated. For the safety and well-being of everyone, we strongly encourage ART tests to be done before coming for the event.
Adult supervision for children participants is required at all times. It is the Parent/Legal Guardian's responsibility to ensure the child attending this activity is appropriately supervised at all times. The Food Bank Singapore may charge the Parent/Legal Guardian for the costs of any damage to property caused by their respective child / children.
By signing up for this event, you consent to the use of any photograph, voice, likeness and image taken during this event. You acknowledge and agree that The Food Bank Singapore may take video and photographic footage of all children and adults attending this event. Appropriate footage which does not compromise the safety or security of any child and adult may be used by The Food Bank Singapore at its creative discretion for marketing and communication campaigns.
About the organizer
The Food Bank Singapore is a charity organization that acquires donated food from farms, manufacturers, distributors, retail stores, consumers, and other sources, and makes it available to those in need through a network of member beneficiaries. The Food Bank Singapore was set up by Nichol and Nicholas Ng, a pair of siblings running a food distribution business, FoodXervices Inc Pte Ltd. After observing the food industry for more than a decade, they realized the need for a food bank in Singapore. Founded in 2012, we were given charity status in 2012 and IPC status in 2015. Our vision is to be the prevailing centralized coordinating organization for all food donations and to play a key role in the reduction of food wastage within the whole supply chain.