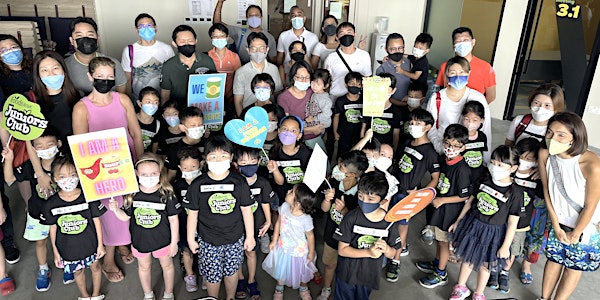 Juniors Club (Ages 5 - 9) (In-Person Activity) (10 Dec 2022)
Juniors Club (Ages 5 - 9) (In-Person Activity) (10 Dec 2022)
By The Food Bank Singapore
Date and time
Saturday, December 10, 2022 · 10:30am - 12:30pm +08
Location
The Food Bank Singapore's Warehouse 218 Pandan Loop #03-01 Singapore, singapore 128408 Singapore
About this event
The Food Bank Singapore will be conducting a Junior Club Activity for Junior Food Bankers aged 5 to 9 to encourage volunteerism! Join now for a fun-filled education activity! Please note that all Juniors Club activities require the presence of a parent/legal guardian.
Dates: 10 Dec 2022, Saturday
Time: 10.30am – 12.30pm
Location: The Food Bank Singapore, XPACE, 218 Pandan Loop, 128408
Registration Fee: $35*
*All registered children will get a Juniors Club T-Shirt . All monetary contributions will go towards supporting our beneficiaries through our Food Bank Card Program.
Program
10.30am: Arrival & distribution of Juniors Club T-Shirt
10.40am: Tour of The Food Bank Singapore Warehouse
10.55am: Juniors Club Activity
12.15pm: Debrief and Dismiss
Each child requires a ticket. Every child MUST be accompanied by ONE Parent / Legal Guardian. Our venue can only hold up to 50 pax. As such, we only allow one parent to accompany per child.
All accompanying Parent / Legal Guardian must be fully vaccinated. For the safety of your child and all children present, we strongly encourage ART tests to be done before coming for the event.
Adult supervision is required at all times. It is the Parent/Legal Guardian's responsibility to ensure the child attending this activity is appropriately supervised at all times. The Food Bank Singapore may charge the Parent/Legal Guardian for the costs of any damage to property caused by their respective child.
By signing up your child for this event, you consent to the use of any photograph, voice, likeness and image taken during this event. You acknowledge and agree that The Food Bank Singapore may take video and photographic footage of all children and adults attending this event. Appropriate footage which does not compromise the safety or security of any child and adult may be used by The Food Bank Singapore at its creative discretion for marketing and communication campaigns.
About the organizer
The Food Bank Singapore is a charity organization that acquires donated food from farms, manufacturers, distributors, retail stores, consumers, and other sources, and makes it available to those in need through a network of member beneficiaries. The Food Bank Singapore was set up by Nichol and Nicholas Ng, a pair of siblings running a food distribution business, FoodXervices Inc Pte Ltd. After observing the food industry for more than a decade, they realized the need for a food bank in Singapore. Founded in 2012, we were given charity status in 2012 and IPC status in 2015. Our vision is to be the prevailing centralized coordinating organization for all food donations and to play a key role in the reduction of food wastage within the whole supply chain.