Sales Have Ended
Registrations are closed
Thank you for your registration to "Knowing Me Knowing You" Please check your email for the instructions to join the meeting via Zoom.
Sales Have Ended
Registrations are closed
Thank you for your registration to "Knowing Me Knowing You" Please check your email for the instructions to join the meeting via Zoom.
If you understand yourself better, you can be a better leader (at home & work), communicator and build meaningful relationships.
About this event
NOTE: This online meeting will be conducted "LIVE". that is why you need to Register with your accurate particulars in order to access the link.
Self-awareness and personal growth is one of the more pressing needs in these challenging times we are facing.
When stress and crisis suddenly erupt around you, what is your first response? Fight, Flight or Freeze?
A lack in self-awareness can cause an ineffective interaction with others. Understanding yourself and then the other person is the key to successful relationship.
Every Individual is unique with different strengths and blindspots. We exhibits different behaviours due to our personality, worldviews and default coping mechanism when faced with conflicts and crises in life.
This talk aims to bring awareness about 9 Enneagram personality types and their core motivations, fears and needs.
WHAT CAN YOU EXPECT?
Knowing Me, Knowing You is a wholistic live sharing where I will....
- introduce you to an overview of The Enneagram Profiling System.
- To help you understand how your personality affects your coping strategies when you face with roadblocks in your lives
- help you to have a deeper understanding of yourselves as well as others so that you can improve the relationships at home and at work.
- gain awareness & appreciate the diversity in personality types and communication style as well as increase your level of empathy & self-confidence to build stronger relationships
THIS IS FOR YOU IF YOU WANT TO…
Learn how to improve and enjoy the relationships in your life.
Have a breakthrough in your business, professional and personal lives.
Go from being stuck in FEAR to living a life of COURAGE.
Get out of DEPRESSION and walk the path of a Overcomer!
Gain clarity and focus with your lives.
WHAT WILL YOU GET?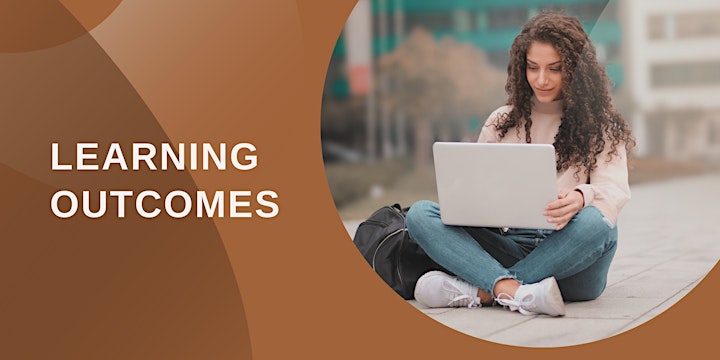 - You will gain awareness that every individual is unique & different.
-You will be more intentional or conscious when it comes to relationship building & communication.
-You will be more self self-reflective and conscious of your behavioral patterns.
-You will see how the tools can help you improve areas in your lives in the areas of relationship, leadership and communication.
SPEAKER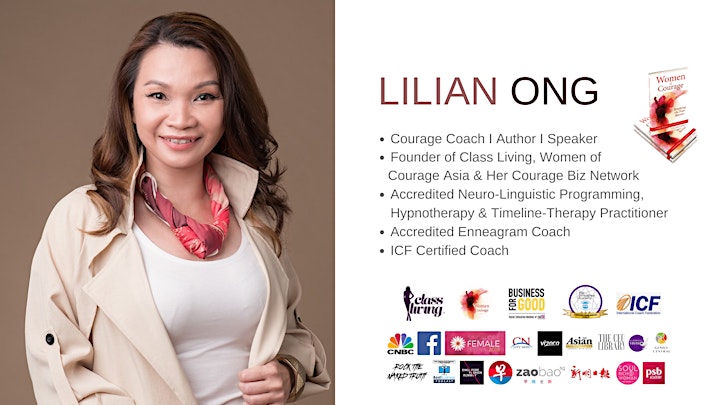 Lilian Ong
Social Entrepreneur I Community Builder I Courage Coach
Founder of Class Living, Her Courage Biz Network, Women of Courage Asia and Connecting Mothers Support Group
As a result of working with Lilian's Courage Mentoring and the support from Women of Courage Asia Community, the women she coached are transformed with courage, they experience an increased in their self-confidence & clarity in their personal & professional life, a breakthrough from the patterns of self-sabotaging behaviours, get unstuck from their fears, self-doubt & limiting beliefs, showing up in their authentic & powerful self while living a life of Courage, Purpose & Significance, leading & making a positive impact in their sphere of influence through their life & business!
Lilian has spoken on many platforms, touched & impacted thousands of lives through her own Stories of Courage locally & overseas. She also volunteers in humanitarian & social work projects around the region, including our local female Juvenile Institutions and the Women's Prison.
Accredited NLP/Hypnotherapy/Timeline-Therapy Practitioner,
Accredited Enneagram Coach, ICF Certified Coach
Author of "Women of Courage, Breaking the Fear Barrier" and "Voices of Courage".
REGISTER NOW!
Your TIME is NOW!!!
It's time to Go from being stuck in FEAR to living a life of COURAGE!
It's time to build healthy Relationships that last!
It's time to Rise above any crisis and challenges!
It's time to win back your life!
*NOTE:
IN ORDER TO RECEIVE THE LINK & DETAILS, PLEASE MAKE SURE YOU SUBMIT YOUR ACCURATE PARTICULARS.
Organizer of Knowing Me Knowing You - Understanding your personality type