Kopi Chat is a specially curated seminar series by NUS Enterprise for the start-up community.
About this event
What is the latest artificial intelligence (AI) technology used for/in marketing? How is AI helping marketers with their content, branding and marketing?
In this Kopi Chat Deep Dive, we explore different aspects in which AI is transforming content creation, marketing and analytics.
Our panelists:
- Yiwen Chan (Alexis), Co-Founder and Head of Commercial at Hire Digital & Content.co
- Thibaut Briere, Founder of Growth Marketing Studio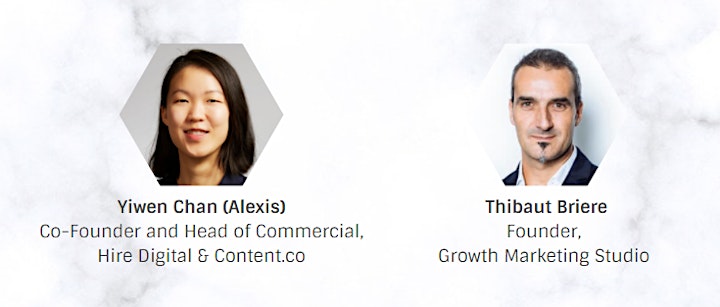 About Yiwen:
Yiwen Chan (Alexis) is the Co-Founder and Head of Commercial at Hire Digital & Content.co, which connects businesses to skilled freelancers in digital marketing, content marketing, software development, and design. She started Hire Digital & Content.co to address two emerging trends: firstly, companies have been increasingly engaged in digital and workforce transformation, and secondly, the distributed workforce is growing as talents move away from the onsite workplace and the five-day workweek. Yiwen has helped hundreds of organizations including Fortune 500 enterprises, growth startups, and government agencies to fulfill their talent needs. Previously a business journalist, Yiwen has been featured in Forbes 30 Under 30 for Media, Marketing & Advertising.
About Thibaut:
Thibaut Briere is the founder of Growth Marketing Studio, a boutique consultancy that helps startups and entrepreneurs define their growth strategies in Southeast Asia and coach their teams to execute.
He is a developer by training and marketing by trade and has worked with both startups and corporates like Nokia or Cisco.
Organiser of Kopi Chat Deep Dive - Colliding AI with Marketing
NUS Enterprise plays a pivotal role in advancing innovation and entrepreneurship at NUS and beyond. It actively promotes entrepreneurship and cultivates global mind-sets and talents through the synergies of experiential entrepreneurial education, active industry partnerships for technology and commercialisation, holistic entrepreneurship support and catalytic entrepreneurship outreach. Its initiatives and global connections support a range of entrepreneurial journeys and foster ecosystem...