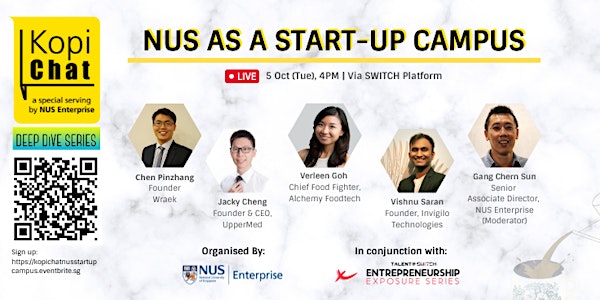 Kopi Chat Deep Dive NUS Start-Up Campus
Kopi Chat is a specially curated series by NUS Enterprise.
About this event
About this Event
Universities with their knowledge, expertise, infrastructure, and resources, can be the perfect breeding ground for aspiring entrepreneurs and innovators. Tertiary students, technically trained and facing lower opportunity costs, are primed to work on new ventures.
NUS strives to provide holistic support and resources to help these aspiring entrepreneurs to transform ideas into fruition. Its entrepreneurship arm, NUS Enterprise, has pioneered several programmes and initiatives; and works with various stakeholders on campus to support start-ups.
In this upcoming Kopi Chat Deep Dive, brought to you in conjunction with the Talent @ SWITCH Entrepreneurship Exposure Series, get up close to a panel of NUS entrepreneurs who share more about their start-up journeys, and learn how you can also take a leap into entrepreneurship with NUS.
Our curated panel of speakers include:
1. Chen Pinzhang | Founder, Wraek
Pinzhang is the co-founder of WRAEK, a hardware gaming startup seeking to revolutionise gaming experience, and the founding Chairman of NUS Alumni Ventures, an angel investment network seeking to bring greater funding and mentorship opportunities for startups.
2. Jacky Cheng | Founder & CEO, UpperMed
Jacky is the Founder and CEO of Uppermed, a start-up from the NUS Biomedical Engineering department and NUS Graduate Research Innovation Programme (GRIP). They created a portable peritoneal dialysis solution to simplify the process and help patients get back some form of normalcy and mobility to improve patients' quality of life. Uppermed secured US$80K investment from Brinc/Artesian, and engaged two major hospitals in Taiwan, E-Da Hospital and Taipei Medical University, for clinical trials. They have also been selected to enter Taipei Medical University Accelerator and one of the only two Singaporean MedTech start-ups to get into the MedTech Innovator Asia Pacific Accelerator Program. They're also supported by the JUMPstart medtech accelerator, a joint programme by NUS Industry Liaison Office, NTUitive, and SUTD.
3. Verleen Goh | Chief Food Fighter, Alchemy Foodtech
Verleen is the Chief Food Fighter and Co-founder at Alchemy Foodtech, a Singapore government-backed food science company. Passionate about food science and its impact on health outcomes, she co-founded Alchemy Foodtech to work on food innovation that "Empowers Healthier Meals" through everyday foods, to help improve the management and reduce the risk of chronic diseases like diabetes. Her work as CTO gave rise to the company's patented flagship product, Alchemy Fibre™️. Alchemy Fibre™️ has been tested and proven to work with all carb-based foods to confer health attributes, such as increasing fibre and lowering the glycemic index (GI) of foods without compromising on taste. Verleen is relentless in her research and is continuously working on new innovations that can make a positive impact on human health. Alchemy Foodtech has been recognised by several local and international organisations such as AgFunder AgriFood Tech Innovation Awards 2019, Emerging Enterprise 2019 (Top 3%) by OCBC & Business Times and Top 500 Foodtech companies by Forward Fooding 2019 and 2020.
4. Vishnu Saran | Founder, Invigilo Technologies
Vishnu is the founder of Invigilo AI, where the core vision is to have a zero workplace accident future through the use of advanced AI and IoT technologies to enhance safety in high-risk workplaces. Vishnu is experienced in software product management and design thinking with experience working on a multitude of technologies. He is always working on ways to utilize innovation to solve real-world problems.
5. (Moderator) Gang Chern Sun | Senior Associate Director, NUS Enterprise
Gang Chern Sun heads the Incubation programmes at NUS Enterprise, supporting startups through their entrepreneurial journeys. He also heads BLOCK71 in Singapore and Nagoya. BLOCK71 is an initiative by NUS Enterprise in collaborative and strategic partnerships with established corporates and government agencies. BLOCK71 forms part of a global network of innovation and entrepreneurial gateways to and from NUS, through providing programmes as a technology ecosystem builder and business connector with an objective to catalyse, aggregate, and develop competencies of the start-up community.