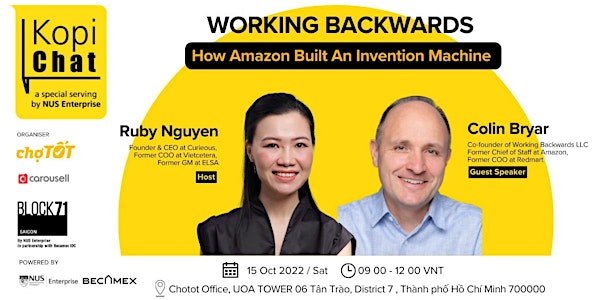 Kopi Chat with Colin Bryar: How Amazon built an invention machine
A series of inspirational talks on a Founder's startup journey and failures for the tech start-up community.
When and where
Location
UOA TOWER 06 Tân Trào, District 7 Ho Chi Minh, Thành phố Hồ Chí Minh 700000 Viet Nam
About this event
ABOUT THIS EVENT
About Kopi Chat with Entrepreneurs:
Kopi Chat is a series of inspirational talks on a Founder's startup journey and failures for the tech start-up community. For 10 years now, Kopi Chats have been served up specially by BLOCK71 around the world alongside a good fresh brew of local coffee.
Since 2011, we have hosted speakers from the USA from the likes of AirBnB's Brian Chesky, 9GAG's Ray Chan and Coffee Meets Bagel's Dawoon Kang, to Asia's V-Key's Eddie Chau, NextBillion.AI's Ajay Bulusu, Wiz.AI's Jennifer Zhang, Litecoin Founder Charles Lee and Traveloka's Co-Founder and CTO Derianto Kusuma.
In the 3rd Kopi Chat by BLOCK71 Saigon, we will have a chat with Bryar Colin about his book – Working backward on Leadership, Hiring, Culture Building, Customer-obsession,… and how we can apply to startup culture.
Speaker Bio:
Colin Bryar | Former Amazon Chief of Staff, Co-founder of Working Backwards LLC
Colin Bryar joined Amazon in 1998 — four years after its founding — and spent the next 12 years as part of Amazon's senior leadership team as Amazon grew from a domestic (US-only) seller of books to a global, multi-dimensional powerhouse and innovator. For two of his years at Amazon, Colin was "Chief of Staff" to Jeff Bezos, AKA "Jeff's shadow", during which he spent each day attending meetings, traveling with, and discussing business and life with Jeff. After Amazon, he and his family relocated to Singapore for two years where Colin served as Chief Operating Officer of e-commerce company RedMart, which was subsequently sold to Alibaba. Colin is co-founder of Working Backwards LLC where he coaches executives at both large and early-stage companies on how to implement the management practices developed at Amazon.
Ruby Nguyen ( Host)| Founder & CEO at Curieous
Ruby is a rising thought leader in the confluence of entrepreneurship, innovation, and career development. She is former GM at ELSA- the world's smartest A.I. Assistant for pronunciation training and accent reduction. After she joined Vietcetera as COO and was the host of Vietnam Innovators - a leading business podcast show in Vietnam. She is now starting her new journey at Curieous a next-gen social network for on-the-job learning and being the Host of People People 2032 - a new series about the future of HR.
---------------
About BLOCK71 Saigon
Tech Ecosystem Builder and Global Connector
BLOCK71 in Saigon is a partnership between NUS Enterprise, the entrepreneurship arm of the National University of Singapore, a leading university in Asia and Vietnam's leading Developer, Becamex IDC.
Together, we serve as the epicentre for early stage tech innovators in Vietnam.
Learn more at saigon.block71.co