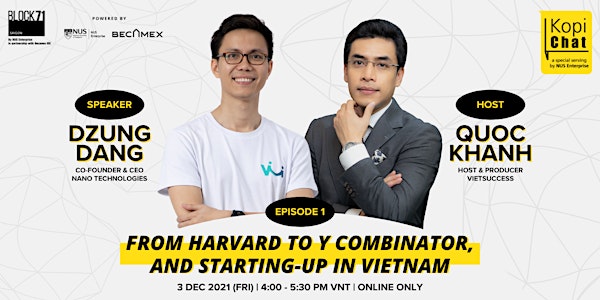 Kopi Chat with Nano Technologies
A series of inspirational talks on a Founder's startup journey and failures for the tech start-up community.
About this event
ABOUT THIS EVENT
From Harvard to Y-C, and Starting-up in Vietnam with Nano's Co-Founder and CEO Dzung Dang.
About Kopi Chat with Entrepreneurs:
Kopi Chat is a series of inspirational talks on a Founder's startup journey and failures for the tech start-up community. For 10 years now, Kopi Chats have been served up specially by BLOCK71 around the world alongside a good fresh brew of local coffee.
Since 2011, we have hosted speakers from the USA from the likes of AirBnB's Brian Chesky, 9GAG's Ray Chan and Coffee Meets Bagel's Dawoon Kang, to Asia's V-Key's Eddie Chau, NextBillion.AI's Ajay Bulusu, Wiz.AI's Jennifer Zhang, Litecoin Founder Charles Lee and Traveloka's Co-Founder and CTO Derianto Kusuma.
In the 1st Kopi Chat by BLOCK71 Saigon, we will have a chat with Dzung Dang from Nano Technologies on how his journey from Harvard to Uber Vietnam and then Founding a startup that is solving one of Vietnam's most critical challenges - Financial Security.
Speaker Bio:
Dzung Dang | CEO of Nano Technologies | Former GM of Uber Vietnam
Dzung Dang graduated with a bachelor's degree in political science and economics from Amherst University, USA and completed the first year of an MBA program from Harvard Business School. Having done corporate gigs at the world's leading brewing group ABInbev and strategic consulting group McKinsey & Company, Dzung then made the leap to the startup ecosystem by becoming the General Director of Uber Vietnam for 3 years (2014 - 2017) and CEO of VNG's Zalo Pay Vietnam.
After stepping down in 2019, he now running his own startup - Nano Technologies with the flagship product Vui App, a flexible salary payment initiative to help low-income employees manage their personal finance.
Learn more: https://www.vuiapp.vn/
---------------
About BLOCK71 Saigon
Tech Ecosystem Builder and Global Connector
BLOCK71 in Saigon is a partnership between NUS Enterprise, the entrepreneurship arm of the National University of Singapore, a leading university in Asia and Vietnam's leading Developer, Becamex IDC.
Together, we serve as the epicentre for early stage tech innovators in Vietnam.
Learn more at saigon.block71.co