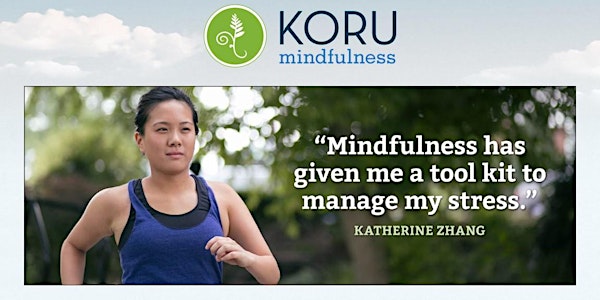 Koru Mindfulness - Living In The Moment : 4-week x 75min - 13 Oct
Koru Basic is a 4-week mindfulness course to reduce stress, improve concentration, sleep better and increase self-compassion (Singapore )
Refund Policy
Contact the organizer to request a refund.
Eventbrite's fee is nonrefundable.
About this event
Koru Mindfulness is an evidence-based program specifically designed for young adults to reduce stress, improve concentration, sleep better and increase self-compassion. Participants will learn specific skills that help calm and focus their minds, including mindful breathing, guided imagery, body scan, gratitude practice and more!
KORU BASIC: A weekly, 75-minute class over four weeks. Taught in a small group. Each week, participants will be briefed on the mindfulness concept, guided through 2 new mindfulness practices in sitting, lying down, walking and standing posture, perform self-inquiry, and share their practice's experience in pairs or group dialogue.
Participants are to engage in 10 min daily practice, supported by a Koru App. The teacher provides guidance in-between lessons via the Koru App.
Course Duration
4-week x 75 min each lesson
- (Thur) 13, 20, 27 Oct, 03 Nov 2022
- 1930 hr to 2045 hr (SGT)
Course Fee: Not SkillsFuture claimable.
Early bird fee - $80 (sales end 2 weeks before the start date)
Normal fee - $110
If this amount is financially prohibitive for you, please email us at pe@peong.com.sg to apply for fee waiver.
We may cancel this course if the minimum number of participants is not met or if unforeseen circumstances warrant it. In the event of such cancellation of the course, we will make a full refund of the course fee already paid.
Thank you.
Venue: Online (ZOOM)
After registering, nearer the course start date, you will receive an email containing the link that connects you to the ZOOM video conferencing platform. Install the ZOOM client on your Laptop (Mobile phone and Tablet are not recommended). And click on the link to join this session.
Participants are encouraged to turn on their video during the session.
The online format offers the same practices, exercises, and group dialogue as an actual in-person class.
Testimonials from previous participants of the same course
"I appreciate the short breath awareness meditation in the beginning, as it helps my mind to calm down after a long day. And I appreciate the meaningful quotes whether it's from the book or Pee Eng's experience"
"The part of the class that I find meaningful was Pee Eng's explanations and rationale about the mindfulness activities and why we may feel this way"
Contact: If you have any questions, please feel free to email pe@peong.com.sg